Leh, Ladakh, J&K, India, 16 July 2014 - One of the final events associated with the giving of the Kalachakra Empowerment is the dismantling of the sand mandala. When His Holiness the Dalai Lama arrived at the teaching pavilion this morning, the monks of Namgyal Monastery were already reciting the necessary rituals.
His Holiness stood by the eastern gate and paid his respects before sitting down and taking part in the prayers. At the appropriate point he stood up and made three circumambulations of the mandala palace. Then began a process in which he took pinches of sand selectively removing the syllables representing the deities of the mandala in due order. The monks then swept up the sand, pouring it into a large urn, which was temporarily placed on the mandala base crowned by a yogic topknot while more ceremonial verses were chanted.
With the Abbot of Namgyal Monastery carrying the urn, His Holiness joined the monks walking to the edge of the nearby River Indus, the great river that flows westwards out of Tibet. Under His Holiness's supervision, the Abbot poured the sand into the river and rinsed out the urn several times with river water. A quantity of water was brought back to the pavilion and used to wash the mandala base. That process complete, the mandala base was scattered with flower petals and His Holiness took his seat in the middle for the concluding prayers.
From the Shiwatsel teaching ground His Holiness drove the short distance to the Central Institute of Buddhist Studies, Choglamsar, where he first consecrated a new set of statues representing the Buddha and his first five disciples. He entered the auditorium where faculty members and students awaited him as Jamyang Khyentse's Prayer for His Holiness's Long Life was recited. The Director welcomed His Holiness and, recalling his gratitude for his own education, avowed his dedication to the training of students today.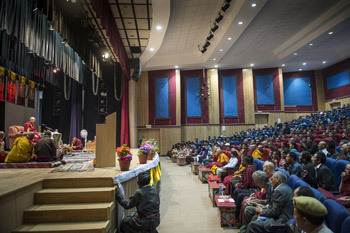 His Holiness the Dalai Lama speaking at the Central Institute of Buddhist Studies in Choglamsar near Leh, Ladakh, J&K, India on July 16, 2014. Photo/Tenzin Choejor/OHHDL
His Holiness expressed his admiration for the progress the Institute is making and reaffirmed the importance of education everywhere in the world. He said:
"Of course we need to make material progress, but we need inner development too. We need the inspiration to develop within ourselves. We need secular ethics, that is a sense of ethics that has universal appeal while respectful of the followers of all religious traditions and even those who have none. In the 21st century secular ethics is what is most appropriate and relevant for creating a happier more peaceful world."
He reiterated his advice to be less attached to one Tibetan Buddhist tradition or the other and to pay more attention to the general teachings of the Buddha. He also commended the recent launch of two volumes dealing with Buddhist science extracted from wider Buddhist literature. He looks forward to these books being studied on a more academic basis, making the knowledge within them available to interested people whatever their personal faith.
Gentle rain fell as His Holiness drove to Saboo Thang in the undeveloped area above Choglamsar, where the Ladakh Buddhist Association (LBA) have launched a new project. He unveiled first the foundation stones for the LBA Lotus Eco Village and a Passive Solar Hostel Block, followed by a large graphic representation of the master plan. The Director explained that the intention is to benefit the poor and needy. Dr Tondup Tsewang explained that the impetus for the project had arisen as a result of the flash flood of 2010. His Holiness responded: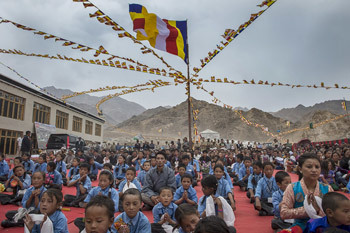 Students listening to His Holiness the Dalai Lama during his visit to the Saboo Thang Hostel for poor and needy children in Choglamsar near Leh, Ladakh, J&K, India on July 16, 2014. Photo/Tenzin Choejor/OHHDL
"Dharma friends and guests, I'm only able to make a brief visit now, but I'm honoured by your invitation. I've been coming to Ladakh for the last forty years or so and have seen rapid progress in many places, especially in the field of education. Among Ladakhis are Muslims and Christians as well as Buddhists by faith, but all of them are influenced by Ladakhi culture, which is Buddhist by and large; a culture of peace, non-violence and compassion. Therefore this project fostering those values will surely contribute to Ladakh's development."
Turning to the students sat before him, he asked them to study hard, telling them how he now regrets that when he was their age he preferred to play. He announced that he would like to make a donation of ten lakh rupees from the Dalai Lama Trust to the project, also recommending that any surplus from the Kalachakra Empowerment funds could be put towards it too.
"I'll see you again," he said with a smile, "but remember that the real development we seek is not in the buildings but in our hearts and minds."
The last engagement of the morning was on the edge of Leh town where the Muslim Co-ordination Committee, Leh had invited His Holiness to lunch. In welcoming remarks Saeed Naqvi praised His Holiness for his efforts to promote mutual understanding and for being a symbol of peace and harmony for the whole world. Saif ud din took up the theme saying: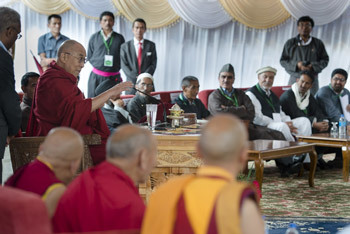 His Holiness the Dalai Lama speaking during his visit with members of the Muslim Co-ordinating Committee in Leh, Ladakh, J&K, India on July 16, 2014. Photo/Tenzin Choejor/OHHDL
"Today is a great day for us as we are honoured by His Holiness's presence. We admire your work for peace and assure you that Islam denounces violence and bloodshed. Like many in the international community we support your Middle Way Approach to resolving the difficulties in Tibet. We Muslims and Buddhists of Ladakh have long lived in harmony and will continue to do so. We pray for His Holiness's long life and the fulfilment of his wishes."
"My Muslim spiritual brothers and sisters," His Holiness replied, "you organized this meeting and invited me to it, which I greatly appreciate. In the small village where I was born near Kumbum Monastery there were Muslim families so I have long been familiar with people of Islam. When I reached Lhasa at the age of five, about 1000 Muslims lived there and whenever there were government functions Muslim representatives took part. Many of them wore a red hat with a tassle on it."
At mention of this the one man in the audience wearing such a hat got to his feet and His Holiness teased him saying:
"Yes, just like that, with a tassle that matches you beard.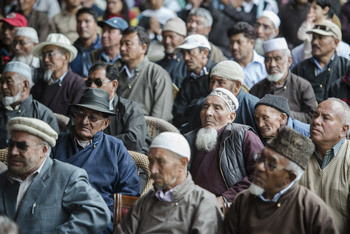 Members of the audience listening to His Holiness the Dalai Lama during his visit to the Muslim Co-ordinating Committee in Leh, Ladakh, J&K, India on July 16, 2014.
Photo/Tenzin Choejor/OHHDL
"You may have heard me tell this story before, but the 13th Dalai Lama had had a pocket watch that I began to use. Then one day it stopped and we invited an expert Muslim watchmaker to come and have a look at it. He fixed it, but solemnly told me that a person who carries a watch in his pocket should behave as if he was carrying an egg! A gentle rebuke that I should be more careful."
His Holiness mentioned that after 1959 many Tibetan Muslims left Tibet and settled in Srinagar. For many years, he said he had been unable to visit them, but renewed his acquaintance two years ago. He spoke of being surprised and touched to discover that their young children spoke good Tibetan with a Lhasa dialect, an indication that they still use Tibetan within their families.
In addition to describing his practice since 1975 of making pilgrimage to other people's places of worship, which has seen him visit several mosques, making many Muslim friends, he referred to events since September 11th 2001. He recalled attending the first anniversary memorial service in Washington and expressing his conviction that just because the terrorists involved had a Muslim background was no reason for generalizing about a whole community. He pointed out that there are mischievous individuals amongst Hindus, Jews, Christians and Buddhists, not only among Muslims, and that to generalize about any of these communities on such a basis would be wrong and unfair. He said:
"I'm a Buddhist, but now I often step forward to defend Islam. I often repeat what my friend Farooq Abdhullah the former Chief Minister, explained to me about jihad, that it is not about attacking other people, but about making combat with your own disturbing emotions. If you are about to do someone harm, but you restrain yourself, that's an instance of jihad, which also has a lot to do with self-discipline."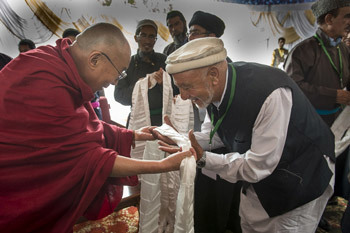 His Holiness the Dalai Lama offering a traditional Tibetan scarf to a member of the Muslim Co-ordinating Committee in Leh, Ladakh, J&K, India on July 16, 2014. Photo/Tenzin Choejor/OHHDL
His Holiness went on to praise India as a living example of tolerant pluralism, a place where all the world's major religions live together peacefully side by side. He cited the small Parsee community in Mumbai who have long flourished there without fear. He reiterated that India's example is a model for the world to follow.
Commenting on the sadness he has felt to hear reports of Buddhists in Burma and Sri Lanka attacking Muslims, he recounted the appeal he had made to them when moved to attack to remember the face of the Buddha. His Holiness is convinced that if the Buddha were present there he would offer the victims protection. In a similar context, considering the conflicts between Sunnis and Shias in various parts of the Middle East and between Christians and Muslims in parts of Africa, he appealed to his listeners to consider ways in which they might influence their Muslim brothers to exercise restraint. He acknowledged that Ladakhi Muslims by themselves might not achieve much, but as part of a larger Indian Muslim community their voice would be heard.
Finally, His Holiness noted that although they had invited him to lunch, on this occasion his hosts would not be joining him because they are observing the Ramadan daytime fast. His teasing them that he would eat twice as much on their behalf raised a friendly laugh.
Tomorrow, His Holiness will depart Leh for Delhi at the end of a visit widely acclaimed for its success and the outpouring of affection.