Boston, MA, USA, 1 November 2104 - The Tibetan Association of Boston organized the final day of His Holiness the Dalai Lama's programs in the city with a public talk at the TD Garden, the arena home of the Bruins and the Celtics, ice hockey and basketball teams respectively. With high winds and storms forecast, the streets were wet as he drove there from his hotel. He was given a traditional Tibetan welcome at the door of the arena and was ushered into a meeting with US Senator Elizabeth Warren, Boston Mayor Martin J Walsh and Medford Mayor Michael J McGlynn.
Senator Warren escorted His Holiness onto the stage, where they were greeted with warm cheers. Young Tibetans performed a song in praise of His Holiness, wishing that he live long. TAB President Pema Tsewang Shastri then invited Senator Warren to introduce him. She praised His Holiness as an inspiration to people of all faiths around the world and quoted him as saying:
"When we have inner peace, we can be at peace with those around us. Love and compassion are essential to our survival, not luxuries." She invited the audience to join her in welcoming His Holiness, the 14th Dalai Lama of Tibet. He responded:
"Respected Senator, respected elder brothers and sisters and also brothers and sisters in the general public. Firstly, let me thank the young performers who have just danced and sung. They reminded me that when I too was young in Lhasa, although monks are not permitted to do so, I used to sing and dance like that myself. There would be opera performances for six days at the Norbulingka, which I would enjoy with my mother and avoid my classes.
"Boston is somewhere I have become familiar with and the last couple of days here have been meaningful. I've learned several useful things about the mind and emotions, as well as the environment."
He said that wherever he goes he makes it clear that there is no difference between the speaker and the audience. Like all 7 billion human beings, they are the same. All want to lead a happy life, and all have a right to do so. In this, all human beings are one. And since we are all the same on a human level, there are no grounds for fighting and killing. He said that differences of faith, race, nationality and colour do exist, but are secondary. To over-emphasize them leads to problems between us. They lead us to think in terms of 'us' and 'them', which easily leads to conflict.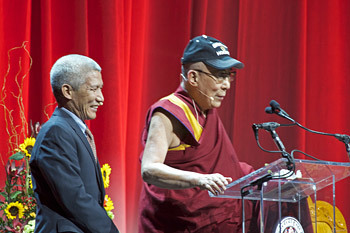 His Holiness the Dalai Lama speaking at the TD Gardens in Boston, MA, USA on November 1, 2014. Photo/Ganzey Tshering
"We all have a right to live a happy life, but what does it mean? Is it about money and power? No, money by itself does not bring happiness. I have wealthy friends who are unhappy. The real source of peace and happiness is in the heart and mind and we have to develop it within the mind."
When His Holiness put on the Bruins Hockey cap he'd been given to shade his eyes, the hall once again erupted with cheers.
"The right way to deal with mental unhappiness must be within the mind too. On an emotional level, anger, fear and worry bring unhappiness. Scientists say they eat into our immune system. On the other hand, we are also equipped with a sense of affection and compassionate concern for the well-being of others.
"When we give in to anger and quarrel, the following day we feel uncomfortable. But on other days, when we have enjoyed ourselves in the company of others, the next day we feel light at heart."
His Holiness explained that as human beings we are biologically equipped to feel and show affection. When we are in our mother's womb, we benefit from her care and affection. In the weeks after we are born, her touch is crucial to the proper enlargement of our brains. This is how our lives begin.
"The value of compassion and forgiveness is not confined to matters of religion. These are human values that we shouldn't neglect. We can cultivate them in a secular way. In the Indian sense, secularism means to respect all religious traditions as well as those who have none. After independence, India, a multi-religious society with a secular constitution, has become, compared to its neighbours, stable and harmonious. It is also the world's most populated democratic state.
A view of the TD Garden during His Holiness the Dalai Lama's talk on "Educating the Heart and Mind" in Boston, MA, USA on November 1, 2014. Photo/Sonam Zoksang
"We need to find secular ways to cultivate warm-heartedness. We need secular ways to educate ourselves about inner values. The source of a happy life is within us. Trouble makers in many parts of the world are often quite well educated, so it is not just education that we need. We need to pay attention to inner values."
He cautioned that we should not expect results overnight. Change can take decades, but by the end of the 21st century we should have been able to create a happier, more peaceful world. The 20th century was an era of violence, but we can make this century an era of peace. When we face problems, we should solve them in a human way through dialogue. We need to find mutually agreeable solutions and we have to find ways to protect the environment too.
"We need a secular approach. We can change society, change humanity by changing ourselves as individuals. By cultivating inner values, we can change our own lives and those of our families. This is how we can create a more peaceful world.
"I don't think of myself as anything special. I don't dwell on my being His Holiness the Dalai Lama, which would distance and isolate me from others. I think of myself as the same as others, which makes it easier for me to communicate with them. If you think about what I have said and you find it useful try to put it into effect. But if you find you have no interest, then just forget it. Thank you."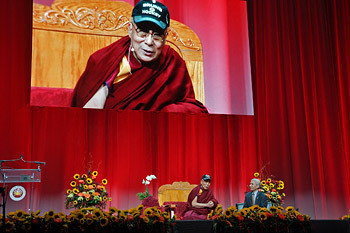 His Holiness the Dalai Lama answering questions from the audience during his talk at TD Gardens in Boston, MA, USA on November 1, 2014. Photo/Jeremy Russell/OHHDL
His Holiness then answered questions submitted by the audience. About finding a middle way through a busy American way of life, he commented that it is better not to live in extreme luxury and it is good to spend money in more meaningful ways. One of the children in the Tibetan Sunday school wanted to know if he has a pet. He replied that he has an old cat. Asked if he ever gets angry, he laughed and said "Yes", telling the story of a New York columnist who persistently asked the same question about what he considered his legacy. After patiently explaining that it is not appropriate for a Buddhist monk to think in that way, on the third occasion he said he lost his temper.
Another question was about how His Holiness spends his spare time. He replied that when he was young he used to garden and repair clocks, but nowadays when he is free he studies by reading the works of the masters of Nalanda. To a question about what Americans can do for the cause of Tibet, he stated first that the Tibetan issue is a just cause. He said his main concern is to preserve the Tibetan language and script, which remains the most accurate means of conveying the knowledge of the Nalanda tradition, something that is worth preserving. He noted that even Xi Jinping has remarked that Buddhism has a role in reviving Chinese culture.
"Visit Tibet," he advised. "Go there and see how it is and report back what you find to your friends. In the 7th, 8th and 9th centuries there were Tibetan, Chinese and Mongolian emperors, but after the 9th century Tibet disintegrated. The federation we find in Europe and the United States is something I admire. The Chinese constitution allows for Tibetan areas to exercise certain rights. Our Middle Way Approach seeks to do just that."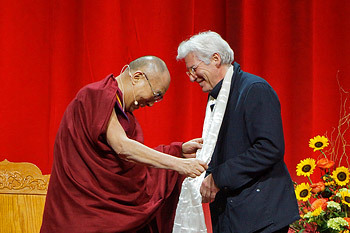 His Holiness the Dalai Lama thanking Richard Gere for his concluding remarks at TD Gardens in Boston, MA, USA on November 1, 2014. Photo/Jeremy Russell/OHHDL
He then addressed Tibetans in their own language. When he was done, Pema Tsewang called on Richard Gere to come up on the stage to say a few words of thanks. Greeting everyone with a warm smile, Gere said:
"I am so happy to be here, so fortunate to spend a couple of hours with His Holiness the Dalai Lama. He's a personal friend to us all. I was remembering that after watching the great Scorsese movie about his life, 'Kundun', he said that when he left Tibet, he crossed the border and the Khampas who had escorted him mounted their horses again and rode back into Tibet. He reflected that he would never see them again and he hasn't. Looking into India he said there were only people he didn't know. Now, he says, "Wherever I go I have friends," and we are all the better for that. Thank you."