Hamburg, Germany, 22 August 2014 - Leaving the sweltering monsoon heat of New Delhi behind, His Holiness the Dalai Lama last night flew to Germany. After a short stopover in Frankfurt, he arrived in Hamburg before midday.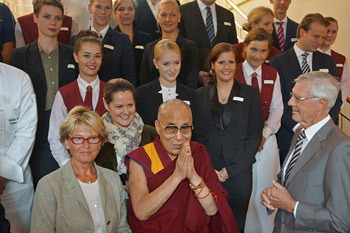 His Holiness the Dalai Lama poses for a photo with the owners of his hotel, Mr & Mrs Block, and their staff on his arrival in Hamburg, Germany on August 22, 2014.
Photo/Jeremy Russell/OHHDL
He was met at the airport by the Indian Consul General in Hamburg, Dr Vidhu Nair, the Director of the Committee organizing his visit, Christof Spitz, Resident Teacher at the Tibet Centre, Geshe Pema Samten and the Director of the Centre, Stephanie Krüger. A brisk drive into Hamburg city brought him to his hotel, where members of the local Tibetan community and other well-wishers cheered his arrival and gave him a warm welcome.
Among his engagements during his stay in Hamburg, His Holiness will speak tomorrow on secular ethics. The following two days he will teach Shantideva's classic work, 'A Guide to the Bodhisattva's Way of Life', concluding his Buddhist teachings with an Avalokiteshvara empowerment. He will also visit the Hamburg Museum of Ethnology, which is currently presenting an exhibition about Tibetan nomads and their vanishing way of life, and meet with Tibetan and inter-religious groups.