Rome, Italy, 11 December 2014 - After a brief stop in Frankfurt, where light rain was falling from low grey skies, His Holiness the Dalai Lama flew on, over the Alps, to the warmer climes of Rome. He was met on the runway by Enzo Cursio, the Vice President of the Permanent Secretariat of the World Summit of Nobel Peace Laureates.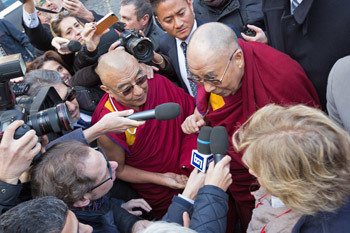 His Holiness the Dalai Lama speaking to journalists on his arrival in Rome, Italy on December 11, 2014. Photo/Paolo Tosti
He drove into Rome where many old friends and well-wishers were waiting to greet him at his hotel. As he climbed out of his car journalists pressed in eager to speak to him. Asked about the violent conflicts taking place in several parts of the world in the name of religion, His Holiness replied:
"Although conflict on political or economic grounds is at least understandable on some level, violence in the name of religion is unthinkable."
He drew attention to the example of India with its longstanding tradition of tolerance and non-violence, where the world's major religious traditions have lived side by side in harmony for centuries.
His Holiness was offered a traditional Tibetan welcome as he made his way into the hotel, whose steps were adorned with Tibetan flags. Tomorrow he will attend the opening of the 14th World Summit of Nobel Peace Laureates. The summit is to take place over the next three days.