Livorno, Tuscany, Italy, 14 June 2014 - His Holiness the Dalai Lama was warmly greeted by the Livorno Mayor Filippo Nogarin on his arrival on stage at the Modigliani Forum to begin his morning session of teachings. In his welcome address Mayor Nogarin said he was deeply honored and privileged to welcome His Holiness to Italy and to Livorno. His Holiness was then presented the Key to the City of Livorno as he had already received Livorno honorary citizenship during an earlier visit.
His Holiness thanked the Mayor for his kind words, extending his warm congratulations on his recent election as the new Mayor. He said that the Mayor's democratic election victory places a huge responsibility on the Mayor's shoulders, that of living up to his people's expectations and trust. He expressed hope that the Mayor would discharge his official responsibilities faithfully and transparently and hoped that he would win a re-election with his good work.
His Holiness said that development and progress actually depends on people. People need to have self-confidence in spite of economic difficulties. Enthusiasm is a key factor for proper development and progress. He cited the example of the Tibetan people who have lived as refugees for the past 55 years, having endured much suffering but never losing their self-confidence.
His Holiness began his teachings with his customary opening addressing everyone as fellow brothers and sisters. He said that on a basic level all human beings are same, having the same potential to use their intelligence to overcome negative and destructive emotions. Because of discomfort on the mental level even wealthy people are not content. His Holiness advised everyone to give more attention to the happiness that is related to the mental level, not sensory experiences. He noted that medical scientists, including brain specialists, have found through experimentation and study that mental peace is very important even for physical health.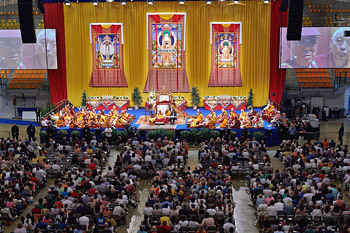 A view of the stage at Modigliani Forum, venue for His Holiness the Dalai Lama's teachings in Livorno, Tuscany, Italy on June 14, 2014. Photo/Olivier Adam
He said that people pay too much attention to the self, having a strong self-centered attitude and thinking in terms of "we" and "they" which leads to all problems. We all need to understand the oneness of the 7 billion members of humanity instead of too much emphasis on secondary levels of differences. In doing so, all man-made problems could be gradually minimized. Problems such as global warming and environmental damage effect everyone irrespective of one's religious beliefs and goes beyond physical boundaries. Being a part of the 7 billion human community every individual should take moral responsibility to contribute to make a positive difference.
He cited the example of insects that in spite of having no religion, no constitution, and no police force, each member of the insect community works in unity in the interest of all of their species. Since we have special human intelligence, unlike insects and animals, we should use our intelligence to benefit humanity.
His Holiness said that he talks to everyone as fellow humans, without emphasizing on secondary differences. He said that emphasizing too much that he is the Dalai Lama actually distances himself from others. It is better to consider everyone as your brother and sister which brings a sense of ease and relaxation. If we truly consider the oneness of humanity and think of others as our brothers and sisters we can stop the killings that are happening today.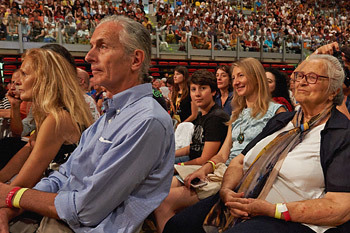 Members of the audience listening to His Holiness the Dalai Lama speaking at Modigliani Forum in Livorno, Tuscany, Italy on June 14, 2014. Photo/Olivier Adam
His Holiness said that Buddhism does not accept an independent self. But this does not mean the absence of self itself. Naturally everyone has the feeling of I, but attachment to a strong sense of self creates all problems. To counter this it is necessary to develop altruism, thinking about the welfare of others rather than oneself.
His Holiness then remembered the great contributions from the learned scholars of Nalanda University in India such as Shantarakshita, Kamalashila and Dharmakirti. He said that Nalanda was not just a monastery but a great learning center. He expressed happiness that Tibetans have kept the Nalanda tradition alive having translated all major Nalanda teachings and commentaries into Tibetan. Buddhists from all around the world including China, Sri Lanka and Burma have shown recognition of this work and now many Buddhists are discussing and studying Buddhist philosophy.
After lunch His Holiness addressed a gathering of more than 200 Tibetans living in Italy and neighboring countries. He urged them to be proud of their ancient heritage. He cited a study done by archeologists who have found evidence in the Domey region of Tibet of a human civilization dating back to the Stone Age. He also mentioned about a stone excavation in Ngari region of Tibet dating back tens of thousands of years. "So ours is a very long and ancient heritage." he said.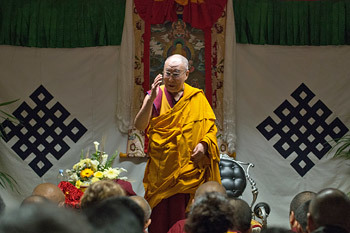 His Holiness the Dalai Lama speaking to members of the Tibetan community living in Italy and neighboring countries in Livorno, Tuscany, Italy on June 14, 2014. Photo/FilmPRO
"The continuation of our struggle is primarily due to the determination, will power and persistence of Tibetans inside Tibet," he said. His Holiness mentioned late Baba Phuntsok Wangyal, who he termed as an atheist, but someone who was very patriotic towards his nation, Tibet. He also mentioned Tibetan officials in the Chinese Communist system who continue to have a strong feelings for Tibet which can get them in trouble. His Holiness was pleased that the Tibetans have not taken to violence in the struggle.
He commended Tibetans living in exile for holding intact Tibetan language, religion and culture. However he cautioned Tibetans not to be complacent and not to take the Tibetan Buddhist culture for granted. He expressed his fear that Tibetans are gradually losing their culture of honesty and integrity. He cited the example of Indian businessmen in Punjab granting interest free loans to Tibetans in the good old days for sweater selling business based on pure trust without taking any guarantee whatsoever. He said that these days it now was an all cash transaction.
Speaking on the importance and need to study Tibetan language, His Holiness cited the example of Tibetan Muslims living in the Indian state of Jammu & Kashmir who speak a formal Central Tibetan dialect in its pure form even though they are not Tibetan Buddhists. He urged parents to develop the habit of speaking Tibetan at home so that the Tibetan younger generation can continue to learn the language. He said that the Tibetan language is the only language that can understand the Nalanda tradition of Buddhism in it's entirety.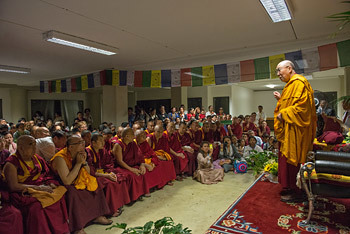 His Holiness the Dalai Lama speaking to members of the Tibetan community living in Italy and neighboring countries in Livorno, Tuscany, Italy on June 14, 2014. Photo/FilmPRO
Since there are many young Tibetans living abroad, leaving behind children and elderly in Tibetan settlements in India, it is important for Tibetans abroad to contribute towards community development in the settlements. His Holiness expressed hope that the exile Tibetan settlements can preserve and keep intact Tibetan language, religion and culture, even if the Tibetan struggle were to continue for more years or decades.
He advised all to think about their community and nation and work for the larger interests, rather than individual interests. He pointed to a Tibetan entrepreneur in the audience and acknowledged his contribution for an Old Age Home in the Bhandara Tibetan settlement in India. He made a special mention of the good quality air condition there and jokingly remarked that the air conditioning in the small remote settlement was far better than the ones here in Italy.
Later in the afternoon His Holiness returned to the Modigliani Forum and continued his teachings from Nagarjuna's "Letter to a Friend" and Tsongkhapa's "Praise of Dependent Origination". Tomorrow His Holiness will confer the Avalokiteshvara Empowerment in the morning followed by a public talk in the afternoon.