Likir Gompa, Ladakh, India, 29 June 3014 - This morning, on his first excursion since returning from Zanskar His Holiness the Dalai Lama visited the Leh Jokhang and paid his respects. At the Bakula Memorial Park, built in commemoration of Bakula Rinpoche by the Indian army in collaboration with the Ladakh Autonomous Development Hill Council, he remarked that Rinpoche had been a good friend. He noted that following his studies in Tibet, Rinpoche returned to India where he got to know Prime Minister Nehru. His Holiness said: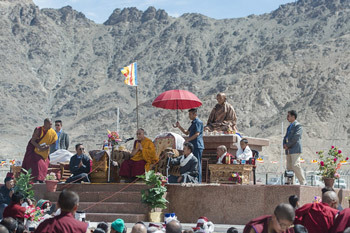 His Holiness the Dalai Lama speaking at Bakula Memorial Park in Leh, Ladakh, J&K, India on June 29, 2014.
Photo/Tenzin Choejor/OHHDL
"It's most appropriate to establish this memorial in tribute to Bakula Rinpoche as the man who initiated the modernization of Ladakh."
Urban Development Minister in the Jammu & Kashmir Government, Rigzin Jora also addressed the occasion saying that the members of the Hill Council were grateful to Bakula Rinpoche and tried to follow his example. He thanked His Holiness for coming.
In Pethub (Spituk) monastery, which is celebrating its 600th anniversary, His Holiness reconsecrated a 1000 year old statue of Vajrabhairava that has been restored. He spoke of the need to improve the monastery's status as a centre of learning, while acknowledging the important role that monks from across the Himalayan region and especially Ladakh play in the Tibetan monasteries in South India. At Phey Monastery a group of young monks showed off their debating skills in front of His Holiness,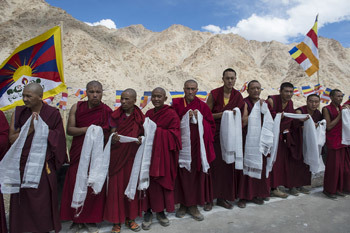 Ladakhi Monks awaiting His Holiness the Dalai Lama's arrival at Likir Monastery in Likir, Ladakh, J&K, India on June 29, 2014. Photo/Tenzin Choejor/OHHDL
Wherever His Holiness went Ladakhis cheerfully lined the roads to greet him. Ganden Tri Rinpoche also accompanied him to all these places and the two of them later had lunch together.
Arriving at Likir Monastery in the mid-afternoon, His Holiness was received by senior monks, village elders and members of the Organizing Committee who escorted him to the doors of the new Lhakhang. There he cut the ribbon, pushed open the doors and while he chanted auspicious prayers tossed flowers in the air. More monks were on hand to welcome him, as well as local village women in traditional ornate headgear and a group of smiling schoolchildren. He took his seat on the throne, tea and sweet rice were served and prayers, including the Prayer for His Holiness's Long Life were recited, but he said it was time to rest and there would be time to talk tomorrow.