Dharamsala, HP, India, 3 October 2014 - In a letter to the family of the Wäger Family in Munich, Germany, His Holiness the Dalai Lama expressed his sadness at the passing away of Ama Wäger and offered his condolences to members of her family, friends and colleagues.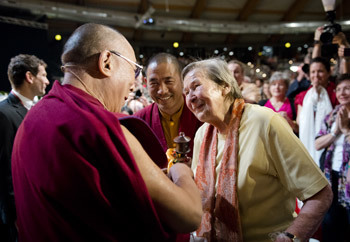 His Holiness the Dalai Lama with Ama Wäger during his visit to Salzburg, Austria on May 21, 2012.
Photo/Tenzin Choejor/OHHDL
His Holiness wrote that in her passing away, Tibetans have lost a friend who, until her last breath, kept the wellbeing of needy Tibetans close to her heart.
He also said that among the many who have provided generous assistance to Tibetans, both young and old, in exile, Ama Wäger was perhaps unique. Not only was she generous herself, also directing the support of many other individuals in Germany to where it was most needed, but she personally visited those she helped in different Tibetan settlements and schools in India and Nepal.
His Holiness concluded by saying that he will remember Ama in his prayers.