Coimbatore, Tamil Nadu, India, 7 January 2014 - A short flight from Bangalore brought His Holiness the Dalai Lama to Coimbatore, where he was received with pleasure and efficiency and transferred to a nearby hotel. Perhaps appropriately he occupies the Nirvana suite. He is in Coimbatore at the behest of Mounasadhu Swami Satyanand Maharaj of Aruppukottai,Tamil Nadu. The Swami came to see him a year ago when he was participating in the Mind & Life conference at Drepung Monastery in Mundgod, Karnataka. His Holiness was impressed by his demeanour, not least by the fact that as part of his spiritual practice he has kept silent for more than twenty years. His Holiness accepted his invitation to take part in celebrations here of the 150th anniversary of the birth of Swami Vivekananda, an advocate of inter-religious harmony for whom he has great respect.
An estimated 5000 people, adults and children attired in orange in the manner or Swami Vivekananda, were present in a hall at the Codissa Trade Fair Centre when Swami Satyanand Maharaj escorted His Holiness to the dais. To begin with a group of singers and musicians led singing of joyful bhajans as His Holiness looked on, smiling. Next was the auspicious lighting of the lamp, followed by introductory speeches, notably the keynote address by Sri Swami Nirmalandantha. Then came one of the highlights of the event as His Holiness was invited to unveil a 7 feet 9 inch tall Makrana Marble statue of Vivekananda that was actually at Vattamalai near Kangeyam about 70 km away. This was achieved by inviting him to press a button that triggered the parting of curtains before the image, which was viewed by everyone in the hall on large video displays. Immediately afterwards, His Holiness was invited to speak.
"Respected spiritual leaders, and, as I usually say, brothers and sisters. We human beings are all the same, mentally, physically and emotionally we are the same. We all want to live a happy life and we all have a right to achieve that goal. I consider myself just a human being; nothing special. If I were to think of myself as something special, what would be the use? It would just create a barrier between me and others. I prefer to greet you all as my brothers and sisters.
"I've really enjoyed this function, in which all these boys and girls have shown so much joy and enthusiasm. It fills me with joy too. Swami Satyanand Maharaj who invited me here has remained silent for so long, not at all an easy thing to do. I once undertook a meditation retreat that included the practice of remaining silent for only one week. It was quite hard. Of course, Swami ji it's up to you, but I hope that at some point you might consider speaking again, if only for an hour a day or for some time once a week that would enable you more readily to share your experiences with interested people."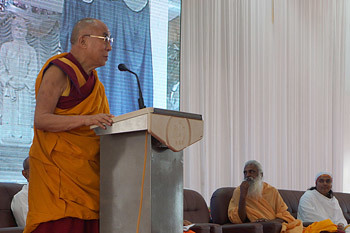 His Holiness the Dalai Lama speaking during celebrations of the 150th anniversary of the birth of Swami Vivekananda in Coimbatore, Tamil Nadu, India on January 7, 2014. Photo/Jeremy Russell/OHHDL
His Holiness mentioned his respect for Swami Vivekananda and that he has been to Kanyakumari where he began the journey that culminated in his famously attending the World Parliament of Religions in Chicago all those years ago. He expressed his admiration for Swami Vivekananda, not only for his dedicated spiritual practice, but also for his broad, far-sighted vision. He said he has also attended meetings of the World Parliament of Religions, most recently in Melbourne, Australia. However, he feels that while it offers the opportunity to talk, the Parliament is not as active as it was in Vivekananda's time.
His Holiness noted that India is one of the world's great civilizations with ancient roots reaching back into history that is distinguished by the line of great teachers it has produced. He recalled his friend Raja Ramanna, the Indian nuclear scientist sometimes known as the Indian Sakharov, telling him that he had read in Nagarjuna's writings explanations that pre-empted quantum physics by almost 2000 years.
"One of the most important ancient Indian ideas is 'ahimsa', non-violence, which I consider to be compassion in action. It doesn't mean weakness, cowering in fear, or simply doing nothing. It is to act without violence, recognising the rights of others. The motivation is 'karuna', compassion, and the action is 'ahimsa', non-violence.
"This country has given rise to many great spiritual traditions and in due course other great traditions have come here, the Parsees, as well as followers of Judaism, Christianity and Islam have been among those who have come and settled in India. These major religious traditions live together peacefully here side by side. Of course, there may be upsets now and then, but by and large they are rare."
Schoolchildren in the garb of Vivekananda attending celebrations of the 150th anniversary of the birth of Swami Vivekananda in Coimbatore, Tamil Nadu, India on January 7, 2014. Photo/Jeremy Russell/OHHDL
His Holiness recalled meeting a Romanian in Rajasthan who was researching inter-religious harmony. He told him of a Muslim village he had found of about 4500 people among whom three Hindu families lived securely and happily. His Holiness declared that among all the countries of the world India is a model of how people of different faiths can live together in peace. India shows that living with pluralism, tolerance and inter-religious harmony is possible. He cited one of his friends who told him that India's democracy, rule of law, freedom of speech and freedom of the media are successful because of India's long tradition of tolerance, the ability to accept and respect other sometimes opposing points of view. He mentioned the Charvakas, ancient hedonist nihilists, who rejected spiritual pursuits, but whose teachers were nevertheless referred to as Rishis or Sages.
"It's not sufficient that religious teachers today stay quietly in their ashrams," His Holiness said, "they should come out and share their rich traditions and experiences. When we see pictures of our blue planet from space, there are no signs of boundaries. It's a vivid illustration of the oneness of humanity. This is why we have to make the well-being of humanity our primary concern. We have modern education and technological developments and yet we still face many problems. None of us want these problems, but we seem to create them for ourselves. Why? Because of too much self-centredness, too much stress on our own narrow interests. Look at what happened at the Copenhagen summit on climate change. Too many countries put their narrow national interest ahead of the global interest that affects us all. We see too much concern for 'I' and 'mine', 'us' and 'ours' and not enough consideration for the needs of others."
His Holiness asked what we can do to deal with this when 1 billion out of a population of 7 billion declare themselves non-believers in spirituality and when many of those who think of themselves as believers are not very sincere. He asked how corruption can flourish among people who think of themselves as religious minded. At the same time, he noted that Christian monks and nuns and members of the Ramakrishna Mission have set a wonderful example in their work to spread health and education among those who have little other access to it.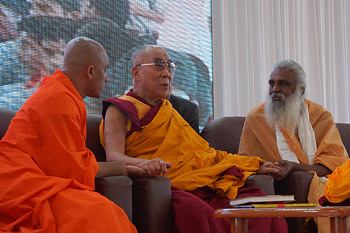 Swami Nirmaladantha, His Holiness the Dalai Lama and Swami Satyanand Maharaj on stage together during celebrations of the 150th anniversary of the birth of Swami Vivekananda in Coimbatore, Tamil Nadu, India on January 7, 2014. Photo/Jeremy Russell/OHHDL
His Holiness suggested that just as India, a multi-religious society drew up a secular constitution at Independence, the need today is for secular ethics, those inner values incorporated by all religions. He said he has great admiration for the Indian idea of secularism that respects all faiths and even those who have none, without bias. Secular ethics can be based on common sense, common experience and scientific findings. He spoke of the dialogues he has engaged in with scientists over the last 30 years. He mentioned that scientists have found that constant anger, hatred and fear undermine our physical health, whereas warm-heartedness and concern for others promote our well-being. Therefore, it is in our own best interests to cultivate compassion and concern for others. As a result we will be healthier and happier.
His Holiness was asked if he had a message for young people and he replied:
"I've seen how these young people here are full of joy and good spirits. When you face difficulties, you must keep up this positive outlook. To give in to pessimism is to invite failure. When I was your age, I was quite naughty and lazy. I preferred to play rather than study. Then at the age of 16 I lost my freedom and at 24 I lost my country, but I never gave up and I've kept my hope alive."
Cultural performances followed with dancing by Tribal people from the Niligiri District and Tibetan students from TCV, Bylakuppe. While the dancers were getting ready, members of the media rushed forward to question His Holiness who leaned down from the dais to talk to them.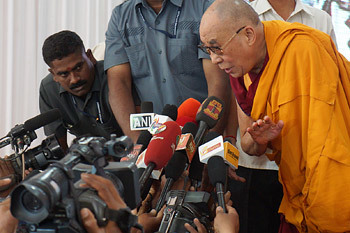 His Holiness the Dalai Lama interacting with members of the media after his address at celebrations of the 150th anniversary of the birth of Swami Vivekananda in Coimbatore, Tamil Nadu, India on January 7, 2014. Photo/Jeremy Russell/OHHDL
"I would like to tell the media," he said, "that in a modern democratic society governed by the rule of law, information is very important. I often say that members of the media should have long noses like elephants to sniff out what is really going on and then should inform the public. This is an important responsibility, but it must be done with honesty. Once the public is aware they can take action accordingly."
As the meeting came to an end His Holiness was escorted to his car. Many of the public who had been pleased to see him also wanted to touch him too, pushing forward to shake his hand or touch his feet. Slowly the cordon of police around him made its way to the door, and smiling and waving to friends and well-wishers His Holiness was able to return to his hotel. Tomorrow he travels on to Nagpur for meetings with Indian Buddhists.