Livorno, Tuscany, Italy, 15 June 2014 - His Holiness the Dalai Lama began the last day of his Italian visit by arriving early at the Modigliani Forum to do preparatory prayers for the Avalokiteshvara Empowerment. After completing the preparations His Holiness welcomed Bishop Simone Giusti of Livorno on the stage.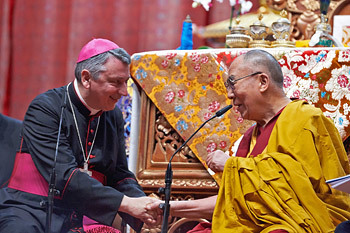 His Holiness the Dalai Lama with Bishop Simone Giusti of Livorno during his teaching at the Modigliani Forum in Livorno, Tuscany, Italy on June 15, 2014. Photo/Olivier Adam
"It is a great honor to have a spiritual brother from a major religious tradition present here ahead of my teachings of the Buddha. I always mention that all religions teach the same message, the practise of love. Philosophically there are major differences between our two religions but the aim is the same - to make everyone a better person with moral ethics." His Holiness said.
His Holiness expressed his desire to participate in a Christian prayer service during his next Italian visit, as he said it would not be possible this trip, since he was leaving the next morning. He once again conveyed his warm welcome and deep appreciation to Bishop Simone Giusti on behalf of the Buddhist community in Italy.
Bishop Simone Giusti thanked His Holiness for his words and welcome saying that he was extremely happy and equally honored to be in the presence of His Holiness. He said there are many people in this world who have lost their way and for whom His Holiness' message of love and compassion brings new hope. He once again thanked His Holiness. His Holiness held on to the hands of Bishop Simone throughout their conversation and also walked with him as he left the stage.

His Holiness then conferred the Avalokitesvara Empowerment. In the afternoon His Holiness returned to the Modigliani Forum to give a public talk on Compassionate Ethics attended by more than 6000 people.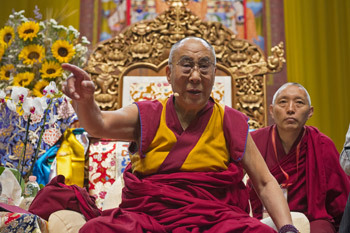 His Holiness the Dalai Lama speaking during his public talk in Livorno, Tuscany, Italy on June 15, 2014. Photo/FilmPRO
He began by talking about the Tibetan national flag, having signed one on his way to the stage. He recalled his conversation with Chairman Mao in Peking, China during his China visit in 1954-55, during which Chairman Mao told His Holiness that he should display Tibet's national flag if they had one. His Holiness said that the Chinese leaders at that time were dedicated people and that he admired them. He went on to add that as far as a social economic theory was concerned he considered himself a Marxist.

His Holiness said that he enjoyed his Italian visit. Whenever he met members of the public they showed genuine human feeling towards him and he thanked everyone for the love that they had shown. He had just one complaint, and that was the hot weather, which is beyond everyone's control, he said.

Speaking on ethics, His Holiness said that he considered all actions carried out for the welfare and benefit of other's wellbeing as ethical. He advised people to develop a sense of concern for wellbeing of others. Ultimately, this will benefit oneself. This he said was being wise-selfish. Sincerely caring for others wellbeing leaves no room to bully, cheat or harm others. This benefits us because our mind will be much happier leading to a happy life, he said.

At the time of birth a child does not know any word, any language, but is totally dependent on its mother's love and affection. Scientists have found through study that for a new born child a mother's touch is very crucial for the proper development of the brain in the initial few weeks after birth. His Holiness said that the affection of mother at an early age in life is very important.

He concluded his talk saying that the first person who benefits from showing compassion to others is oneself. "So please practise love and compassion," he said.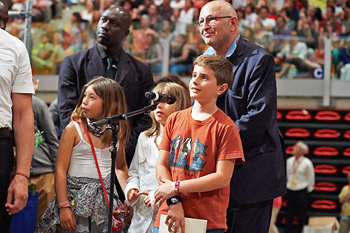 Young children asking His Holiness the Dalai Lama questions during his talk on Compassionate Ethics at the Modigliani Forum in Livorno, Tuscany, Italy on June 15, 2014. Photo/Olivier Adam
The question and answer session started with questions from young children aged around 7 years and one from a young man in his teens who told His Holiness that like him there are many teens in Europe who are worried about their future and asked for advice.
His Holiness said that he places high hopes on the new generations of young people belonging to the 21st century and asked them to take the lead in being the change that they want to see. He called for them to pay more attention to inner values and moral ethics, over and above the current education system. He said by his talks and other appearances he is sending out a message to youth everywhere that he was with them in their efforts to make the 21st century a more peaceful and compassionate century.
There was one question on the subject of the demonstrations held for the past two days by Shugden supporters. One man asked His Holiness how does one differentiate between the actor and action in this case and what should the attitude of Buddhists like him be towards these protestors.
His Holiness replied that the Shugden problem is nearly 400 years old and that the Great 5th Dalai Lama and the 13th Dalai Lama considered this spirit harmful and advocated against its worship. He said that he considers Shugden worship as just a spirit worship and not a religion. His Holiness further said that this practise was very sectarian, while he always advocated non-sectarianism. He said that even he had worshipped this spirit from 1951-70 out of ignorance. But after thorough investigation and experimentation he found the practise very sectarian in that it restricted him from taking teachings from other Buddhist sects. After stopping this practise he became free to receive teachings from the Tibetan traditions of Nyingma, Kagyu, and Sakya, thereby actually gaining freedom of religion, he said, refuting the baseless charges of the Shugden followers that His Holiness restricts their freedom of religion.
Responding to a question about leadership, His Holiness said that studies have found that biologically females are more sensitive towards the welfare and well-being of others. He advocated that females take a more active role in leadership. This was received by a huge applause. He also spoke about Buddha having given equal rights to monks and nuns alike. His Holiness mentioned how he has advocated for a similar kind of education for both monks and nuns in Buddhist monasteries in Tibetan settlements in India and that he was glad his words are being implemented these days in the Tibetan monasteries and nunneries in India.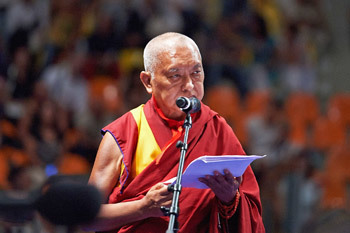 Lama Zopa Rinpoche thanking his Holiness the Dalai Lama at the conclusion of the day's events at Modigliani Forum in Livorno, Tuscany, Italy on June 15, 2014. Photo/Olivier Adam
After more than an hour of questions Lama Zopa Rinpoche concluded the program with thanks to His Holiness for blessing Lama Tzong Lhapa Institute with his presence and he also thanked all concerned for making His Holiness's visit a success. The Director of Lama Zong Khapa Institute Mr. Fillipo thanked His Holiness for the teachings, the Avalokitesvara Empowerment and his public talk on compassionate ethics. His Holiness then offered scarves to Lama Zopa Rinpoche, Mr Fillipo and all the interpreters.
Before leaving the venue, His Holiness gave his farewell remarks.
"I had a very memorable visit here in Italy. It is now time to say goodbye, not just to Italy, but to this heat. We are separating for the time being but in spirit we are together. We will remain friends until our death. Everyone please realize that the ultimate source of our happiness is within oneself, and does not depend on outside sources. So please pay more attention to inner moral values. Please keep this in mind."
As he left the venue, the crowd of more than 6000 gave him a thundering applause and bidding him an emotional farewell. Tomorrow His Holiness will depart for India.