Dharamsala, HP, India, 13 September 2014 (OHHDL) - His Holiness the Dalai Lama is convening A Meeting of Diverse Spiritual Traditions in India to discuss some of the most important issues ailing our society today, particularly in the context of India. The historic meeting will be held on 20 and 21 September 2014 in New Delhi.
India has been the birthplace of one of the world's greatest civilizations, giving rise to multiple systems of philosophical schools, spiritual and faith traditions. Philosophical thoughts like Sankhya, Yoga, Vaishasika, Nyaya, earlier and later Mimamsa, Bodh, Jain and Charvaka emerged and developed with extensive interactions and debates among them reaching to a high level of sophistication. Similarly, many of the world's great spiritual lineages originated in India: the Vedic, Shaiva, Vaishnava, Jain, Buddhist as well as Kabir and Sikh. In addition to these indigenous traditions, Christianity, Islam, Zoroastrianism, Judaism and Bahai were introduced into India and flourished. India therefore came to be a true model of spiritual plurality and harmony. As such, the majority of the world's religions and spiritual traditions have co-existed peacefully in India, flourishing side by side with harmony and mutual respect for millennia.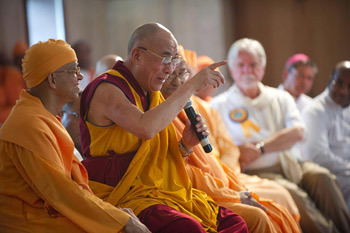 His Holiness the Dalai Lama speaking at an All Faiths Prayer Meeting at the Ramakrishna Mission in New Delhi, India, on September 11, 2012. Photo/Tenzin Choejor/OHHDL
For more than five decades His Holiness the Dalai Lama has frequently met with and engaged in numerous dialogues with Indian spiritual leaders, scholars and activists. Drawn from the experiences of these efforts and exchanges, the idea of this meeting of 'Diverse Spiritual Traditions in India' was conceived. It is hoped that this meeting will be a platform for spiritual leaders to arrive at a strategy for making concerted efforts in tackling the many pervasive problems and promoting ethics. By coming together and discussing, it may be possible to consolidate our efforts in this regard
The following points of common concern form the basis of the spiritual leaders meeting together for an important collective conversation:
• Basic human values such as compassion, tolerance, forgiveness and self-discipline need to be promoted among people.

• Human history is a witness to the fact that dialogue is the most effective way to prevent violence and resolve conflicts. The spirit of dialogue, which lies at the heart of all great spiritual teachings, must be promoted in today's interdependent and interconnected world.

• The gap between the rich and the poor must be addressed, as it is a potential source of many of human crises, including violence and injustice.

• The twenty first century is envisioned as a very civilized century where education is respected more than physical strength. Discrimination against women who form half of the human population is a clear sign of backwardness. Women must be empowered so that not only do they receive equal respect, they may also be able to express their full potential towards the betterment of the world.

• The planet earth is the only home for the nearly seven billion human beings. Awareness needs to be created so that we do not destroy it, and rather give utmost care to the natural environment including rivers, oceans and forests and exercise moderation in harvesting natural resources.

• With the change of time certain practices and rituals have become obsolete in all cultures and spiritual traditions. These old customs and rituals need to be reassessed.

• The exponential rise in the decline of moral values all across the world is a clear indication of the incompleteness of the modern education system. We need to reflect on how to ensure and implement the introduction of ethics in the education system, which is acceptable to all traditions including non-believers.

• All religious and spiritual traditions have the potential to nurture inner peace and social harmony as the world engages with diverse issues of equity, development, and the interdependent future of ourselves and our planet. Sadly they also have the potential for discord and disharmony. However, spiritual and religious traditions have an obligation to move beyond individual differences and become a powerful force to confront and overcome natural disasters, man-made crises and conflicts.

• There is a desperate need to create mechanisms by which we can unite and provide mediation, advice, help backed with moral authority, as well as a framework of secular values. It is imperative that we evolve and implement strategies that will enable us to work together for the betterment of our shared future.

Meanwhile since harmony among all the spiritual traditions is imperative, it is worthwhile to mention here the following four measures suggested by His Holiness the Dalai Lama to promote harmony among the different religions:

• The meeting of scholars from different faith traditions: Seeing the similarities as well as the differences among the different faith traditions would help to foster an understanding and appreciation of the need for multiple approaches to suit the diverse mental dispositions of human beings.

• The meeting of practitioners of different faiths: Mutual sharing of spiritual experiences such as warm-heartedness, forgiveness, compassion, contentment and self-discipline among the practitioners of different faiths will bring to light the fact that essentially all faiths are the same in their message. This will engender genuine respect towards other faiths.

• Meeting of spiritual leaders: Coming together of spiritual leaders on the same platform to advocate in one voice for "PEACE" will inspire their followers to feel the oneness and not divide.

• Group pilgrimages of people from different faiths to the sacred sites of all spiritual traditions.

All the major spiritual traditions have long provided solace and offered diverse solutions to the various human problems. They have within them the knowledge and resources to tackle the many societal ills, such as poverty, crime and violence, the rise in mental and physical health problems, environmental degradation, paucity of educational and health facilities and so on. Ethics that cuts across all cultures and traditions could solve these societal problems and enable constructive development of human society. No doubt through wisdom, compassion and non-violent means human problems and environmental issues can be resolved, leading to a more peaceful, harmonious and happy society.
It is hoped that this meeting will be a platform for spiritual leaders to arrive at a strategy for making concerted efforts in tackling the many pervasive problems and promoting ethics. By coming together and having discussions, the meeting hopes to consolidate efforts being carried out in this regard.