Leh, Ladakh, J&K, India, 6 July 2014 - In the days since the beginning of the process of preparing for the Kalachakra Empowerment, monks of Namgyal Monastery have performed the Earth Dance and commenced construction of the sand mandala. His Holiness the Dalai Lama has participated in the associated prayers morning and afternoon. Yesterday, the Governor of Jammu & Kashmir Mr NN Vohra also called on His Holiness at his Shiwatsel residence.
Today, was His Holiness's 79th birthday and as he walked out to the pavilion where he was to teach, many people along the way offered him congratulations and good wishes. Among the dignitaries who had gathered for a more formal celebration, the first to speak was Kalon for Religious & Cultural Affairs, Pema Chinjor. On behalf of Tibetans in Tibet and elsewhere he recalled His Holiness's remark that he might live to 113 and requested him to do so. He also noted the kindness with which His Holiness has looked after the Tibetan people and the success of his efforts to preserve Tibetan language, religion and culture in exile. He said Tibetans in Tibet continue to be devoted to His Holiness, as revealed by the more than 130 who have committed self-immolation calling for his return, as well as for freedom in Tibet.
Describing His Holiness as a champion of peace, Speaker of the Tibetan Parliament in Exile, Penpa Tsering, mentioned that he was born in a village close to the birthplace of Je Tsongkhapa. He prayed that His Holiness live long and that his wishes be fulfilled. He took the opportunity to thank the Governments of India and of Jammu & Kashmir, as well as the people of Ladakh, for the help they have afforded Tibetans.
Local Muslim leaders Saif-ud-Din and Asharaf Ali added their voices to those offering greetings to His Holiness on this propitious day. Commenting that all Ladakhis, not only the Buddhists, revere His Holiness and the advice he gives. Rigzin Palbar of the Ladakh Hill Development Council prayed for His Holiness's long life and expressed appreciation for his giving the Kalachakra Empowerment for the third time in Ladakh. Minister for Urban Development, Rigzin Jora took up this point remembering the Kalachakra Empowerments of 1976 in Leh and of 1988 in Zanskar, events that had ushered in a Ladakhi renaissance. He said that as a beacon of peace and harmony, His Holiness is to the 21st century what Mahatma Gandhi was to the 20th. Geshe Konchok Namgail referred to Tibetans and Ladakhis as one people, while Dr Tundup Tsewang announced that 108,000 people had so far registered to attend the Kalachakra Empowerment. He thanked all the organizers and prayed that His Holiness live long and that the people of Tibet soon achieve the autonomy they seek.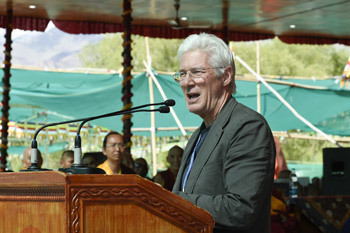 Actor Richard Gere speaking at His Holiness the Dalai Lama's 79th birthday celebrations during the 33rd Kalachakra Empowerment in Leh, Ladakh, J&K, India on July 6, 2014. Photo/Manuel Bauer
A local woman, who reportedly channels Palden Lhamo, came forward in spontaneous trance to pay her respects at His Holiness's feet. The call, immediately afterwards, for actor and student of His Holiness, Richard Gere to speak was met with cheers. He recalled that directly after his first meeting with His Holiness in Dharamsala 33 years ago he came to Ladakh, which he described as one of the most beautiful places on earth. He described himself as humbled by the fact that he lived at the same time as His Holiness, saying that not only to know him, but also to be able to listen to him was extraordinarily fortunate. On behalf of the more than 4000 other foreigners in the audience he wished His Holiness a happy birthday.
As His Holiness was about to speak, another spontaneous possession took place, this time of a man who His Holiness said was a vehicle for Nyanchen Thangla, a Tibetan protective spirit contemporary with Emperor Trisong Detsen in 8th century.
"Today, here in Leh," His Holiness began, "people of Ladakh, Tibetans and visitors from abroad are making prayers for my well-being. You are joined by many others who are not here, especially people in Tibet who have a special connection with me, many of whom are not allowed to express their faith and support; I greet all of you. In Mongolia, Russia and Taiwan, and even quietly in mainland China, I believe celebrations are taking place; I thank everyone taking part.
"The five sciences of our Buddhist tradition we owe entirely to India. A great Tibetan master once said that Tibet was surrounded by mountains and referred to as the Land of Snows. But, although the colour of the snow was white, Tibet was dark until the light of Dharma came from India, illuminating the entire land. Since coming to India we have enjoyed freedom. I have been able to travel and meet people all over the world, people, with whom I can share common human feelings."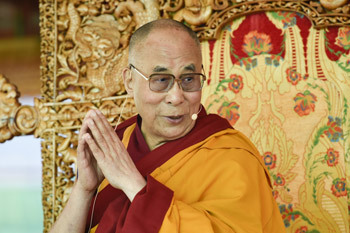 His Holiness the Dalai Lama speaking during the first day of preliminary teachings of the 33rd Kalachakra Empowerment in Leh, Ladakh, J&K, India on July 6, 2014. Photo/Manuel Bauer
His Holiness outlined his three commitments to promoting human values, fostering inter-religious harmony and, as a Tibetan, his eagerness to preserve Tibetan language, religion and culture and protect Tibet's fragile environment. Although Tibet was an empire on a par with those in Mongolia and China in 7th, 8th and 9th centuries, at this time he is not seeking separation from China, but a mutually acceptable solution that will ensure the preservation of Tibetan values. He called on his listeners to contribute to making the 21st century an era of peace and harmony, an era in which problems are not addressed by a resort to force but by non-violent means.
As an introduction to the Buddha's teaching and in preparation for the Kalachakra Empowerment, His Holiness said he would explain Nagarjuna's 'Precious Garland' and 'Letter to a Friend'. He said he had received the 'Precious Garland' from Tsenshab Serkong Rinpoche and the 'Letter to a Friend' from Khunu Lama Rinpoche. First, however, he reviewed 'Illuminating the Threefold Faith' an invocation of the Seventeen Masters of Nalanda. He quoted from the colophon to explain why he had composed it.
"At the present time, when in the ordinary world there is great advancement in the fields of science and technology, but we are also distracted by the hustle and bustle of our busy lives, it is extremely important that those of us who follow the Buddha should have faith based on knowledge of his teaching. Therefore, we should examine the reasons for it with an unbiased and inquisitive mind, analysing it closely."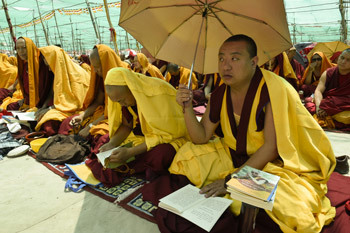 Members of the audience, some with umbrellas to protect agains the sun, listening to the the first day of His Holiness the Dalai Lama's preliminary teachings of the 33rd Kalachakra Empowerment in Leh, Ladakh, J&K, India on July 6, 2014. Photo/Manuel Bauer
He mentioned that the Nalanda masters had investigated and analysed the Buddha's teaching to establish which were definitive and which were open to interpretation and were not to be taken at face value. He commended his listeners to adopt a similarly inquisitive and unbiased approach, pointing out that of the three trainings the principal is wisdom supported by concentration and morality.
Briefly recalling the qualities of Nagarjuna and his followers, Asanga and his, the logicians Dignaga and Dharmakirti, the Vinaya masters Gunaprabha and Shakyaprabha and Atisha, who like Shantarakshita and Kamalashila before him came and taught in Tibet, he repeated one of the later verses of the invocation:
"By understanding the meaning of the two truths, the way things exist,
We ascertain through the four truths how we arrive in and how we leave the cycle of existence.
Engendered by valid cognition our faith in the three refuges will be firm.
May I be blessed to establish the root of the path to liberation."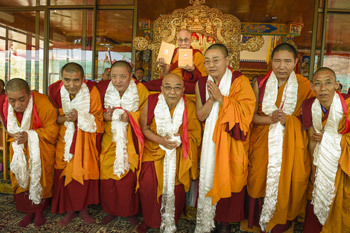 His Holiness the Dalai Lama launching the new book "Compendium of Science" during the first day of preliminary teachings of the 33rd Kalachakra Empowerment in Leh, Ladakh, J&K, India on July 6, 2014. Photo/Manuel Bauer
As the finale of the day's teachings, His Holiness was pleased to launch a new book, the 'Compendium of Buddhist Science'. Three years in preparation, it contains accounts of Buddhist science, particularly the science of the mind extracted from the Kangyur and Tengyur, the translated Canon of Buddhist scriptures. He commended it as being of profound value to unbiased, interested readers, scientists and thinkers, dealing as it does with a deep understanding of the mind and emotions and how to deal with them. He envisages the material the book contains as being the object of academic study, not confined to religious interest. Today, the Tibetan edition was released, but work is already under way to prepare translations into English, Hindi and Chinese and it is hoped the English at least will be finalised by the end of the year.
Explanation of Nagarjuna's texts will resume tomorrow.