Mundgod, Karnataka, India, 19 December 2014 - The Drepung Lachi temple and courtyard were abuzz with anticipation this morning as His Holiness the Dalai Lama arrived to give a Palden Lhamo permission. He said the main disciples were the monks of Ganden Jangtse and Drepung, who had made the request.

After lunch, His Holiness addressed a group who had come from Tibet. He told them:

"We used to live in three provinces united as one, now there are different administrative divisions, but we all still speak Tibetan. What's more, Tibetans are the real owners of Tibet. And your patriotism and courage are excellent. I thank you.

"At this time we need to emphasise education. We need education in our own language about Buddhism and Buddhist psychology. This is something that even scientists in the West are becoming interested in. We need to learn how to transform the mind. The key thing is understanding. If you can say 21 Mani mantras with understanding, they will be far more powerful than saying 1000s without understanding.

"Since Deng Xiao Ping's economic reforms a lot more people became rich. We need wealthy people. However, what's important is not to waste your wealth on drinking and gambling, but to put it to good use. Set up schools and hospitals. Support the education of poorer children. If you can, use your resources for social benefit."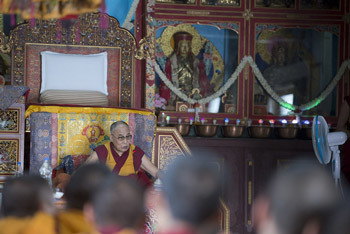 His Holiness the Dalai Lama during his visit to Tsechen Do Ngag Choeling Sakya monastery in Mundgod, Karnataka, India on December 29, 2014. Photo/Tenzin Choejor/OHHDL
His Holiness set out from Drepung Lachi to visit several monasteries in the vicinity. First was the Tsechen Do Ngag Choeling Sakya monastery. The swarming of hornets from their nest high above the temple door gave a brief cause for concern, but the security personnel decided that all would be well as long as photographers did not disturb them by using flash. In speaking to the assembled monks, His Holiness remarked that Sakyas have a reputation for study. Although all four major Buddhist traditions in Tibet are derived from the Nalanda tradition, Je Tsongkhapa praised the Sakya tradition in particular as the source of the study of classic texts. His Holiness said we need a good understanding of the Dharma in general before concentrating on what distinguishes our particular tradition. He mentioned that he received an explanation of the key Sakya Lam Dre tradition from Chopgye Trichen Rinpoche.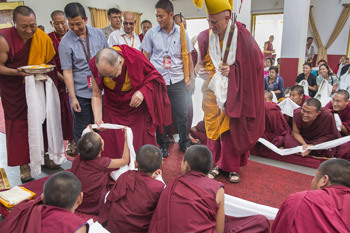 A young monk offering His Holiness the Dalai Lama a ceremonial scarf on his arrival at Rato Monastery in Mundgod, Karnataka, India on December 29, 2014. Photo/Tenzin Choejor/OHHDL
At the next stop, Rato Monastery, the Abbot met His Holiness as he alighted from his car and escorted him into the temple. Once he had taken his seat before an assembly of monks and sponsors, His Holiness laughed and declared that what made the historic Rato Monastery unique today was its Abbot who is an American not a Tibetan. He is a longstanding student of Kyongla Rato Rinpoche, who is the senior student of His Holiness's own main teacher, Ling Rinpoche. He continued:
"In all of our monasteries, large and small, preserving the Dharma can only be done through study and practice. Rato in Tibet was known as an institution where the classic texts were studied, although many other smaller monasteries did no study at all. They only performed rituals. We are trying to change that. But another thing I'd like to change is that texts composed in Tibet, such as the Lam Rim we have just been looking at, were written with the assumption that the reader or listener was already a Buddhist. The classic Indian texts on the other hand took a broader stance and addressed the several opposing points of view that existed when they were written."
At Drepung Gomang His Holiness was presented with a written report that he looked over. He noted that of the 62 original Gomang monks who came down from Buxa, now only 26 remain. He explained:
His Holiness the Dalai Lama speaking during his visit to Drepung Gomang Monastery in Mundgod, Karnataka, India on December 29, 2014. Photo/Tenzin Choejor/OHHDL
"Due to the upheaval in Tibet in 1959 many Gomang scholars were imprisoned by the Chinese. Among the refugees who arrived in India, the Indian government was at first only prepared to support 500 monks. We persuaded them to increase that figure to 1500, so the camp that was set up in Buxa, in Assam, came to house 1300 monks, most of them Gelugpas with some Sakyas. At a low point in Gomang's fortunes the Himalayan people rallied to their support, followed after some time by an influx of monks from Amdo and later still by Mongolians. This is a monastery following the Nalanda tradition based on the use of reason and logic. The main thrust of the texts we study is the investigation of the mind, something that today also attracts the interest of scientists.
"Since last year, I have had discussions with Ganden Tri Rinpoche, Sharpa and Jangtse Chöjeys and the Abbots about what we can do to improve things here. We talked again over lunch today. We need to improve our study and extend ourselves to better serving the people. I'd like to encourage all of you to join in and discuss these things amongst yourselves too."
At Drepung Loseling, across the road, His Holiness said:
"Ganden Tri Rinpoche, Sharpa Chöjey and my own Senior Tutor, Ling Rinpoche all belong to this monastery. It's a monastery that has produced many great scholars following the tradition of Jamgon Lama Tsongkhapa. However, this should not be grounds to take anything for granted. We shouldn't assume everything will go on as before. We need to see what can be done to improve the situation in terms of study and living conditions, even if there are things that can't be done now. For example, education begins to decline when there are not enough qualified teachers. Many feel driven to go to the West by the prospect of earning money.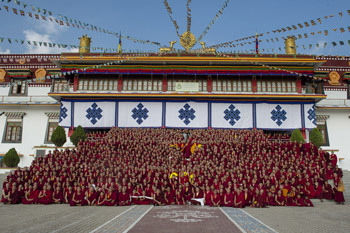 His Holiness the Dalai Lama poses for photos on the steps of Drepung Loseling Monastery in Mundgod, Karnataka, India on December 29, 2014. Photo/Tenzin Choejor/OHHDL
"Last year, when I visited Namdrolling Monastery, where they run a 9 year study programme, I suggested they introduce the study of Shantarakshita's text on the tenets of Buddhist and non-Buddhist systems of thought entitled Tattvasamgraha. There is also a commentary to it by Shantarakshita's student Kamalashila. Just as Namdrolling have done, it might it might be good to consider introducing study of this here."
At both Gomang and Loseling His Holiness posed for photographs with hundreds of monks on the monastery steps. As he returned to Drepung Lachi, monks, nuns and lay-people, Tibetans, Mongolians, Mönpas, local Indians and people from much further afield lined the streets to see him pass. Tomorrow he sets off early in the morning to drive to Pune.