Bangalore, Karnataka. India, 4 December 2014 - After ten days teaching the Stages to the Path to Enlightenment and meeting many people individually and in groups, all of which went smoothly and without obstacle, the time came for His Holiness the Dalai Lama to leave Bylakuppe. He came down to the prayer hall of Sera Jey Monastery, made prayers and saluted the images of enlightened beings. Monks, who had worked as volunteers during the gathering of more than 30,000 people, formed a corridor down the centre of the hall. The Gelugpa hierarchs and an assembly of abbots from Bylakuppe and beyond were there to see him off. Ling Rinpoche, who had requested the teachings, was at the door of His Holiness's car.

As His Holiness's motorcade made its way through the settlement the road was lined with Tibetans from all walks of life, young, old, lay and monastic, with katas, flowers or incense in their hands. Most smiled, some wept. The abbots accompanied His Holiness a certain distance before turning back.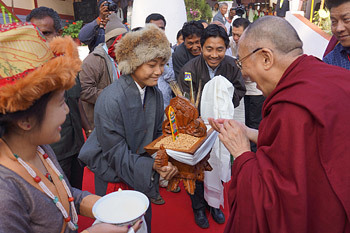 His Holiness the Dalai Lama receiving a traditional welcome on his arrival at the Chowkur Tibetan Settlement in Periyapatna, Karnataka, India on January 4, 2014. Photo/Jeremy Russell/OHHDL
His Holiness's first stop was the slightly remote Chowkur Tibetan settlement nestled on the edge of Bylakuppe off an unmade road. It is home to just over 4000 people. His Holiness was given a traditional Tibetan welcome and escorted into a small hall where he addressed the residents. To begin with he teased the small children who lined the edge of the stage, noticing one boy who had lost his front teeth and asking him if the new ones were growing. As he chatted with the older people, it emerged that several of the oldest men had been monks in Tibet. His Holiness recalled that when he first visited this place everyone had been living in tents. Since then things have developed. He noted that the larger settlements have grown more because of the presence of monasteries, but he said that the situation in Chowkur did not look too bad. He asked:
"Do you feel at home here?" and they in unison they answered "Yes", and he responded:
"Good. This is what it is like to have lost our country and become refugees. When I left Norbulingka I wasn't expecting to come to India, but shortly after we left the bombardment of the Potala and Norbulingka began. We passed the Chinese military camp on the way to the Kyichu River. We were afraid and we tried to be as quiet as we could, although of course the horses' hooves made a noise, and we didn't use any lights. After crossing the river and a pass on the other side we reached Lhoka, where were met by Chushi Gangdruk soldiers, monks and others and headed south. We were unsure whether the Indian Government would grant us entry and we discussed whether to go towards Bhutan or Mön. We sent parties ahead to enquire. The official who had gone to Mön returned to say that Indian government officials were preparing to receive us. At that time, as we say, 'the only thing we knew for sure was the earth and the sky'.
"When we first arrived in exile, we didn't know what was going to happen. We still hoped things could be sorted out. Pandit Nehru came to see me. I first met him in China in 1954, when he was on an official visit there. It was at a banquet hosted by Zhou Enlai, who was introducing Chinese officials to him. When he came to me and said, "And this is the Dalai Lama," Nehru froze and said nothing. It struck me that he had already made a decision about Tibet and I wondered if he was reflecting on the longstanding relations between India and Tibet.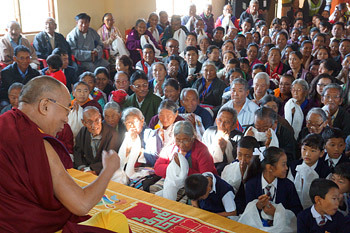 His Holiness the Dalai Lama speaking at the Chowkur Tibetan Settlement, Periyapatna, Karnataka, India on January 4, 2014. Photo/Jeremy Russell/OHHDL
His Holiness explained that he next met Nehru when he came to India in 1956 at the invitation of the Indian Government. There had been uncertainty about the visit because Chinese officials said the invitation from the Mahabodhi Society was too insignificant for His Holiness to accept, but were sufficiently impressed when it came from the Government of India. He reported the difficulties being faced in Tibet and suggested that he was considering not returning but remaining in India as a refugee. Nehru disagreed saying no purpose would be served and it would be better to go back and continue to try to work things out with the Chinese on the basis of the 17 point agreement. He even brought a copy of it with him to lend weight to his advice. His Holiness returned to Lhasa in 1957, but things only went from bad to worse and in 1959 he fled Tibet.
"I had tried to follow Nehru's advice, but after we came into exile it seems he felt heavy-hearted about what had happened to us. We talked about educating the young generation and he offered help to do that. And because we were now in a free country we had the chance to set up settlements like this one. At the same time we approached the UN for support and we received great help from many quarters. People like you in this settlement have worked hard for our cause. You've made a valuable contribution. We should pray for those who have passed away and those of you who are elderly now should know we will look after you. Because we believe in past and future lives, you can pray to be able to serve our cause in the future.
"Those of you who belong to the younger generation should know that what many people value about Tibetans is our warm-heartedness and our positive outlook. You should be careful to keep up our good name. Be kind, be honest, and be friendly.
"Nehru told me it would not help if we were to petition the UN and I told him it was not so much that we were expecting help, but we wanted to keep the issue of Tibet alive. He replied that the best way to do that would be to educate the younger generation. So as the older generation who came out of Tibet pass away, it's important that those of you who are young study well. Without modern education you won't be able to get ahead, but you also need to know our Tibetan language and our Buddhist tradition. This is why we asked Nehru for help in setting up separate schools for Tibetans."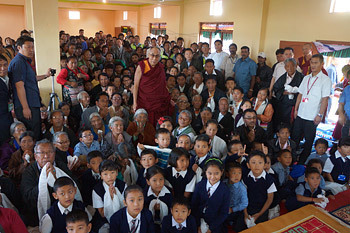 His Holiness the Dalai Lama posing with members of the Chowkur Tibetan Settlement, Periyapatna, Karnataka, India on January 4, 2014. Photo/Jeremy Russell/OHHDL
Gazing at the children before him, His Holiness asked them if they said Manjushri's mantra. He told them it would help them study and taught them to say 'Om ara pa tsa na dhi' and how to repeat the last syllable 'dhi' many times. He asked the parents present to help their children do this, saying that he's repeated it himself since he was a child and he's found it very helpful.
He turned to members of an Italian group that has been supporting this settlement and expressed his appreciation.
Because members of the settlement have become concerned about the number of people who die unexpectedly, His Holiness advised them to seek treatment whenever they fall sick. He told them that whereas in Tibet medical facilities were few and far between, here in exile they are available and they should use them. To conclude he gave transmission of the mantras of the Buddha, Avalokiteshvara, Tara and Hayagriva. Before leaving, he visited the small carpet factory, which the Italians have helped with, and took a round of the stupa and large prayer wheel that donations from a family now settled in Switzerland had paid for.
Continuing the journey to Bangalore, His Holiness stopped for lunch at the Dalai Lama Institute for Higher Education. Although this is vacation time, some students, staff and teachers were on hand to welcome him. This new institution currently has about 220 students and 50 staff and is looking forward to improving the quality and scope of higher education for Tibetans. After eating well, it was a relatively short drive to His Holiness's hotel in Bangalore, where he retired for the night.