Minneapolis, MN, USA , 2 March 2014 - After a gloomy day yesterday, today, the first day of the Tibetan New Year, dawned bright and clear. As His Holiness the Dalai Lama drove to Augsburg College for Losar celebrations organized by the Tibetan American Foundation of Minnesota, the sun shone brilliantly, reflecting off the snow piled along the road and catching the breath-like vapour trails of the cars. His Holiness was accorded a full traditional Tibetan welcome on arrival. He participated in lighting a Tibetan butter lamp after which everyone stood at attention for a rendition of both the Tibetan and American national anthems.

The Tibetan Community President made a brief report and offered the mandala and three representations of the enlightened body, speech and mind to His Holiness. This was followed by a Long Life Offering being made to His Holiness. In his welcome address, leader of the Minnesota Tibetans, Namgyal Dorjee acknowledged the distinguished guests, His Holiness, the Sikyong, Congresswoman Betty McCollum, Congressman Keith Ellison, and Minneapolis Mayor Betsy Hodges. He noted that this was the first time His Holiness had celebrated Losar in the West and that Minnesotan Tibetans considered it most auspicious that he was spending it with them.
In his address, Sikyong Dr Lobsang Sangay also observed how auspicious it was that His Holiness was here. He greeted all 2500 people present with Tashi Delek, expressed a prayer that all His Holiness's wishes be fulfilled and noted how opportune it had been that His Holiness had recently been able to meet with President Obama. Congresswoman Betty McCollum concluded her speech with the declaration that it is time for Tibet to be free of violence and oppression. Congressman Keith Ellison in turn stated that it was time for the Chinese government to show respect for religious and cultural differences. He said it should open up, specifically open up to a direct dialogue on the matter of a genuinely autonomous Tibet. Mayor Betsy Hodges opened her speech with a resounding "Losar Tashi Delek". She issued a proclamation to His Holiness naming today His Holiness the Dalai Lama Day of Peace in Minneapolis. Finally, Tashi Namgyal read a message from the Speaker of the Tibetan Parliament in Exile which concluded with the prayer that His Holiness's wishes be fulfilled, a prayer that he lives long and that Tibetans may soon be united once more within Tibet.
Young Tibetans performed songs and dances that represented the Three Provinces of Tibet with vigour and joy. The time came for His Holiness to speak:
"Democratically Elected Leader, Lobsang Sangay, Regional Tibetan Leaders, Congress Representatives, Lady Mayor, monastics and lay-people, our special guests of honour have come and spoken up for us - thank you. I'd like to start by greeting all Tibetans, not only those here, but all those outside and inside Tibet. Tibetans are not very numerous, but we have our own literature and language, which today is the most appropriate language in which to discuss Buddhism. All religious traditions teach about love and compassion, tolerance, forgiveness and contentment. The special emphasis in Buddhism is the use of reason. The Buddha taught a path leading to good rebirth and liberation. A thorough explanation of these teachings exists in Tibetan, an explanation more comprehensive that in any other language, which is something to be proud of.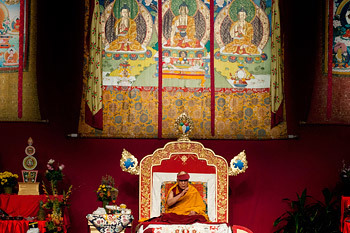 His Holiness the Dalai Lama speaking during Tibetan New Year's Celebrations held at Augsburg College in Minneapolis, Minnesota on March 2, 2014. Photo/Stephen Geffre
"When we first came into exile, the only thing we knew for certain was the earth and sky. Reaching Mussoorie we had no idea what would happen to us. As time went on, we survived by relying on non-violence and the power of truth. I was 24 then and I'm nearly 79 now. In addition to the power of truth, we experience the power of compassion. We've done our best and kept our peace of mind."
His Holiness said that the most important thing is transforming the mind. He thanked the dancers for having trained and performed well. He joked that while the spectators were feeling cold, the dancers must have been quite warm. He said that the generations were changing and yet the Tibetan spirit remained strong. He told those assembled that he was thinking of doing the ceremony for generating the awakening mind of bodhichitta as his gift to all present. He said it is not enough merely to recite the verse of taking refuge and generating the awakening mind, you have to understand that we take refuge with a view to ultimately attaining omniscience, that is Buddhahood. That intention to become a Buddha is based on an understanding of emptiness. We experience suffering because of ignorance and the Buddha showed a path to overcome that.
His Holiness began a reading transmission of Je Tsongkhapa's 'In Praise of Dependent Origination'. He said that Je Rinpoche took an interest in emptiness from childhood and this text of praise for the Buddha for teaching dependent origination is very valuable. He further remarked:
"Here we are celebrating Losar, which is dependent on many factors. If Losar had independent existence we couldn't speak of how those in Tibet and India already celebrated it yesterday, although we seem to be doing so today. Likewise, we have these green pieces of paper bearing certain designs that are known as dollars. They serve as designated. We can ask too, who declared the value of gold? People designated it this way and we accept it. When you look at my body you may say you can see the Dalai Lama, but if you look more analytically you won't find him. Since these things have no intrinsic existence, their names have no intrinsic existence either.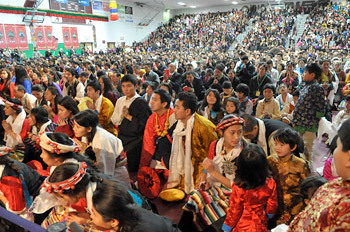 Some of the over 2,500 people attending Tibetan New Year's Celebrations held at Augsburg College in Minneapolis, Minnesota on March 2, 2014. Photo/Sonam Zoksang
"Je Rinpoche refers to himself as a Buddhist monk, who is not poor in learning. He and I were born in the same place."
His Holiness led the assembly in reciting the verse for generating the awakening mind of bodhichitta. He gave the transmission of several popular mantras and then called on everyone to join him in reciting Om mani padme hung for the benefit of their brothers and sisters in Tibet. At the end, he said:
"That's all; thank you. Be happy."
In the afternoon, His Holiness drove to Macalester College, where he first met with a group of students from the Neuroscience Department who presented him with an appreciation of his interest and contribution to their discipline.
In the hall, before an audience of 3500, Provost Kathleen Murray and college President Brian Rosenberg awarded His Holiness any honorary doctorate for his work for peace in the world and on behalf of his own people. He then addressed the audience.
"Respected elder sisters and brothers and younger sisters and brothers, I'm extremely happy to meet with this group of young students. When I meet with young people, I really feel they are the shapers of a new world in a new century. Time is always moving on, no force can stop it. The past is past, we can only learn from our experiences, but we can't change them. However, the future can be reshaped.
"Some historians say that in the 20th century, despite its many positive developments, about 200 million people died of violence. There was too much bloodshed, violence and suffering. If it had given rise to a new order, it might have been justified, but it didn't, it only brought suffering. Among the most negative aspects of violence are its unpredictable consequences. In this context, after the tragedy of 9/11, I wrote to my friend President Bush to express my sorrow and condolences, but also to express the hope that whatever response was contemplated it would be non-violent.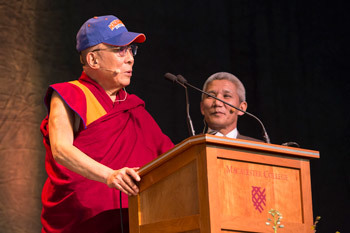 His Holiness the Dalai Lama speaking at Macalester College in St Paul, Minnesota on March 2, 2014. Photo/David Turner
"Unfortunately, the 20th century was not only violent then, but continues to have an impact now. In order to make this a more peaceful century, we need to make it a century of dialogue. Although we look forward to an era of peace, it doesn't mean it will be without problems. The difference is that we need to deal with those problems through dialogue, relying not on weapons but truth. Looking for your opponent's defeat you will not succeed; you need to show him respect."
His Holiness suggested that among the many problems we face are the huge gap between rich and poor that is morally wrong and practically a mistake. There have to be creative ways to deal with it. In many parts of the world too, there is rampant corruption, which is like a cancer on society. Natural disasters and climate change, the global economy, are all things that affect us all. Things will become more complicated, so those who are young today, the 21st century generation, will have to be even more determined. They are our source of hope.
He said it's important to recognise that everyone has a right to happiness. There is no room for divisions into 'us' and 'them'. We need to think in terms of the oneness of humanity. Differences of nationality, race, religious faith, level of education are all secondary. We need to think that other people's problems are our problems.
"Physical pain can be reduced through mental exertion, but mental unease is not relieved by physical comfort. We need a concern for others' well-being. Warm-heartedness reduces stress and brings calm. Young women pay attention to their physical appearance with the use of cosmetics, which is well and good. However, far more important than outward beauty is cultivating inner beauty. Warm-heartedness gives rise to trust and trust leads to friendship."
Among the questions Brian Rosenberg put to His Holiness, the first was whether he ever gets angry. He replied that he does and if details were needed he could ask his staff. But his anger doesn't last. Sometimes, he said, he watches his anger develop. By observing our emotions like this he said, we can learn how they develop and function. Allowing our intelligence to flourish, we can reduce the gap between appearance and reality. To a question about the clash between science and religion he explained that faith deals with our inner values, whereas science deals largely with the material world, so really there is no clash.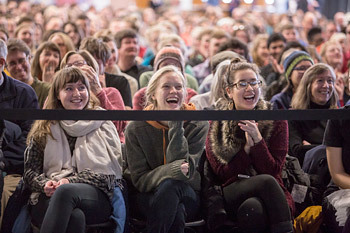 Some of the over 3,500 students attending His Holiness the Dalai Lama's talk at Macalester College in St Paul, Minnesota on March 2, 2014. Photo/David Turner
Regarding the way to take sound decisions, His Holiness referred to his own experience. In Tibet, once he had assumed political and spiritual responsibility for the country, he used to think things through for himself. Then he would consult others. He would include servants as well as concerned officials. On the basis of that he would make an informed decision. He said that under such circumstances, if your motivation is good, even if things go wrong, there is no ground for regret.
A final question was about what is the greatest sport and His Holiness laughed and said he was the wrong person to ask because he has no interest in sport. When pressed he admitted to playing table-tennis in Peking in 1954 so he could beat Chinese Prime Minister Zhou Enlai and later to playing a little badminton in India. But he said that when he was recently invited to attend a cricket match in Dharamsala he had to ask who was winning because he himself had no idea.
President Rosenberg thanked him profusely for coming. His Holiness had a few final words for his listeners.
"You young people, please think about what I have said. We can't any longer take for granted that our way of life is sustainable. We need to assess and adjust it to the new reality. Thank you."