Frankfurt, Germany, 14 May 2014 - In the early part of his second day in Frankfurt, His Holiness the Dalai Lama held a meeting with the media, following which he met the Board of Tibet House. Addressing a crowded press room he first outlined his three commitments as one among the 7 billion human beings to promoting human values, inter-religious harmony and the preservation of Tibet's Buddhist culture. He also commended the role of the media and their responsibility for keeping the public informed. He said that on the one hand they need to have a long nose like an elephant to sniff out what is going on, but also to be guided by truth and honesty in their communication of it to the public.

Among the questions put to him, he was asked if he experiences anger. He replied:

"Yes, of course, I'm a human being. But my anger comes and goes and when it's gone I don't hang on to it."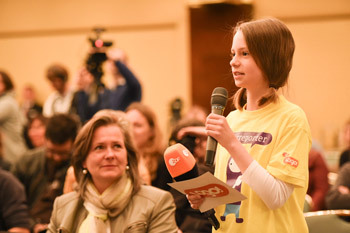 A young reporter for a children's channel asking His Holiness the Dalai Lama a question during a press meeting in Frankfurt, Germany on May 14, 2014. Photo/Manuel Bauer
Elisabetta Schadt, a young girl reporting for a children's channel asked what he likes and dislikes about being Dalai Lama. He told her that when he was in Tibet there was too much ceremony and formality, whereas he prefers things to be practical and straightforward. He said that if he were to think of himself as someone important it would create a distance between himself and others, ultimately leaving him lonely.
"Ultimately, although you're young and I'm old, you're a girl and I'm a man, we are the same as human beings."
Asked whether he could resolve controversy regarding Shugden he briefly summarized the history of the issue, saying that his responsibility is to make clear that the practice involves worshipping an evil spirit. He reiterated that whether people choose to heed what he says is entirely up to them. He drew attention to a book 'The Dalai Lama and the King Demon' written by Italian journalist Raimondo Bultrini that gives a thorough account of the affair, which anyone wanting to know more could read.
To a final enquiry about a rumour that he had been invited to celebrate his 80th birthday in Wiesbaden next year, he said that his life-style as a Buddhist monk who gets up at 3am and goes to bed at 6.30pm doesn't leave much room for parties.
A young reporter for a children's channel asking His Holiness the Dalai Lama a question during a press meeting in Frankfurt, Germany on May 14, 2014. Photo/Manuel Bauer
In his meeting with the Tibet House board his emphasis was on the role Tibet House can play, not only in spreading understanding and awareness of Tibet's Buddhist culture, but also as a centre of learning focused on the mind and emotions.
"To help develop compassion we need to have better knowledge of the mind," he said. "I'd like to see the science of the mind as an academic subject made available here."
After lunch he drove to the Farport Arena where he spoke to an audience of 4800 about the importance of cultivating inner values in the pursuit of a happy life. He said:
"The purpose of our life is to be happy. Our life is based on hope, the prospect of something good. Once you lose hope it can shorten your life; therefore our purpose is to be happy."
He said that learning about the mind and emotions is something all human beings can do. It should be part of our education. He conceded that while we are all motivated to some extent by self-interest, it needs to be wise rather than foolish self-interest. The more we are concerned for the well-being of others, the closer we will feel to each other. This fosters trust, which is the basis of friendship, which is important because we all need friends.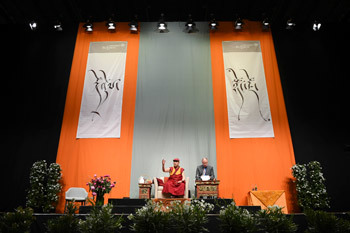 His Holiness the Dalai Lama speaking on "Compassion and Self Awareness" at Fraport Arena in Frankfurt, Germany on May 14, 2014. Photo/Manuel Bauer
"When you are motivated by compassion, your mind is relaxed and at ease. Fear and suspicion make us anxious so that even if we're well-off we're unhappy. Having a sense that other human beings are our brothers and sisters sets the mind at ease. In our materialistic way of life we put our emphasis on material things to be happy. What we need to do is to introduce a sense of inner values, compassion and affection, into our education system based on secular ethics."
Many questions were put to His Holiness. In answering them he stressed the need for inner peace in creating peace in the world and engaging in dialogue to resolve conflict. When a couple who had lost their son in a traffic accident asked how to deal with grief and loss he said:
"That's very sad, I'm sorry to hear that. But, it's happened and such things happen to millions of other people. Worrying about it now won't help."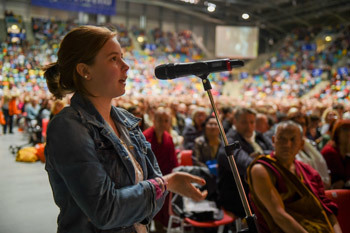 An audience member asking His Holiness the Dalai Lama a question during his talk at Fraport Arena in Frankfurt, Germany on May 14, 2014. Photo/Manuel Bauer
He suggested engaging in compassionate activities, helping other people in trouble, and consoling those who have suffered similar loss would be an effective way to deal with their grief. He mentioned that he felt bereft when his Senior Tutor, the rock on whom he used to lean, passed away. But then he realised that what he had to do was to make greater efforts to fulfill his tutor's wishes.
Answering a question about rebirth, His Holiness said that if we lead a compassionate life without doing others harm, it is almost a guarantee of finding a good life next time. When a member of the audience stepped forward to ask what makes the Dalai Lama happy. He thought for a moment and said:
"At the moment, I'm happy to be here with all of you," and everyone cheered.
Tomorrow, His Holiness will speak on secular ethics and ethics beyond religion.