Los Angeles, CA, USA, 27 February 2014 - After young children dressed in their Tibetan best had sung for him and Tenzin Dorjee, President of Tibetan Association of Southern California had expressed words of welcome, His Holiness the Dalai Lama addressed the Tibetans assembled here in Los Angeles.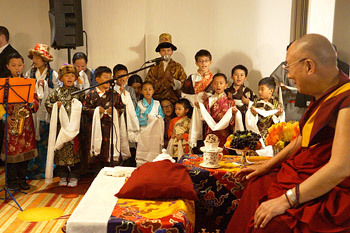 Young children singing for His Holiness the Dalai Lama at the start of his meeting with members of the Tibetan community in Los Angeles, California on February 27, 2014. Photo/Jeremy Russell/OHHDL
"I've known many of you for a long time and now we're all showing signs of age. I was 24 years old when our exile began and I'm nearly 79 now. Meanwhile the spirit of our people in Tibet is still strong; they have a strength that has been passed down generation to generation. Wherever we are, we shouldn't forget that we are Tibetans. Those of us in exile number about 150,000, but what is most important is that the spirit of those in Tibet remains alive, they are the bosses. And it's because of the hope they have placed in us that we have to keep our cause alive."
His Holiness cast his mind back to when he first began travelling abroad. In 1966, he visited Japan, Malaysia and Thailand on his first venture out of India. In 1973 he went to Europe and in 1979 he was received for the first time in the USA. In those days hardly anyone spoke about love and compassion in public.
"In the 1970s, I began to speak openly about global responsibility and having a sense of a global community. Since then, scientists have come to recognise the importance of love and compassion for our well-being. In the 300 or more volumes of Buddhist literature included in the Kangyur and Tengyur are clear explanations of the awakening mind of bodhichitta and the wisdom understanding emptiness. These are the source of the custom of Tibetans, even those living in remote places, praying for the welfare of all sentient beings, not just Tibetans.
"The Nalanda tradition derived from masters like Nagarjuna has taught us to cherish moral principles; it will be a sad day if these begin to decline. It seems that bit by bit people may be tending to pay them less attention."
Members of the Tibetan community living in California listening to His Holiness the Dalai Lama speaking during their meeting in Los Angeles, California on February 27, 2014. Photo/Jeremy Russell/OHHDL
His Holiness said that in the past corruption was very rare among Tibetans, but he has heard that lately it has begun to rear its head. Remaining honest and truthful, he said, depends on maintaining a sense of love and compassion for others. When these qualities are lacking, problems arise. Pride, jealousy and malice are the source of trouble that can result in people being killed. It's no good, he said, for anyone if our dealings with others are marked by dishonesty and deviousness. On the other hand, if we are honest and truthful, it is of benefit to ourselves and others.
"There may be several hundred million Buddhists in the world, who, not to mention liberation and enlightenment, need guidance in training their minds. We Tibetans don't need to look to Sanskrit, English or other languages because instructions about these things are available to us in our own language, Tibetan.
"When I recently visited Tibetan Muslims in Srinagar, I discovered their young children speak excellent Tibetan with a Lhasa accent. This is not the result of any instruction they receive at school, but of their parents' and grandparents' training. I've heard that here in the USA some Tibetan families only use English. It would be good if you could guide your children to take an interest in Tibetan, which is an ancient language. You should know that nowadays, modern scientists, especially those with an interest in the mind and brain, are intrigued by the depth and richness of ancient Indian psychology."
Remarking that he has heard that the various Buddhist centres are doing well, His Holiness suggested that they should be used for more than just the offering of prayers and rituals. They should become centres of learning, places where people can study and exchange views. He mentioned the impending publication of a compendium of science and philosophy extracted from the Kangyur and Tengyur, first in Tibetan, but with translations into English, Chinese and Hindi to follow soon after. These books can be the basis for renewed study.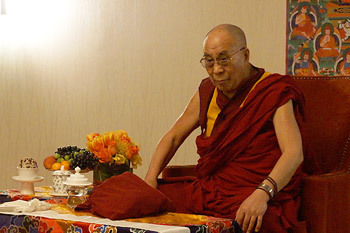 His Holiness the Dalai Lama speaking to members of the Tibetan community during their meeting in Los Angeles, California on February 27, 2014. Photo/Jeremy Russell/OHHDL
With regard to his retirement from political responsibilities, His Holiness said that since childhood, he felt that power should not be concentrated in so few hands. When he came into exile in 1959, he reassigned responsibilities to the Kalons who had accompanied him. 1960 saw the beginning of the Assembly of Tibetan People's Deputies, the Parliament in Exile. Democracy gradually progressed to the direct election of the Kalon Tripa in 2001, after which His Holiness semi-retired. Then, after the leadership elections in 2011 he decided to fully retire. Since the time of the Fifth Dalai Lama, Dalai Lamas had been responsible for both temporal and spiritual affairs. His Holiness deliberately and voluntarily brought this to an end. The old feudal system has been replaced by democracy.
"After my retirement I met friends in America who told me it sent a powerful message to the Chinese. An elected system is no longer dependent on this or that individual. Twenty years ago I advised that the Central Tibetan Administration should function as if I were not there. And now that we've achieved that I have more time to dedicate to promoting human values and inter-religious harmony; my other commitments."
His Holiness added that he did not have much to say about Sino-Tibetan relations.
"However, we Tibetans need to make the Chinese people our friends and we need to work to keep the support of the world community. Whatever progress you make in your lives, don't forget the cause of Tibet or the importance of a Tibetan education. If some of you become the first Tibetan millionaires, well and good. There are already some Tibetans in the West who have funded schools in Tibet and clinics in monasteries. It's very good to give such help; thank you."