Raipur, Chattisgarh, India, 14 January 2014 (By Smita Mainkar, TNN) - Tibetan spiritual leader Dalai Lama said on Monday that people worship God and offer flowers just for the sake of rituals without knowing the meaning of it.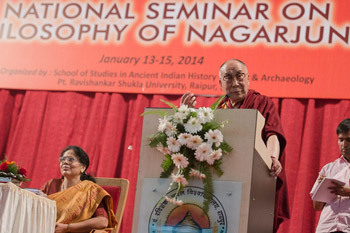 His Holiness the Dalai Lama speaking at the inauguration of the National Seminar on the Philosophy of Nagarjuna at Pt. Ravishankar Shulkla University in Raipur, Chattisgarh on January 13, 2014. Photo/Tenzin Choejor/OHHDL
"In universities of countries like Japan and China, students have better knowledge of the culture than the monks who keep worshipping. I would like to promote Indian culture in the universities here," he said while inaugurating the national seminar on the philosophy of Nagarjuna here at the Pandit Ravishankar Shukla University.

Throwing light on the philosophy of Nagarjuna, Dalai Lama said, "Love, compassion are the only things that a human being should develop to become a good individual. Ultimate source of happiness is inner strength and self-confidence." "Knowledge in brain and experience in heart should come together. Non-violence does not mean doing nothing. It means no force no violence. I have faced a lot in my life. At 24, I lost my country; at 60 I have faced a lot of difficulties. But above all, one should be a good human being," he said.

Speaking on the occasion, chief minister Raman Singh said, "Nagarjuna is remembered for the Ayurveda and as a Medicinal Buddha. We are lucky that Chhattisgarh has the remains of Nagarjuna." Vice-chancellor of Central University for Tibetan studies Ngawang Samten and vice-chancellor of Ravishankar Shukla University SK Pandey spoke during the seminar.

Meanwhile, Dalai Lama will visit Nagarjuna caves to meditate in the ancient caves on January 14.