New Delhi, India, 22 November 2014 - This morning, after a short drive across Delhi, His Holiness the Dalai Lama was received at Springdales School by the Principal, Mrs Ameeta Mulla Wattal. She escorted him to a brief reception and meeting with other principals and staff, including the Founding Principal, 90 year old Mrs Rajni Kumar. She established the first Springdales School in 1955 with a view to giving students a broad progressive holistic curriculum and a strong value system that included the universal values of love, truth and goodness.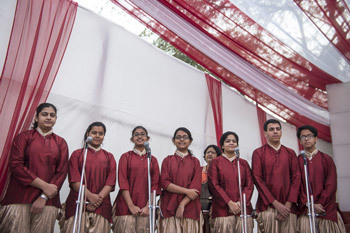 Members of the school choir performing at the start of His Holiness the Dalai Lama's interactive session with teachers and students at Springdale School in New Delhi, India on November 22, 2014. Photo/Tenzin Choejor/OHHDL
On the daïs, His Holiness was offered a traditional shawl and a living plant. He took part in lighting the inaugural lamp while members of the school choir sang an ecumenical medley. Mrs Wattal declared that as teachers she and her colleagues feel it their responsibility to shape young minds with the notion that compassion is the solution to all ills. She said they had dreamed of inviting His Holiness to speak at the school and were now so pleased the dream had become reality. She requested him to address the gathering of eager young minds and their teachers.
"Respected principals, teachers and older brothers and sisters," His Holiness began, "and younger brothers and sisters. Whenever I meet other people I remember that we are all the same as human beings. Having the same human brain, we all have the same potential. Sometimes that potential ends up creating more problems, but in general our basic human nature is compassionate."
He spoke of experiments scientists have conducted with young infants. Showing them animated drawings of situations in which someone gives help and or hinders and obstructs, they favour the instances of help. He said this clearly accords with our status as social animals whose survival depends on others. This is why we develop a sense of community. And the emotions that foster community are love and affection, while anger and jealousy create distance and separation. It is by cultivating a sense of concern for others that we can learn to use our intelligence constructively.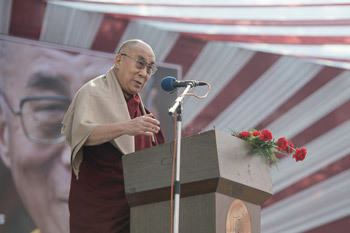 His Holiness the Dalai Lama speaking at Srpringdales School in New Delhi, India on November 22, 2014. Photo/Tenzin Choejor/OHHDL
"Modern education tends to focus on materialist goals with insufficient stress on developing warm-heartedness. If our education touches on ethics it is usually in relation to religious faith. Despite their philosophical differences, the main practice of all the major religious traditions is love. And in order to practise love effectively, you need tolerance and forgiveness, self-discipline and contentment. These traditions have a common purpose, to help us develop love. It may be through belief in a creator and the sense that we all have a spark of God, of love, within us. Or we might follow a non-theistic tradition that believes in causality and the idea that if you do good, you benefit, or that if you do harm it will have negative consequences. Whatever their differences philosophically, these spiritual traditions share a common goal."
His Holiness remarked that in India all the major religious traditions have long lived together in harmony. However, among the 7 billion human beings alive in the world today, 1 billion assert that they have no such belief. He said the question then is how to educate such people in the value of love and compassion. He suggested a need to adopt a secular approach and that India has historically adopted such an approach that expresses an unbiased respect for all religions and even for people who proclaim no faith.
"I believe, therefore, that the idea of secular ethics is something that can appeal to all. We are biologically equipped with love and affection. When we are born we depend on our mother's affection to survive. Love and affection allow us to grow in a healthy way and give us self-confidence. Many of you young women take time and trouble to make yourselves look beautiful using cosmetics and so on, but the real key to happy relationships, to creating a happy marriage is inner beauty.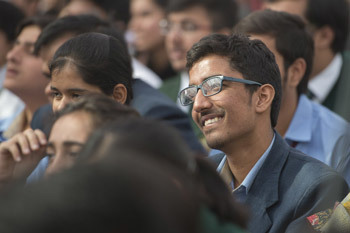 Members of the audience listening to His Holiness the Dalai Lama speaking at Springdales School in New Delhi, India on November 22, 2014. Photo/Tenzin Choejor/OHHDL
"We all need friendship and friendship is built on trust, which comes about on the basis of mutual respect and concern for others. A family may be wealthy and powerful, but if its members are moved by mistrust and suspicion they'll be unhappy. A poor family whose members trust each other, on the other hand, is happy."
His Holiness referred to scientific research that shows that people who engage in training in love, compassion and warm-heartedness for as short a time as three weeks show a marked reduction in their levels of stress and blood pressure. Their relations with their friends improve. He cited this as an example that it is possible to educate people on the basis of scientific findings, common experience and common sense. Because of the materialist tendency of modern education, work is going on in the USA and here in India to design a curriculum that fosters secular ethics, that develops the heart as well as the mind.
"The 20th century saw many remarkable developments," His Holiness declared, "and yet it was also an era of unprecedented violence. 200 million, by some counts, died in violence. Billions of dollars were spent on developing powerful weapons, but it didn't result in positive change. Even now, when it is pleasant and peaceful where we are, elsewhere human beings like us are being killed and injured. We cannot create a more peaceful world through the use of force; we have, instead, to cultivate inner peace."
Looking out over the audience he said that those less than 20 years old belong to the 21st century. While nothing can be done to change the past, if this generation tries it can change the future. He said that being concerned only about your own country is out of date, now it is time to be concerned about all humanity. India, with its ages-old traditions of ahimsa and inter-religious harmony, can make a great contribution to this.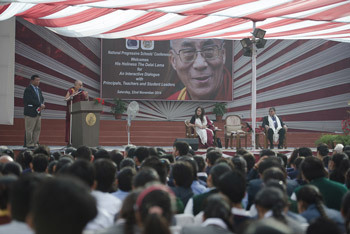 His Holiness the Dalai Lama speaking at Srpingdales School in New Delhi, India on November 22, 2014. Photo/Tenzin Choejor/OHHDL
"I have lived 55 years in this country as a refugee," His Holiness said. "I consider myself a messenger of ancient Indian thought. I also sometimes call myself a son of India because as a student of the Nalanda tradition, that is the source of all my knowledge. Meanwhile, my body has been nourished by Indian rice and dal. Indian culture doesn't reside only in the external trappings of song and dance, but here in the heart. If we pay attention to that, it will be effective. Please take your modern education seriously, but also remember what ancient India can teach us about reality and the nature of our mind and emotions. This knowledge, this Indian treasure, is particularly relevant today, as shown by the appreciation it is receiving from many modern scientists."
In answering several questions from the audience, His Holiness explained that competition that ensures the success of all participants is helpful, but that competition that favours some while eliminating others is not. He clarified that stern action can be employed in a positive way, for example by a teacher who is wholly concerned for his or her student's welfare. Asked whether he watches movies he replied that he went to the cinema in the early 60s, but nowadays does not watch television or films.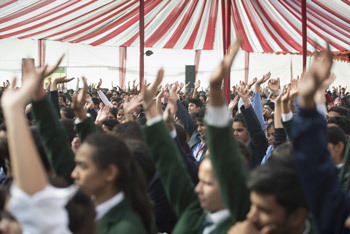 Many of the assembled students raising their hands in response to a question from His Holiness the Dalai Lama during their interactive session at Springdales School in New Delhi, India on November 22, 2014. Photo/Tenzin Choejor/OHHDL
Questioned whether Buddha was a god, he said no, he was a human being who through his own efforts became an enlightened Buddha. He told his listeners that his greatest challenge had been in seeking to understand emptiness and dependent origination as taught by Nagarjuna. As to his dreams when he was young, he said he only wanted to run here and there, with little interest in study, but today at the age of nearly 80 reading and study are what he likes to do. And looking fondly down at Mrs Rajni Kumar, he expressed a hope to live to 90 or 100 like her.
Asked who his sources of inspiration were, without hesitation he mentioned masters of Nalanda like Nagarjuna and Shantideva. He said that hearing Shantideva's texts explained changed his life. Prompted to name some contemporary figures, he cited Mahatma Gandhi and India's first President, Dr Rajendra Prasad, whose knowledge and humility had deeply impressed him. Finally, he remarked that making others happy is not a question of sacrificing our own happiness. Trying to make others happy, even when we do not always succeed, is a source of great satisfaction. He concluded that it is anger and hatred that are signs of weakness, while compassion is a sure sign of strength.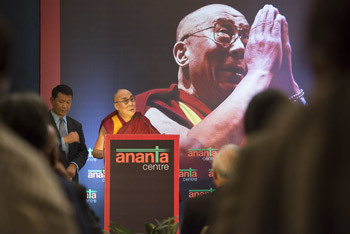 His Holiness the Dalai Lama speaking at a meeting organized by Ananta Aspen Centre in New Delhi, India on November 22, 2014. Photo/Tenzin Choejor/OHHDL
In the afternoon His Holiness was invited to address a meeting organized by the Ananta Aspen Centre, which is an independent, not-for-profit organisation that seeks to foster positive change in society through dissemination of knowledge. He outlined his own three commitments. Firstly, he talked about the promotion of deeper human values as a source of happiness and physical health; the idea that the ultimate source of happiness is within the mind. He remarked that our lives begin under the care of our mother's affection and that as social animals it is affection that brings people together.
His Holiness described his second commitment as the promotion of inter-religious harmony, citing Mother Teresa and the Missionaries of Charity as examples of people whose dedication to the welfare of the poor and needy was an expression of their faith. He reiterated that religious traditions may have philosophical differences, but they share a common goal.
Thirdly, he acknowledged that he is a Tibetan and that many Tibetans place their trust in him. While he has wholly retired from political responsibility, he retains a concern for the flourishing of Tibetan culture. Tibetans retain a comprehensive Buddhist tradition, the result of individuals' study and practice down the centuries. Tibetan Buddhism can benefit not only Tibetans, but also the millions in China who describe themselves as Buddhists. He said that the Tibetan language remains the most accurate medium for exploring and explaining Buddhist ideas. He added that his concern for Tibet also extends to its natural environment, noting that a billion people across Asia are dependent on the water that flows from Tibet's rivers.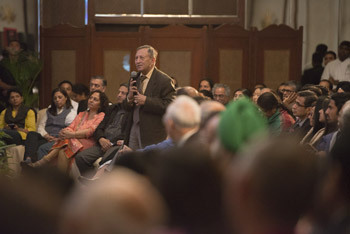 A member of the audience asking His Holiness the Dalai Lama during his talk organized by Ananta Aspen Centre in New Delhi, India on November 22, 2014. Photo/Tenzin Choejor/OHHDL
"We are all the same as human beings," he concluded. "We all need to take responsibility for creating a better world and a more peaceful humanity. Please keep this in mind and take it to heart."
Answering the audience's questions His Holiness elaborated on his thoughts about secular ethics, the importance of compassion, the steady changes taking place in China and the fact that the future of the world depends on us and how we exert ourselves. He said that in seeking to find the source of happiness within us, we need a map of our mind and emotions. We need to develop a sense of emotional hygiene, an understanding of how to manage our emotions, how to counter those that are negative and cultivate those that are positive. He said that is the way to find peace within.