New Delhi, India, 25 March 2014 (Indian Education Bureau) – Shri Ram College of Commerce celebrated its 88th Annual Day on Monday, March 24, 2014. The Chief Guest was His Holiness the 14th Dalai Lama of Tibet and the Guest of Honour was Shri Analjit Singh, Eminent SRCC alumnus and Founder and CMD, Max India Ltd.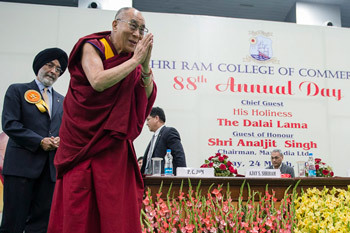 His Holiness the Dalai Lama greeting the audience at the start of Shri Ram College of Commerce's 88th Annual Day in New Delhi, India on March 24, 2014. Photo/Tenzin Choejor/OHHDL
Shri Ajay S. Shriram, Chairman, SRCC Governing Body and CMD, DCM Shriram Ltd. welcomed the guests and spoke about the achievements of the College. He also elaborated upon the plans for the future where infrastructure development will continue to remain a priority area for the College management. He shared his ideas on promoting research among faculty and students, internationalisation, value-addition and professional skill development. Principal, Dr. P. C. Jain presented the College Annual Report that showcased the laurels and activities in the course of the previous academic year, 2013-14.
The College publications: Yamuna, the SRCC Students Magazine, Business Analyst, the bi-annual Research Journal of SRCC, a special edition of the Business Analyst compiling the Bangkok International Conference papers, Prerna, the NSS Magazine and Artha, the Economics Society's Student Journal, were released by the honoured guests.
Shri Analjit Singh mentioned how he felt blessed in the company of the Dalai Lama. He asked the audience to pick up one thing from what His Holiness would say as a takeaway for a lifetime.
His Holiness the Dalai Lama who had been received in the traditional Tibetan way by students of the College spoke about the importance of the Indian civilization, its thinkers and teachings of the gurus that has always stood up to the test of times. He mentioned how Karuna or Compassion is a determinant in the evaluation of Indian culture. He referred to the twentieth century as a century of progress but also a century of war and violence. He called upon the younger generation who are the true inheritors of the twenty-first century to make this century into a century of conflict resolution, a century of dialogue. His message was simple: action is of greater necessity than belief. His Holiness also took questions from students and explained to them the essence of spirituality. He signed the Visitor's Book with his message.
The programme was followed by the Prize and Award Distribution Ceremony. Eminent Alumni and meritorious students were given medals, prizes and certificates for their contribution. The Function was followed by lunch for all the guests, students, faculty and alumni.