Noida, NCR, India, 31 January 2014 - The Step by Step School in Noida, across the Yamuna River from New Delhi, was host to His Holiness the Dalai Lama today. The school, whose distant origins lie in a nursery school begun in 1992, has grown since 2008 to being a school offering primary, junior and senior education, aiming to train students who are articulate, confident, socially responsible and ethical young people ready to meet the challenges that lie ahead when they leave. Step by Step, which explicitly seeks to provide a caring, healthy and challenging environment, currently has more than 1860 students and with a staff of more than 280 a remarkable student teacher ratio of 1to 8. The school prayer is Buddhim Dehi Namostute – Enlighten our minds.

His Holiness was invited to address and interact with students from Step by Step, and other schools in Delhi and Srinagar who have been participating in workshops organized by WISCOMP (Women in Security, Conflict Management and Peace), a South Asian research and training initiative that facilitates the leadership of women in the fields of peace, security and international affairs, in conjunction with the school.
On arrival, His Holiness was received by the founders Ms Ritu Suri and Mr Ramesh Suri and introduced staff and teachers. A student representative invited him to plant a sapling to commemorate his visit. After lunch His Holiness was escorted through the school to the open air auditorium where he was to speak. On the way he was joined by students in lighting the lamp to inaugurate the occasion. A group of students singing welcomed him onto the platform.
"Respected elder brothers and sisters and especially my younger brothers and sisters," he began. "It's a pleasure and an honour for me to be here to speak and interact with you. There are two rsons: one is that the future of this planet, of Asia and of India lies in your hands. The second is that meeting with young people makes me feel younger, whereas when I meet older people I can't help wondering which of us will be the first to depart!"
He said that he had heard a short history of the school and how one family were behind it, with no government intervention. It reminded him of a wealthy Mumbai family who once came to see him seeking his blessing. He told them he had nothing like that to give them, but that as wealthy people they could make money and use it to help the poor, the homeless, the beggars and the street children who abound in Mumbai. He told them such people are human beings too, they are part of the community and have the same rights to happiness as the rest of us. While the poor have difficulty helping themselves, that's what the better off can do and that, he told them, is a proper and real source of blessings. He repeated his appreciation of the efforts that have gone into creating the school. Addressing the students he said:
"As the younger generation today, you have a responsibility for the future. My generation belongs to the last century and our time is gone. When I look back, it seems I've lived through an era of extended violence and destruction, but there are indications that people now are fed up with violence and that voices speaking up for peace are increasing. There is also a sense that violence doesn't only involve the use of physical force. Corruption, exploitation, cheating and bullying are also forms of violence.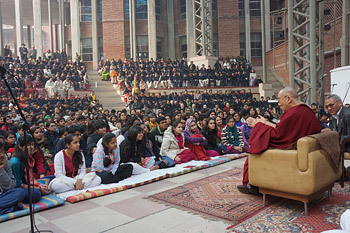 His Holiness the Dalai Lama speaking to students from Step by Step and other schools in Delhi and Srinagar at the Step by Step School in Noida, NCR, India on January 31, 2014. Photo/Jeremy Russell/OHHDL
"India is a country with a long standing tradition of ahimsa or non-violence. When he adopted it during the freedom struggle, Mahatma Gandhi became a model for others like Martin Luther King, Nelson Mandela and Bishop Desmond Tutu to follow. And in relation to this tradition, tolerance has flourished here, with the result that all the world's religious traditions live together here in peace and harmony. This too is an important example for others to follow.
"I often tease my Indian friends about the fact that while most Indians are very religious minded they seem ready to put up with corruption. How can that be? It surprises me. And when I wonder who is going to clean up this situation, I think it'll be you who are young today. This is why you need to start by leading your lives honestly and truthfully. This will engender trust, which in turn leads to friendship. This is important because we all need friends."
His Holiness told his listeners that as a Tibetan Buddhist monk he considers himself to be a student of the Nalanda tradition. Over the last 30 years he has engaged in discussions with modern scientists, many of whom are finding useful knowledge in ancient Indian thought. For example, there are instructions on how to deal with emotions like anger and greed and how to generate inner peace.
"You should be proud of India and its heritage. Work hard. Don't be complacent about things being mediocre; aim for the highest quality. Develop expertise. Don't limit yourselves to only thinking locally. Look beyond your national boundaries, even beyond Asia. Develop an awareness of the oneness of humanity and its needs. Pay more attention to the common good.
"Now, I'm a student of Nalanda, which means that although I'm quite lazy, I've studied logic and am trained to argue. I'm looking forward to hearing your challenging questions."
The first question was about why it is so difficult to be compassionate in today's world. His Holiness replied that human beings and other animals naturally pursue their own interests, however, self-centredness is very limiting. When you are concerned for the welfare of others, bullying and exploitation cease. He talked about two levels of compassion, one that is more of a biological instinct and another that arises from developing awareness. Just wishing to be more compassionate, or saying that God or the Buddha wants us to be more compassionate is not very effective. We enhance our concern for others through education and training.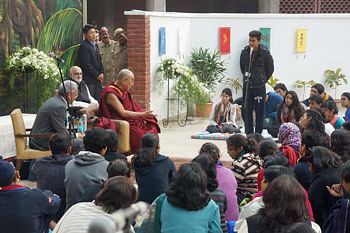 A student asking His Holiness the Dalai Lama a question during his visit to the Step by Step School in Noida, NCR, India on January 31, 2014. Photo/Jeremy Russell/OHHDL
Another student asked how to show compassion to those who do us harm and His Holiness said that we need to think about the qualities and benefits of compassion and reflect on the drawbacks of anger. In a similar vein, he was asked why there is so much divisiveness among religious traditions when they all talk about love and compassion. He replied that the key is having a sense of ethics. When ethics are absent, even religious traditions can become just a front for exploiting others. From our common experience of being born from a mother and basking in her care and attention, we learn the value of affection for others. This gives rise to peace of mind. Similarly, we can teach people how to be happy on the basis of secular ethics, that a compassionate mind is useful and beneficial and entirely secular in nature.
Asked about his greatest fear and how he copes with it, His Holiness mentioned heavy turbulence when he's flying. As if to emphasise the power of the forces involved the air was immediately filled by the roar of an airplane passing overhead. As to how he remains positive and optimistic, His Holiness said that he always tries to take a more holistic view. For example, although he has faced many difficulties in his life, such as forfeiting his liberty and losing his country, he acknowledges that living in India has brought freedom and great opportunities to learn.
With regard to maintaining a sense of compassion, His Holiness recalled talking to American scientist Paul Ekman about it. Apparently as a result of this Ekman, a previously short-tempered individual, did not lose his temper again for several months, as his wife and daughter attest.
"Pay more attention to compassion and you'll find you're happier. It's that practical and simple."
After brief expressions of thanks, His Holiness waved goodbye and as the singers sang once more, many smiling and applauding members of the audience waved back.
Tomorrow, he will fly to Guwahati, Assam. ea