Guwahati, Assam, India, 2 February 2014 - A bright, warm sun shone in a cloudless blue sky as His Holiness drove to Guwahati's Nehru Stadium this morning. He had been invited to give the first LBS Founders' Commemorative Lecture on a 'Human Approach to Peace'. As he was escorted into the stadium he encountered on either side a crush of people eager not only to catch a glimpse of him, but wielding their mobile phones to capture a picture too. He sat with other dignitaries as a group of traditional musicians played and sang a 'borgeet', a traditional Assamese song dating back to the 15th century.
Kashinath Hazarika described the LBS Foundation and trust recently established to commemorate the work of BN and KN Dutta-Borooah in establishing the Lawyer's Book Stall. To begin with BN Dutta-Borooah pawned his wife's jewellery to raise the funds to start the enterprise only to lose it all when the pawn shop vanished. His wife was unconcerned, telling him that the fruit of the Book Stall would repay it a hundredfold. Indeed, over the 70 years of its existence it has attracted a sterling reputation and unbounded goodwill. After requesting His Holiness and other guests to offer floral tributes to the two founders of LBS, Hazarika invited His Holiness to address the 5000 gathered to hear him. Preferring to stand at the podium rather than sit on the prepared seat, His Holiness began:
"Brothers and sisters, I'm extremely happy to have this opportunity to meet and speak with you here. I've passed through Guwahati many times, but this is the first time I've had the opportunity to meet people here. Whenever I meet other people like this I think of myself as just another one of the 7 billion human beings alive today. On that human level I find it's easy to communicate. If I were to stress instead our differences, that I'm a Tibetan, a Buddhist or even that I'm His Holiness the Dalai Lama, it would only serve to distance me from you, potentially giving rise to pretension, mistrust and anxiety. It's much better to acknowledge that mentally, physically and emotionally we are the same.
"Similarly, when we see pictures of the earth from space, we see no boundaries between us, just this one blue planet; a place where climate change affects us all, where the global economy brings us all together. In the past, Tibet surrounded by mountains cherished its isolation, as I suspect Assam did too. But, such isolation is outdated. Today, we need to take into account the well-being of the whole of humanity and we need to work to preserve the health of the planet."
His Holiness went on to say that in the 21st century reality has changed, yet we continue to cling to old ways of thinking, viewing each other in terms of 'them' and 'us'. We think in terms of 'our interest' but not 'theirs'. This is the kind of attitude that provokes the violence we see today in places like Syria, where people kill each other with impunity. Elsewhere fear is widespread because of the perception of 'them' and 'us'. The self-centredness that gives rise to it runs counter to human nature. We are social animals and we depend on each other to survive, so to think only of ourselves is contradictory.
His Holiness the Dalai Lama delivering the LBS Founders Commemorative Lecture on a "Human Approach to Peace" at Nehru Stadium in Guwahati, Assam, India on February 2, 2014. Photo/Tenzin Choejor/OHHDL
He explained that scientists have found that indulging in selfishness is bad for the health and not a cause of satisfaction. Other scientists have undertaken research to examine the effect of training in thoughts of compassion. They examined a group to assess their blood pressure, levels of stress and other factors at the beginning and compared their findings with measurements taken after the group had trained in compassion over a period of three weeks. They found blood pressure and stress were markedly reduced and individuals felt more contented. Other scientists have evidence that constant fear, anxiety and anger have the effect of eating into our immune systems.
"As human beings, social animals, we grow up basking in our mother's affection. This is our common experience, effects of which remain with us into later life. I often say that those who enjoyed their mother's, their parents', affection as children have better health, stabler minds and are better able to show others affection as adults. Those deprived of such affection have a sense of insecurity deep inside and an inability to fully trust others. Whether or not we believe in a future life or a state of liberation, we all need basic human values rooted in trust and affection to live here and now. Even people opposed to religion need calm minds and compassion to make their work more effective. Warm-heartedness and compassion are the keys to being happy human beings living in happy families and communities.
"Human life has lots of problems. When I first passed through Assam at the age of 24 in 1959 I was able to climb mountains, which I am unable to do now. Similarly, old age brings a decline of memory, which makes for problems. Ordinary people who are married worry if they don't have children. If they do have children, they worry. If they don't have enough money, they worry; if they have a lot of money, power and influence, they worry. This is how life is full of trouble. Add to this that impending climate change will induce increasing numbers of natural disasters that will affect us all. We have to try to solve local problems keeping global interests in mind."
Advising that we won't solve our problems any longer by use of force, that in the 21st century the use of force is out of date, not least because it is always accompanied by unexpected consequences, His Holiness stressed the need to employ non-violence. He reiterated his longstanding advocacy of a non-violent solution to the Tibetan problem. A solution that does not seek victory for one side and defeat for the other; a mutually acceptable solution. He said that while Tibetans are not seeking separation from China, the past was different. In the 7th century, three emperors commanded respect in Central Asia, the Chinese, Mongolian and the Tibetan. He expressed his admiration for the European Union that has forged a working partnership among nations who have fought each other brutally in the past. It is an example of how reconciliation resolves conflict. Secular ethics, concern for others, are crucial to the success of the use of non-violence.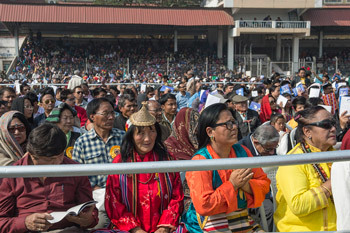 Some of the over 5000 people gathered at Nehru Stadium to listen to His Holiness the Dalai Lama deliver the LBS Founders Commemorative Lecture on a "Human Approach to Peace" in Guwahati, Assam, India on February 2, 2014.
Photo/Tenzin Choejor/OHHDL
"Concern for others is not a matter of religious practice; it's a practical step towards creating a happy society. If you have trouble with your neighbours, try to reconcile it. It is possible to transform today's enemy into tomorrow's friend. Think about this, discuss it with your friends; try to put it into effect."
His Holiness invited the audience to ask questions. The first concerned declining moral values, asking how to retain belief in human goodness, to which His Holiness said there is no alternative. But he noted that modern education is predominantly materialistic, which is why he proposes the introduction of secular ethics.
Asked if he missed the Potala Palace, he chuckled and said:
"Not much, over 54 years I've become used to modern facilities and there was no proper bathroom in the Potala. I miss the gentle, compassionate culture of Tibet. And when the monsoon rain is too heavy in Dharamsala I miss Lhasa's climate and with it the delphiniums and dahlias that grew at the Norbulingka. However, in Dharamsala I can grow tulips, hyacinths and begonias that were difficult to grow in Lhasa."
To a question about education he repeated the need to introduce secular education in schools and that work is going on to prepare such a curriculum. Asked how to control anger he said that we need to see that anger is never any use in solving problems, but that patience and compassion are helpful. He also commended being able to distinguish between the agent of an action who is another human being and his or her offensive action. Asked the key to a happy life, he replied peace of mind. Prompted to say whether he was optimistic about the future, he recalled that for all the great developments of the 20th century, it was an era beset by horrifying violence. He is confident that the 21st century can become a century of dialogue and non-violence instead.
Finally, in answer to a question about the role of the Tibetan plateau in climate change His Holiness spoke about the findings of a Chinese ecologist who noted that Tibet was as important as the North and South poles. Consequently, he referred to Tibet as the Third Pole. He expressed the hope that the President and new government in China will take a more realistic view of this.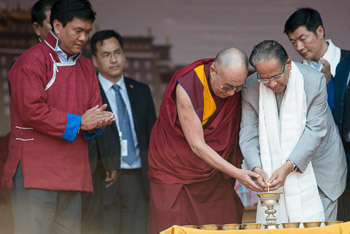 His Holiness the Dalai Lama and Assam Chief Minister Tarun Gogoi light a lamp to inaugurate the Festival of Tibet as Arunachal Pradesh Minister Pema Khandu (L) and Tibetan political leader Dr. Lobsang Sangay (R) look on in Guwahati, Assam, India on February 2, 2014. Photo/Tenzin Choejor/OHHDL
After lunch, His Holiness was joined at Srimanta Sankaradeva Kalakshetra by Assam Chief Minister Tarun Gogoi and the elected Tibetan leader Dr Lobsang Sangay to inaugurate the first ever Festival of Tibet to be held in North-east India. They lit a Tibetan butter lamp. Abbot of Tawang Monastery, Guru Rinpoche, led a group of monks in prayers. Pema Khandu, Minister of Tourism and Rural Works Development in the Government of Arunachal Pradesh gave an introduction, thanking His Holiness for coming and extolling the opportunity to share Tibetan art and culture with people of the North-East. In his turn the Chief Minister mentioned what an honour it was to have His Holiness in Assam. He noted that in a conflict stricken world it was a blessing to listen to His Holiness's message of compassion and reconciliation.
Addressing the audience as brothers and sisters, stressing the need to develop a greater sense of belonging to one human family, His Holiness corrected himself and wondered if the time hasn't come to overturn old custom and say "Sisters and brothers" instead.
"It's a great honour for me to open this Festival of Tibet, I am happy to have been able to come. I congratulate the organizers for deciding to do it of their own accord.
"According to archaeological findings our ancestors lived in Tibet during the Stone Age. There are traces in North-east Tibet that are 30,000 years old, while evidence in Central Tibet is 10,000 years old and in other places 7,000 years old. There is no doubt Tibetans are an ancient people. During the 7th, 8th and 9th centuries the Tibetan Emperors were on a par with their Mongolian and Chinese counterparts. However, before the arrival of Buddhism in Tibet, the way of life was similar to that of Mongolia. The people were nomadic and their horses and swords were their most important possessions. After the Abbot, Adept and King, that is Shantarakshita, Padmasambhava and Trisong Deutsan established Buddhism this changed.
"Shantarakshita, a great philosopher and logician, a leading scholar at Nalanda University introduced a tradition of Buddhism that involved intense study. Tibetan culture underwent a complete transformation, becoming peaceful, non-violent and compassionate. It encouraged the cultivation of inner strength and the valuing of others' lives. Consequently, hunting wild animals was prohibited.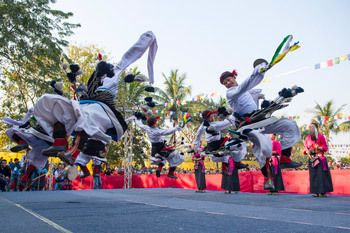 Performers from the Tibetan Institute of Performing Arts performing during the inauguration of the Festival of Tibet in Guwahati, Assam, India on February 2, 2014.

Photo/Tenzin Choejor/OHHDL

"The Chief Minister mentioned his regard for Tibetan astrology, but it's not something I personally have much faith in. Realistically, there are two important dates in our lives, our birth and our death and generally we don't consult the astrologer about either. My main tutor Ling Rinpoche used to laugh that he had been born on a black day, the day of the Nine Inauspicious Planets. Nevertheless, this tradition that combines elements of Kalachakra, Chinese and native Tibetan astrology has a place and value in Tibetan tradition. Thank you."
A series of cultural programmes took place with dancers from Assam, Arunachal Pradesh and the Tibetan Institute of Performing Arts delighting the audience with their performances. The Chief Minister left before Tibetan deputy, Karma Yeshi had offered a vote of thanks in which he expressed gratitude to the Government of Assam and others who have made the Festival possible.
His Holiness briefly visited the accompanying exhibition, inspecting carpets, momos, medicine and musical instruments before returning to his hotel. Tomorrow he will return to the same venue to give a White Tara empowerment before travelling up to the hill-station at Shillong.