New Delhi, India, 28 January 2015 - As his nearly month-long winter sojourn in Delhi draws to a close, His Holiness the Dalai Lama left the Tibetan Youth Hostel for his final big public talk in the capital city, headed for Kalindi College, one of the women's colleges of the University of Delhi.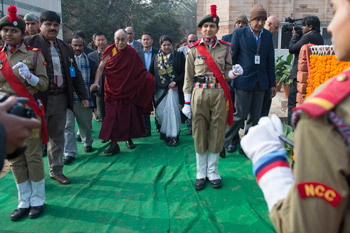 His Holiness the Dalai Lama walking to the stage escorted by National Cadet Corps members before his talk at University of Delhi's Kalindi College in New Delhi, India on January 28, 2015. Photo/Tenzin Choejor/OHHDL
The Principal and Vice Principal of Kalindi College received His Holiness and first invited him for morning tea, where they discussed gender equality in education. They were joined by Dr Prof. Dinesh Singh, University of Delhi Vice Chancellor, before His Holiness was led to the stage by a contingent of marching National Cadet Corps members in uniform. He paused briefly along the way to inaugurate the college's newly renovated auditorium, before greeting an audience of over 2000 students and staff from various University of Delhi colleges.
Dr Anula Maurya, Principal of Kalindi College, first introduced His Holiness with an account of his life, and summed up by saying, "His Holiness is a spiritual, scientific and scholastic leader whom the students must look up to and emulate." The Vice Chancellor spoke next, observing "Education is nothing if it's devoid of compassion." He urged the students: "Pay heed to His Holiness's words and follow in his footsteps."
"Respected elder and younger brothers and sisters," His Holiness began, explaining that he addresses us in this way to strike home his belief in the sameness of all human beings no matter what our educational, social, professional or family background may be, which are merely secondary differences. He stated that the theme of today's talk would be compassion, which is our basic feeling oriented towards our fellow humans for their human condition of suffering.
"Humans create problems by discriminating on account of our differences," His Holiness said, "but these are secondary. At the level of our basic humanness there is no source of conflict. Basic human nature is compassion. This is logical because we were born from our mother and were nurtured by her affection and care."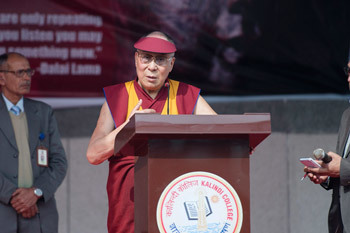 His Holiness the Dalai Lama speaking at University of Delhi's Kalindi College in New Delhi, India on January 28, 2015. Photo/Tenzin Choejor/OHHDL
Turning to the thousands gathered in the audience, His Holiness said that those of us who received maximum care and affection from our parents, friends, or relatives at a young age would be happier. Whereas those of us who lacked this experience may become disturbed and fearful, making it difficult for them to trust others and, therefore, experiencing frustration which makes them prone to anger. So, His Holiness exhorted the rapt audience to talk and think about love and compassion. "As social animals we need love and compassion," he said. "These are the best human qualities. With these we can take care of our society."
With regard to the reality of humanity, he urged, "Today the entire seven billion people in the world are one human community. We need to generate a sense of oneness as human brothers and sisters. This is why I began my talk by addressing you as "brothers and sisters"."
While emphasising love and compassion His Holiness drew a distinction between the familial kind of love and affection, and the reason-based love and affection that is not confined to biological relationships but can instead encompass entire humanity or sentient beings. The former is a biased kind of love, while the latter is unbiased love. His Holiness advocated unlimited love cultivated through reason, logic and our human intelligence rather than confining ourselves to the limited kind of love.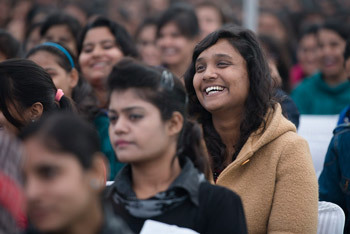 Some of the over 2000 students and staff attending His Holiness the Dalai Lama's talk at University of Delhi's Kalindi College in New Delhi, India on January 28, 2015.
Photo/Tenzin Choejor/OHHDL
His Holiness then called on Indians to share with others the rich Indian wisdom traditions of secular ethics, religious harmony and non-violence because they are so relevant to today's world. He also told the audience that he is working with some experts to create a curriculum to educate about warm heartedness in contemporary secular school settings.
Then His Holiness turned to the male dominance in human society, observing that even in religion women are regarded lower than men. But this should change with the changing world scenario where education plays a pivotal role in creating gender equality and equal opportunity for males and females. "Females biologically have better sensibility to others' suffering," His Holiness said. "So, the time has come for you, younger and older sisters, to think more about how to promote human compassion!"
Expressing his appreciation for Dr Maurya's work in looking after poor people, His Holiness then encouraged everyone to have the self-confidence to fight injustice in society, such as casteism, which is an outdated custom. Addressing the girls of the women's college, His Holiness said, "Combine beauty with a warm heart and you will be a happy individual. With inner beauty you can get a good husband," which caused a roar in the audience. "Regarding cosmetics, just as girls are concerned with outer beauty," His Holiness said, "you should equally pay attention to inner cosmetics!" Again laughter rang across the ground.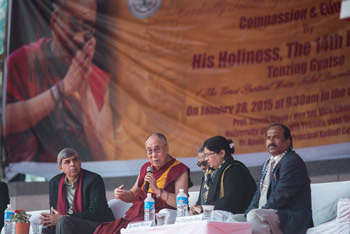 His Holiness the Dalai Lama answering questions from the audience during his talk at University of Delhi's Kalindi College in New Delhi, India on January 28, 2015.
Photo/Tenzin Choejor/OHHDL
In response to a question on whether being compassionate could help us gain knowledge more effectively, His Holiness replied that because compassion brings peace of mind it helps in proper usage of our brain. Therefore, depending on a teacher's loving and caring attitude or the opposite, compassion could create a conducive atmosphere in the classroom for the students. If teachers showed genuine concern for their students this would create a close bond between them and the teaching would go deep. Conversely, students cannot learn well if the teacher creates fear in their minds constantly.
But sometimes some sort of threat may be in place on the teacher's part to help their students, he joked. His Holiness chuckled as he recounted the story of a certain yellow "holy" whip his own tutor used to keep to prod him on in his studies, leaving his audience of students and teachers alike in laughter once more.
Tomorrow His Holiness departs for Sankisa, Uttar Pradesh, where he will give further teachings and public talks.