Dharamsala, HP, India, 20 April 2015 - On Saturday, 18 April His Holiness the Dalai Lama went to Kangra Airport to receive his old friend Archbishop Desmond Tutu and his daughter Mpho and welcome them to Dharamsala. The Tutus were accompanied by Doug Abrams and other members of Human Journey, a new initiative co-founded by Archbishop Tutu and Abrams committed to spreading the African understanding of ubuntu—the realization that each of us thrives only when all of us thrive.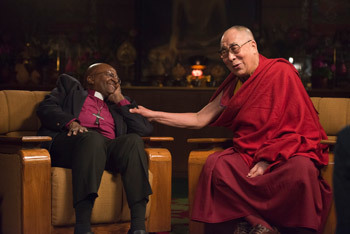 His Holiness the Dalai Lama and Archbishop Desmond Tutu during the first of several conversations on joy at His Holiness's residence in Dharamsala, HP, India on April 20, 2015. Photo/Tenzin Choejor/OHHDL
This morning, His Holiness met with Archbishop Tutu at his residence to hold the first of several conversations that Abrams plans to shape into the 'Book of Joy'. This will be modelled on the earlier 'Book of Forgiving' that the Archbishop wrote with his daughter Mpho. The two spiritual leaders laughed a great deal as they explored what joy is in terms of happiness, love and compassion. Archbishop Tutu pointed out that despite the pain involved in giving birth, mothers cradle the newborn with joy. He challenged His Holiness to explain how he remains so joyful in the face of trouble and His Holiness replied by quoting the Indian philosopher who said that you need to assess the situation and if something can be done, there's no need to worry. What you need to do is take action. And if there's nothing to be done, worrying won't help.
The Human Journey team plan to visit TCV School with His Holiness on Thursday 23 April to interact with the children.