Nashik, Maharashtra, India, 29 August 2015 (By P. Dogra, Maya Today) – The Dalai Lama will meet with Swami Karshni Guruasharanandaji Maharaj at Udasin Akhara in Nashik. This being the Dalai Lama's first visit to Nashik Mahakumbh.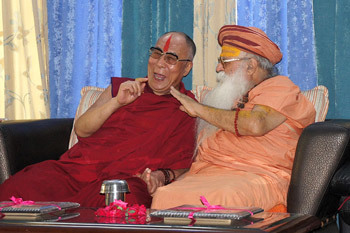 His Holiness the Dalai Lama with Swami Karshni Guruasharanandaji Maharaj during their meeting in Mathura, UP, India on March 11, 2013. Photo/Tenzin Taklha/OHHDL
Here the Dalai Lama and Buddhist monks will interact with public including those who live in the Himalayan mountains, the Naga Saints. The Dalai Lama will also discuss theories and philosophies in the Buddhist faith with the public and with Swami Karshni Guruasharanandaji Maharaj. The key questions will be, Why is the Mahakumbh so popular? With all these questions in mind and ideas to discuss a press conference will be held as well as meetings with the public and philosophers regarding the Mahabumbh and its significance. This event is a rare opportunity as knowledge and lessons will be shared between two spiritual leaders. The discussion that unfolds between them should be illuminating for all concerned.
This prosperous and enjoyable event is being covered by the CEP of Maya Today, Mr. Deepak Dogra who is being accompanied by colleagues. If there is anyone who would like to witness this historic event, it will be taking place at the Udaisin Akhara in Nashik from the 30th to the 31st of August.