Kolkata, West Bengal, India, 13 January 2015 - This morning, Ms Anuradha Lohia, Vice Chancellor of the Presidency University, and Mr Debajyoti Konar, the Registrar, received His Holiness the Dalai Lama as he arrived at the University and escorted him to the University's Derozio Hall. The West Bengal Minister of State for Education, Mr Partha Chatterjee joined His Holiness and the Vice Chancellor on the stage.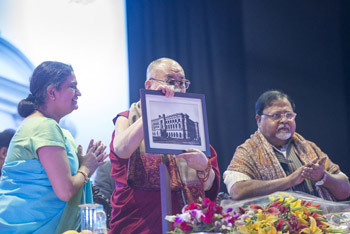 His Holiness the Dalai Lama holding the photo of Presidency University presented to him at the start of his talk at the University in Kolkata, W. Bengal, India on January 13, 2015. Photo/Tenzin Choejor/OHHDL
The Vice Chancellor offered both guests a bouquet of flowers, a shawl and a framed photograph of the University before introducing His Holiness to the faculty, students and other guests in the audience. She began by remarking:
"We have an epitome of peace amongst us today."
She recounted the University's proud contribution to education in India since its foundation nearly 200 years ago and mentioned the thinkers, freedom fighters and leaders numbered amongst its alumni. Before inviting him to address the gathering she described His Holiness as being extraordinarily human while at the same time an evident embodiment of wisdom and compassion.
"Elder brothers and sisters, and younger brothers and sisters," he began, "it is indeed a great honour for me to speak here at the oldest of modern Indian educational institutions"

He mentioned that as he was on his way to the University this morning he was thinking about what he might say about 'A Human Approach to World Peace'. It struck him that thousands of years ago human beings must have had various ways of solving problems and conflicts among themselves. Then they developed weapons, beginning perhaps with knives and arrows. This trend has culminated today in weapons of immense destructive potential. They were developed by scientists with the finest brains and the highest education, which, while it may not have been their intention, is focussed on refining the means to kill.

"We must change this inclination to resort to the use of force, employing weapons, to solve problems. Differences are bound to arise between us, but we must find ways of resolving that are peaceful and not destructive. Even on an individual level from time to time we encounter conflicts with others, but we have to try to find ways of resolving them through dialogue. In the same way, we need to find ways of solving problems on family, community, national and global levels by talking them through. By implementing ahimsa, non-violence, we have the opportunity to avoid violence and develop a more human approach to resolving conflicts peacefully."

He chuckled and said that while the core of his talk might be the ancient concept of ahimsa, it remains keenly relevant today and there is something appropriate about an elderly person, nearly eighty years old, speaking about something ancient at this oldest of universities.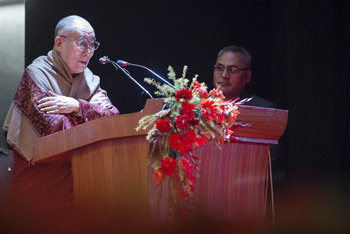 His Holiness the Dalai Lama speaking at Presidency University in Kolkata, W. Bengal, India on January 13, 2015.
Photo/Tenzin Choejor/OHHDL
"I am one of you," he continued. "Mentally, emotionally and physically we are the same. We all wish to live a happy life. In addition, we all have the same right to fulfil this goal. And we all have the potential to do so for the simple reason that future is not fixed, it can be changed. Therefore, we should live in hope that we really can overcome whatever problems we face."
His Holiness explained that hope is fundamental to our lives. When we lose hope it can shorten our lives and in the worst case induce us to commit suicide, which is a terrible outcome. He suggested that when we face problems we should assess the situation from a wider perspective, because there is always a hopeful aspect to be found, no matter how desperate things may seem. He remarked that even religion is intended to make us happy. Nobody is religious in order to be miserable.
In the warm conditions that prevailed on the stage, His Holiness reached for the ceremonial shawl he had been offered earlier to mop his brow, observing to the audience:

"I have no interest formality!"

The hall resounded with laughter and His Holiness resumed what he was saying.

"Because we are social animals, we need affection. This begins with the unconditional love of the mother-child relationship. When there is love and respect between us it naturally reduces the suspicion that ruins our peace of mind. Today, psychologists and other scientists confirm this. They have found that constant fear and anxiety destroys our immune system. As the Vice Chancellor told you earlier, this old person studied Buddhist philosophy back in Tibet, but becoming a refugee has given me the opportunity to hold discussions with scientists over the last thirty years and more. As a result we have learned that if we can combine traditional values with scientific findings it can be of great benefit to humanity at large."

His Holiness observed that to address the moral crises the world faces today, we cannot rely on religious tradition alone because this will not appeal to all 7 billion people alive today. We need instead an approach to moral values that appeals to believers and non-believers alike.
"For example, a religious approach to ethical values is not suitable in a secular education system. Therefore, what we need today is to adopt an approach akin to India's more than three thousand year tradition of secular practice that views those with religious faith and those with none with equal respect."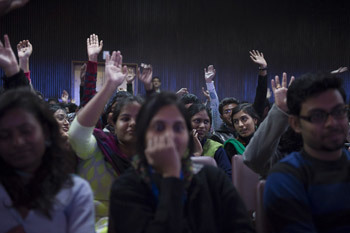 Students in the audience raising their hands in response to a question from His Holiness the Dalai Lama during his talk at Presidency University in Kolkata, W. Bengal, India on January 13, 2015. Photo/Tenzin Choejor/OHHDL
His Holiness noted that he often refers to himself as a messenger of India because of the efforts he makes to promote inter-religious harmony and non-violence, both of which are ancient Indian traditions, in the wider world.
"Today, the world is being torn apart by religious intolerance and even people of same faith, such as Shia and Sunni Muslims or Christians of one denomination or another, attack each other in the name of religion. At such a time, India's living tradition of religious co-existence can be a beacon to the rest of the world. As a student of the ancient Nalanda tradition, I am quite actively engaged in spreading this message. But isn't it time for you Indians to be active too in promoting your age old traditions?"
He referred to the great Abbot Shantarakshita from the 8th century CE and Atisha Dipamkara Shrijnana from the 10th-11th centuries, both of them Bengalis who accepted the invitations of Tibetan kings to come to Tibet. His Holiness called on today's Bengalis to emulate these ancient masters in working for the wider benefit of humanity. He suggested conducting programmes to raise awareness of the role the traditional Indian values of non-violence, religious pluralism and secular ethics can make in building a more peaceful world. Key to this is the development of compassion, which we are all shown at the start of our lives by our mother.

His Holiness elaborated on the importance of cultivating constructive emotions while reducing destructive emotions. Positive emotions are conducive to good health, while negative emotions undermine it.

"I sometimes feel my body seems to tell me 'Because your mind is calm, I can survive longer!' If I were full of anger, jealousy and hatred my body might complain, 'I can't support you because of your emotional ups and downs.' However, unfortunately, when it comes to my knees there doesn't seem to be any link to the mind of compassion. Perhaps, I should ask scientists to seek out such a link."

Once again, laughter filled the hall. His Holiness reiterated that peace of mind is the key to good health. And the key to peace of mind today is not necessarily religion but secular ethics. He told the audience he is looking forward to meeting scientists in the US next month to finalise a draft curriculum for introducing secular ethics into the secular school system.
When a member of the audience asked if world peace could be achieved by all human beings at the same time, His Holiness's answer was:
"At the same time - impossible!"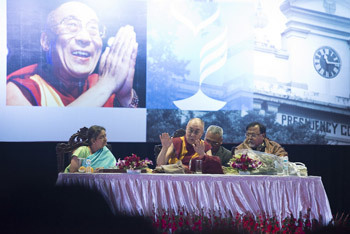 His Holiness the Dalai Lama answering questions from the audience during his talk at Presidency University in Kolkata, W. Bengal, India on January 13, 2015.
Photo/Tenzin Choejor/OHHDL
He mentioned the final statement of the recent Nobel Peace Laureates' Summit he attended in Rome in which the laureates set a goal for the elimination of nuclear weapons as soon as possible. By their very existence they pose a great danger. He emphasised that mass destruction means destroying not only soldiers, but innumerable innocent people too, children among them. He repeated again that the only genuine option for creating peace is dialogue. The ground can be laid for this and for countering discrimination against women and the poor by educating the population in warm-heartedness. His Holiness encouraged the young people in the audience, who belong to the generation of the 21st century, to cultivate vision, determination and patience in resolving the problems bequeathed them by the generation that belonged to the 20th century - among whom His Holiness included himself, the Vice Chancellor and the Minister of Education.
The Vice Chancellor expressed profuse thanks to His Holiness for his talk and the event concluded with the University Choir singing 'We shall Overcome' in Bengali interspersed with English and Hindi.

In the afternoon, His Holiness addressed members and guests of the Merchants Chamber of Commerce and Industry, (MCC) Kolkata chapter, on the Meaning and Purpose of Education. The West Bengal Minister of State for Education, Mr Partha Chatterjee was again among the guests, who also included students from St. Xavier's College, Kolkata. His Holiness emphasised the importance of education in combining modern knowledge and understanding with traditional values to produce people who will take a responsible role in society. He again stressed the need for vision, determination and not losing sight of the goal:

"Sustaining your hope is crucial to keeping yourselves going and fulfilling the goal of your education."

Tomorrow morning, His Holiness will fly back to Delhi.