Leura, Blue Mountains, NSW, Australia, 9 June 2015 - Today, when he reached the teaching hall His Holiness the Dalai Lama chose to enter through the back door and make his way to the stage through the audience. Smiling, shaking hands, stopping to greet old friends on the way many people were clearly happy to have a little closer contact with him. He resumed his explanation of the Vajrabhairava sadhana.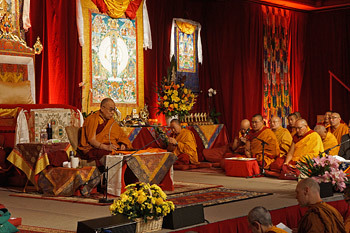 His Holiness the Dalai Lama during the final day of his teachings in Leura, NSW, Australia on June 9, 2015. Photo/Jeremy Russell/OHHDL
During the lunch break Eryk Bagshaw of the Sydney Morning Herald briefly interviewed him about ethics in education. He brought his three children with him and His Holiness talked to them about the prospect of members of the 21st century generation succeeding in making the world a better place.
Bagshaw asked whether organized religion has anything to fear from secular ethics. His Holiness replied that it depends on how you interpret the word secular. He admitted that he has friends in the West who are concerned that to be secular is not to respect religion. They fear secularism is like atheism.
"However, I use the word secular the way it is understood in India, a religious minded country, where all the world's major religions flourish side by side. In India secular implies respect for all religions, even for the views of those who have no faith. This seems a proper approach."
His Holiness mentioned that of the three great ancient civilizations in Egypt, China and the Indus Valley, the latter produced the greatest thinkers.
When asked if we need ethics at all, His Holiness replied:
"Only if we care about people killing each other, about corruption, exploitation and inequality like the growing gap between rich and poor. If we want to reduce these man-made problems, we need ethics. Creating peaceful, compassionate families and communities means we have to make an effort. First of all we need to educate individuals to be peaceful. We should try to make this century an era of peace and equality."
Bagshaw asked if demonstrators he'd noticed on the street outside had a right to protest. His Holiness told him that in a free country they are exercising their freedom of expression.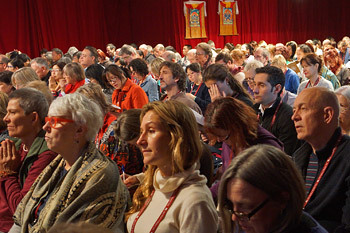 Some of the more than 600 people attending the final day of His Holiness the Dalai Lama's teachings in Leura, NSW, Australia on June 9, 2015. Photo/Jeremy Russell/OHHDL
Back in the teaching hall for the final session His Holiness finished explaining the Vajrabhairava sadhana, following it with a succinct account of how to engage in the completion stage practices. He concluded:
"Now the point is to put what we've learned into practice. I'm extremely happy to have had this opportunity. I'd like to thank the organizers for making such good arrangements and I'd like to thank you all for coming."
For the organizers, dalailamainaustralia, board member Alan Molloy thanked His Holiness for coming, saying: "Now it's up to us. Please come back and do this again." The hall filled with affectionate applause as His Holiness waved goodbye.
Tomorrow, he will travel to Sydney, take part in a conference on Happiness and its Causes and then travel on to Brisbane.