Perth, Western Australia, Australia, 14 June 2015 - It was a beautiful, clear day as His Holiness the Dalai Lama set out for the airport at Uluru to fly to Perth. Many Tibetans who had come especially to join him here were present to see him off.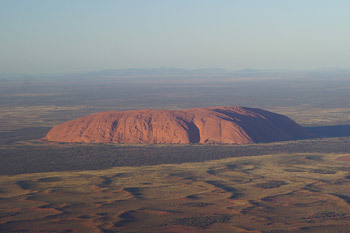 A view of the Uluru rock formation from the plane as His Holiness the Dalai Lama travels from Ulru in the Northern Territory to Perth, WA, Australia on June 14, 2015.
Photo/Jeremy Russell/OHHDL
Shortly after takeoff the plane banked to reveal brilliantly clear views of the Uluru rock formation in the early morning light. Arriving in Perth nearly three hours later, he drove directly to his hotel on the edge of the Swan River.

After lunch His Holiness drove to the Perth Arena where he was to speak to a capacity audience of 12,000. Rick Ardon, a news presenter on Seven News, invited members of the Whadjuk people to perform a welcoming dance. Suzie Mather, a Perth girl and actress, then introduced His Holiness as he came on stage. The audience were loud and warm in their greetings.

"Brothers and sisters," he began, "it's a great honour for me to have this opportunity to share some of my experiences with you. When I speak in public I always think of myself as just another human being like you. And it's on that basis that what I have to say might have some meaning for you. The 7 billion human beings alive today are mentally, physically and emotionally the same. I also face situations that have the potential to disturb the mind, but when that disturbance is about to arise, I can use another part of the mind to pacify it. We all have similar brains and we all have the potential to do this.

"We all want to be happy and avoid suffering, and we all have a right to be happy. That's why I say we are all the same."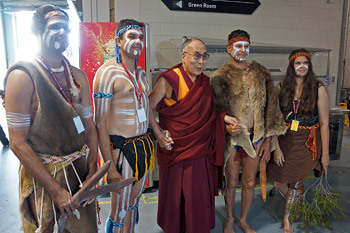 His Holiness the Dalai Lama with indigenous dancers who performed before his talk at the Perth Arena in Perth, WA, Australia on June 14, 2015. Photo/Jeremy Russell/OHHDL
His Holiness explained how he lost his freedom at the age of 16, when he was called upon to take responsibility for Tibet, and then at the age of 24 he lost his country. Consequently, he has lived as a refugee for 56 years. However, he and his fellow Tibetans have received immense help from the Indian government and, compared to some other refugee communities, have been relatively successful. Still, the situation in Tibet remains sad.
"One aspect of our marvellous human brains," he said, "is our ability to look at things from a wider perspective. What on the face of it may seem a tragedy, from another angle may actually seem to be helpful. People who maintain their inner strength when they pass through difficulties tend to be more realistic. I've noticed that the generation in Europe who survived the Second World War are toughened in a way that younger generations are not. Clearly a combination of our brains and warm-heartedness can help us live a happier more peaceful life. If we have inner peace we can cope with pain and distressing experiences."
He mentioned that he has been able to do away with a lot of formality, noting that when we take things easily and are less formal we can be more open and honest with each other. He said that meeting all kinds of people, ordinary people, the spiritually devout, non-believers, professionals and scientists has enriched his own practice. Again meeting different people in different parts of the world has shown him that many problems we face are our own creation. Since climate change and the global economy now affect us all, we have to develop a sense of the oneness of humanity.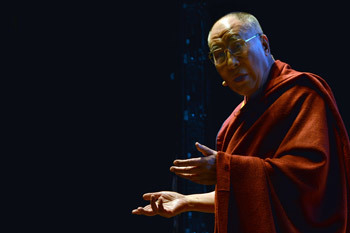 His Holiness the Dalai Lama during his talk on the Wisdom of Giving & Receiving at the Perth Arena in Perth, WA, Australia on June 14, 2015. Photo/Rusty Stewart
"Above all we need peace of mind. When the doctor advises us to relax, she means be calm, pacify your agitated mind, let go of stress. There must be supermarkets here in Perth, but do any of them sell peace of mind? If I were to go out and shout that I want to buy some peace of mind people would think I was crazy. The key to peace of mind is within and yet we always look for happiness and satisfaction outside ourselves.
"To create a happier humanity we have to pay more attention to our inner values, whether we are religious or not. Because our existing education systems are oriented towards materialism, we have to find ways to incorporate more humane values, greater concern for others, into our education systems. The simple basis of such inner values is warm-heartedness and common sense. Think about it and if it seems useful, follow it up."
In answering questions from the audience His Holiness drew a distinction between ethics and religious tradition, suggesting that ethics is essentially the common message of love and that it is possible to educate people in ethics whether or not they have any particular faith. This, he said, is why we need secular ethics, values based on an unbiased respect for all religions, as observed for centuries in India's multi-religious society. This is not about some future life in heaven or a pure land, but about this life, here and now.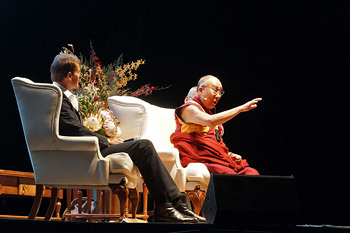 His Holiness the Dalai Lama answering questions from the audience during his talk at the Perth Arena in Perth, WA, Australia on June 14, 2015. Photo/Jeremy Russell/OHHDL
Asked what he thought of stories that Jesus Christ had studied Buddhism in India, His Holiness reported that there were stories of a book describing this at Hemis Monastery in Ladakh. However, the text has never been found.
A question about dealing with the 'ego' prompted His Holiness to clarify that while self-centredness is a source of problems, if you are to develop infinite altruism you need a strong sense of self. It takes strength to develop concern for others, which is important to remember in a world where people are killing each other in the name of religion.
"Where the 20th century was an era of immense violence, we should try to make the 21st century an era of peace in which conflict is resolved through dialogue. We are naturally selfish, but we need to be wisely selfish and concerned for others, rather than foolishly selfish and only concerned for ourselves."
To the question, how we can forgive terrorists, His Holiness answered:
"In the long run forgiveness is the only answer. But this doesn't mean you accept their wrong doing. Forgiveness means you don't give in to anger. You distinguish between the agent and the action. Oppose the action, but don't give up compassion for the one who did it."
Finally, His Holiness was asked what people need if the world is really to live in peace. He answered: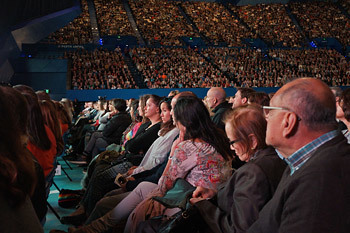 Some of the more than 12,000 people attending His Holiness the Dalai Lama's talk at the Perth Arena in Perth, WA, Australia on June 14, 2015. Photo/Jeremy Russell/OHHDL
"Inner peace. Peace that comes from within. Peace can be cultivated through training, but it must start on the level of the individual. It won't begin with governments or institutions like the UN. When you find yourselves relaxing in the warm sun, instead of gossiping, talk to each other about inner peace. Because peace in the world depends on peace in the individual, each of us has to make the attempt to find it.
"This is the last public talk of this visit. Tomorrow I'll be leaving, but your problems will remain here with you. In trying to solve them, seek the advice of your brain and your heart. That's what I do."
Rob Keldoulis, Chairman of the Board of the organizers of this tour, Dalai Lama in Australia (DLIA) stepped forward with a brief report. As he began to explain that he takes no fees for teaching, His Holiness intervened, saying:
"Many years ago I came across the story of a lama called Tseley Rangdol. He made three pledges in relation to his teaching: not to ride horses from place to place, to eat only vegetarian food and not to take any payment. This left a strong impact on my mind. I decided I too would take no payment for teaching."
Keldoulis continued to summarize His Holiness's activities during this tour, noting that he had spoken to 20,000 people in the course of 13 events over 12 days. He stated that a surplus of $100,000 raised primarily from ticket sales would be donated to charitable causes. He announced that accounts would be made available on the DLIA website and submitted to the Office of His Holiness the Dalai Lama.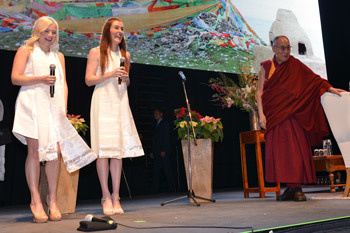 Suzie Mather and Jemma Rix singing Happy Birthday to His Holiness the Dalai Lama at the conclusion of his talk in Perth, WA, Australia on June 14, 2015. Photo/Rusty Stewart
Lynn Bain, Manager of DLIA, then wished His Holiness a happy birthday in advance of the actual day that falls in a couple of weeks. She presented him with a book of messages sent in by 2000 people across Australia. Suzie Mather and Jemma Rix, both of whom are currently appearing in Perth in 'Wicked' led the audience in singing Happy Birthday to His Holiness and went on to sing a song from their show that ends:
"Because I knew you...
I have been changed for good..."
The audience erupted with applause.