Trondheim, Norway, 9 February 2015 - From Basel at the heart of Europe, where the territories of France, Switzerland and Germany converge, His Holiness the Dalai Lama this morning flew due north to a city closer to the edge of the continent. Trondheim, Norway's first capital more than a thousand years ago, is the site of another convergence. Standing on the south shore of the Trondheimsfjord at the mouth of the river Nidelva, since 1990 Trondheim has been the location of the world's largest International Student Festival. ISFiT serves as a meeting place for discussion and debate, an arena where ideas are born, friendships are made and valuable lessons are learned. It takes place every other year.
Representatives from the Indian Embassy and students from ISFiT met His Holiness when he landed at Trondheim airport and escorted him to his hotel next door to the Clarion Conference Centre. From the dining room where he enjoyed lunch with a group of students there was a wide view out over a forbidding sea. Before joining the discussions he was introduced to the winner of this year's Students' Peace Prize, Aayat Alqormozi, who was awarded it for her unwavering struggle for democracy and human rights in Bahrain.
When he entered the conference hall he was greeted by a rousing cheer from the 1800 students, 500 from abroad, waiting to hear him. Marius Jones, President of ISFiT, in his introductory remarks called the festival a gathering of students from across the globe who can change the future and create a better world. The theme this year is corruption.
His Holiness first participated in ISFiT in 1994. Invited by the moderator, Fredrik Græsvik, to make a few remarks to start the session, he began:
"Good afternoon brothers and sisters. It's a great honour for me to meet with you to discuss our various experiences. As young people you have a long future ahead of you, and as a person nearly 80 years old, I suppose I'm the one with experience. Time goes on. It doesn't stand still. The past is gone so we can't change it, although we can learn from it. We are still at the start of the 21st century so it may be possible, before it ends, to create a better, happier world."
He spoke about the 20th century's having been a period of spectacular development, but also an era of violence and bloodshed. If the world had become a better place as a result, that bloodshed might have been justified, but that was not the case. He referred to corruption as being a form of violence too and pointed out that even religion provides an opportunity for some corrupt people to exploit others. He clarified that the distinction between violence and non-violence lies less in the nature of a particular action and more in the motivation with which it is done. Actions motivated by anger and greed tend to be violent, whereas those motivated by compassion and concern for others tend to be non-violent. He said we won't bring about peace merely by praying for it, we have to take steps to tackle the violence and corruption that disrupt peace.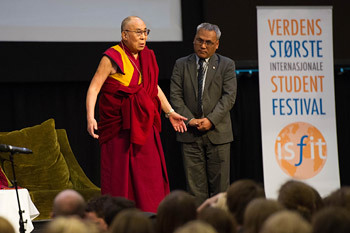 His Holiness the Dalai Lama speaking at the International Student Festival in Trondheim (ISFiT) in Trondheim, Norway on February 9, 2015. Photo/foto.samfundet.no
"Those of us who are more than 30 years old, who belong to the 20th century, have created a lot of problems. Unfortunately they remain for you young people to resolve. You have the responsibility and the opportunity to create a better world. You'll need to approach things in a broader way, not limiting your aims to the interest of only your community or your nation, but taking account of the needs of all human beings. This will require will-power, vision and determination. And for that you'll need a strong sense that humanity is one family.
"I'm here with you now as just another human being. We are the same physically, mentally and emotionally, but we tend to focus instead on the secondary differences between us. If all 7 billion human beings had a sense of the oneness of humanity, we'd have no basis for quarrelling. What we need to do instead is to focus on making friends with each other. You young people have a great opportunity; you have the potential to do this."
His Holiness suggested that our modern education system tends to have materialistic goals that don't take account of our mental experience. Material things don't provide the love and affection we need. If you are upset, a diamond ring cannot respond to you with affection in the way that even a dog or cat can. Focusing on material things alone means we neglect a sense of moral values.
The moderator, Fredrik Græsvik, interjected, "You have said corruption is a form of violence, can you tell me more?"
His Holiness replied that there is widespread corruption in India which has been his second home for the last nearly 56 years. It is a form of violence because it violates the rights of ordinary people. He said there is prolific corruption in China too. The difference is that in India there is the rule of law, an independent judiciary, and a free press. In China there is no freedom of expression, no free press and no rule of law. It is estimated that because of corruption barely half of allocated funds reach the projects for which they are intended.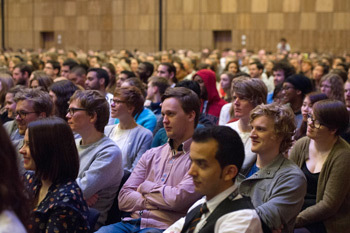 Some of the more than 1800 tudents attending the International Student Festival in Trondheim (ISFiT) listening to His Holiness the Dalai Lama speaking in Trondheim, Norway on February 9, 2015. Photo/foto.samfundet.no
"My Indian friends tell me that if there were less corruption India's development would have taken place much quicker."
He said it seems there is little corruption in Norway, but in other countries where he has asked people to indicate with their hands the extent of corruption they hold them wide apart to show how big they think it is. He added that the same seems to be true of the gap between rich and poor.
"If people really had respect for moral values, for moral principles, there'd be no corruption. The killing, stealing and rape that take place would be impossible if people properly respected each other. We need moral principles in all fields of human activity, even in our religious traditions. We need an approach to education that engenders moral values in students from kindergarten right through to university. This will produce people with a different outlook. The Mind & Life Institute, which includes scientists and thinkers, with whom I have been working for almost 30 years, is working on such a curriculum named a 'Call to Care'. They have also conducted workshops to train people in more compassionate thinking while monitoring their response. The findings are that as a result people's physical and mental well-being improves."
His Holiness suggested that such developments should be based not only scientific findings, but also on common sense and common experience. He pointed out that mothers give birth to all of us and that our parents bring us up with affection.
Asked if corruption can be opposed by force, His Holiness spoke of the need for the media to have long noses to sniff out corruption in public and behind the scenes. By exposing corruption he said the corrupt can be held to account. As to the ways in which corruption is harmful, he said it destroys trust. To fight it, he said we have to examine the circumstances of each case.
A questioner raised the role of religion in all of this and His Holiness responded that all major religions convey the same message of love and to achieve it commend the practice of forgiveness, tolerance and self-discipline. There may be philosophical differences, but they are aimed at achieving a common goal. With regard to a sense of there being only one truth and one true religion, he said this may appropriate in terms of an individual's own practice, but as far as the wider community is concerned there are several truths and several true religions. The important thing is that, as the Indian example shows, they should all live together in harmony with each other.
Returning to the question of corruption His Holiness said:
"Corruption is essentially about being dishonest so people have to hide it. No one is proud of corruption. By contrast, honesty, transparency and openness bring peace of mind."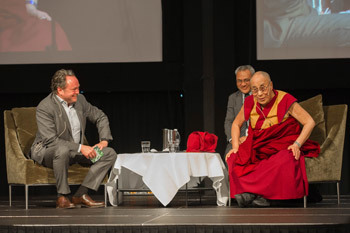 His Holiness the Dalai Lama answering questions during is talk at the International Student Festival in Trondheim (ISFiT) in Trondheim, Norway on February 9, 2015. Photo/foto.samfundet.no
Asked about the role of religion in governance he responded that in the past there may have been a role, but in modern times there isn't. He remarked that religion is something of a personal, individual interest, whereas governance concerns the whole community. When a student asked how we can be happy, he told her that happiness seems to be related to satisfaction. He drew a connection to the hardship that a sportsman or woman is prepared to go through to succeed. Leading a meaningful life is a source of satisfaction. He suggested that where we tend to look to sensory experience for satisfaction, it is fleeting and superficial. More effective is if we seek satisfaction in relation to our mind and mental experience. In this context he said scientists are beginning to look at the difference between sensory consciousness and mental consciousness.
Moderator, Fredrik Græsvik, said there were students from more than 100 countries present and asked what advice His Holiness had for them. He replied:
"Pay attention to the oneness of humanity. In my own case I think of myself as just another human being. If I think of myself as somehow special or different from other people it only serves to create a distance between us. We need to tackle our emotions with intelligence, cultivating the positive and reducing the negative. The problems humanity faces affect us all, but if humanity is happy, we can all be happy."
The Mayor of Trondheim, Rita Ottervik came onto the stage to express her gratitude to His Holiness. Marius Jones, President of the ISFiT then thanked His Holiness for coming and for what he had told them. He offered him a woollen hat, which His Holiness immediately put on, and the hall erupted in affectionate applause.
Tomorrow, he will travel on to Copenhagen, Denmark.