Washington, DC, USA, 4 February 2015 - Brilliant low winter sunlight poured through the windows of His Holiness the Dalai Lama's hotel rooms this morning as he held several meetings. Among them one he had particularly looked forward to was with a group from the Mind & Life Institute (MLI). They had come to report progress on the development of a curriculum to inculcate a sense of core human values in students throughout their educational career from kindergarten through to university. In his words of welcome he told them:

"We may not see the changes we envisage in our lifetimes, but the present shocking violence in the Middle East, in which so much anger is involved that there is little room for common sense, impels us to try. If we can actually implement a plan for improving education, we may be able to create a happier world."
He remarked that as social creatures we all need friends. We need circumstances to bring us together, and concerning ourselves only with our own interests runs counter to this. He cited research that Richie Davidson and others have done to show that basic human nature, as revealed in the responses of young infants, tends to favour helping rather than hindering others. Concern for others therefore accords with our basic nature.
Arthur Zajonc, President of Mind & Life, explained that the educational research initiative being developed by the Mind and Life Institute has been named a Call to Care. It is is organized around three integrated modes of care - receiving care, cultivating self-care, and extending care. Involving education, developmental science, and contemplative scholarship, the project incorporates a distinctive hybrid approach focusing on both students and educators through a joint program within a common framework. So far, response from teachers has been very encouraging. Guidebooks for children and classroom guides for teachers are more or less complete up to grade 8. Successful pilot projects have been taking place in Bhutan, Israel and Vietnam.
His Holiness reiterated his interest in seeing such a system incorporate a map of the mind and suggested that students could begin to learn about the map of emotions from grades 6-7. He felt they should be informed about disturbing emotions. Kathryn Byrnes, Call to Care Program Officer, told him they are, but they are referred to as obstacles. She agreed that in our present education systems the human component is missing. There is too much emphasis on the head where there needs also to be focus on the heart and being in the world.
Diana Chapman-Walsh commented:
"Arthur Zajonc has led MLI to see that we have a responsibility to take these ideas forward without promising too much or violating scientific values. However, we seem to be at a point in history where we need to put these ideas out into the world."
His Holiness responded:
"Yes, we have to make sure that this is not just propaganda, but we do have to get the word out. Our approach should be one that is acceptable to everyone."
From this meeting His Holiness took a short drive to the Washington Hilton where he had been invited to address the International Luncheon held annually in conjunction with the National Prayer Breakfast. These events function as a forum for the political, social, and business elite to assemble and build relationships. Before His Holiness spoke, several Congressmen gave readings from the gospels. Other guests included Akan Ismaili, Ambassador of Kosovo to the United States, Rajiv Shah, Administrator of the United States Agency for International Development USAID, and Yuli-Yoel Edelstein, who is currently Speaker of the Israeli Knesset.
Congressman Jim Slattery introduced His Holiness to the gathering and invited him to address them. His Holiness began with his customary greeting.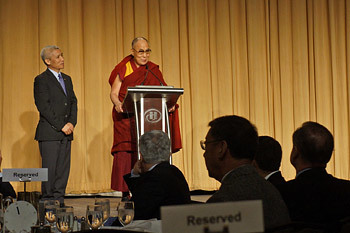 His Holiness the Dalai Lama addressing the International Luncheon held in conjunction with the National Prayer Breakfast in Washington DC on February 4, 2015. Photo/Jeremy Russell/OHHDL
"Brothers and sisters, we are all human beings; we are physically, mentally and emotionally the same. We are all born the same way and we die the same way whether we are kings or queens or beggars. All 7 billion human beings want to lead a happy life and have a right to do so. If we were to think of each other in these terms there would be no basis for quarrels between us. My future depends on others and others' future depends on me, therefore we have to help each other."
He pointed out that climate change has shown us that we all share the same planet. And to illustrate our basic value to each other he asked his listeners to think of someone struggling to survive alone in the desert. It would be very hard and if he then encountered someone else he would greet him simply as another human being with no regard for his nationality, faith, education or social status. His Holiness said it is on such a basis that he thinks of himself as just another human being, not as someone special called His Holiness the 14th Dalai Lama. He said he sees himself as part of the human community, which is why he never feels lonely. As a human being his first commitment is to helping other human beings live a happy life. That's a basis for friendship.
He explained that all the world's major religious traditions convey the same message of love, forgiveness and tolerance.
"Whether you accept religion or not is a matter of personal conscience, but if you do, you should take it seriously. Despite the philosophical differences there may be between them, the aim of all our religious traditions is to create better, happier human beings. This is why there should be mutual respect and admiration between them. Their common aim is a basis for harmony.
"Recently I was in Kolkata at the invitation of a university there and I decided to go and visit Mother Teresa's place. I told her followers and the Archbishop of Calcutta who had gathered to meet me that I came of my own accord because of the admiration I have for Mother Teresa and the way her followers today continue to dedicate themselves to helping the poor and needy."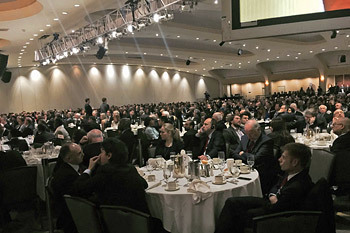 Members of the audience at the International Luncheon listening to His Holiness the Dalai Lama in Washington, DC on February 4, 2015. Photo/Kaydor Aukatsang/Office of Tibet USA
His Holiness acknowledged the continuing existence of a huge gap between rich and poor. He said that prayer alone, while it may give us confidence, will not be sufficient to solve the problem. We need to act.
Turning to the question of Islam he stressed that the word jihad has been widely misunderstood. It is not about fighting other people but refers to battling our own destructive emotions. Likewise, Muslim friends have told him that one who sheds another's blood is no longer a true Muslim. Rather than lapse into preconceptions we need instead to create a sense of harmony among our religious traditions.
He told the story of a teacher he'd met in Jerusalem. This man suggested to his Palestinian and Israeli students that when they came across someone abrasive or infuriating and felt aroused to anger, they should pause and consider that person as being in the image of God. He reported that a couple of his Palestinian students told him that they tried what he'd said when they faced aggression at security checkpoints and found it very helpful. His Holiness said this accords with Jesus's counsel to turn the other cheek.
Finally, His Holiness raised the question of whether we can say there is one truth and one true religion. His answer is that while in terms of one individual's practice there may be but one truth and one true religion, in terms of community and the globalized world in which we live, there are clearly several truths and several true religions. He suggested that the existence of different points of view has the stimulating effect of a positive challenge, but that they need to be expressed in a mutually respectful way. He thanked his audience for listening to the thoughts of someone nearly 80 years old and was rewarded with warm applause.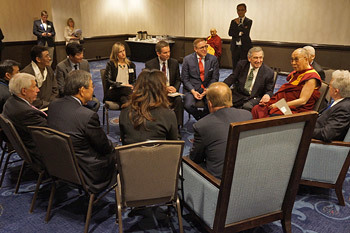 His Holiness the Dalai Lama meeting with sitting Congressmen and other supporters of the Tsering Dhonden Tibetan Refugee Settlement during his visit to Washington, DC on February 4, 2015. Photo/Jeremy Russell/OHHDL
Following this talk, long-time friend of Tibetans, Doug Coe organized meetings between His Holiness and first CEOs who are sponsors and then with sitting Congressmen and others who have been supportive of the Tsering Dhonden Tibetan Refugee Settlement in Rajpur, India. This was a project initiated with the late Senator Clairbourn Pell. His Holiness told them that in providing such support and facilities they had contributed to the preservation of Tibetan culture, which, as a culture of peace and non-violence, remains valuable.
Congressman Wolf was invited to say a prayer to conclude the meeting. He asked for blessings on the people of Tibet and His Holiness the Dalai Lama and prayed that freedom and liberty may yet fill Tibet.
His Holiness gave everyone present a copy of one of his books, 'The Good Heart' which records what he said when he was invited to speak at the John Main Seminar and comment on selections from the New Testament, particularly the Sermon on the Mount.
Tomorrow His Holiness will attend the National Prayer Breakfast, which, as is customary, will be addressed by President Obama.