Spituk Monastery, Leh, Ladakh, J&K, India, 27 July 2015 - A buzz of excitement ran through the crowd of Ladakhis lucky enough to be in Kushok Bakula Rinpoche Airport as His Holiness the Dalai Lama landed this morning in the J&K state plane. He was formally welcomed by Ganden Tri Rinpoche, Rizong Rinpoche, the young Bakula Rinpoche, Thiksey Rinpoche and many other Lamas.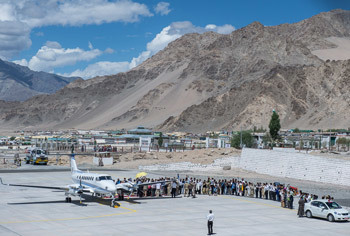 His Holiness the Dalai Lama's plane arriving at the airport in Leh, Ladakh, J&k, India on July 27, 2015. Photo/Tenzin Choejor/OHHDL
Also present to offer their greetings were J&K Minister of State Tsering Dorjee, Chief Executive Councillor of the Ladakh Autonomous Hill Development Council Rigzin Spalbar and Leh MLA Rigzin Jora. Representing the Muslim community were Sheikh Syebuddin and Ashraf Ali, while David Gergen was there on behalf of Ladakh's Christians. Leaders of the Ladakh Gompa Association, Geshe Lobsang Samten and the Ladakh Buddhist Association, Tsewang Trinley joined Women's Association leader Tsering Dolma and Youth Association leader Rinchen Namgyal in offering His Holiness greetings.
Thousands of people stood, proffering katags, flowers and incense, in an almost unbroken line from the airport to Spituk Monastery, eager to salute His Holiness as he passed. Many of them from the different villages of the Leh Valley were dressed in their best clothes, while their elaborately turquoise bedecked headdresses distinguished the women from Zanskar. There were monk musicians playing long horns and local Ladakhi drummers beating out a welcome.
Arriving at Spituk Monastery, which is his host on this occasion, Ganden Tri Rinpoche and Bakula Rinpoche greeted His Holiness once again and escorted him into a new temple. He paid his respects to the images of the enlightened ones, including a set of statues of the Sixteen Arhats, and took his seat. Butter and sweet rice were served. His Holiness remarked: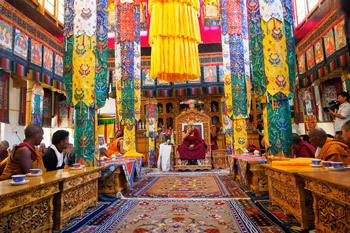 His Holiness the Dalai Lama speaking at Spituk, Monastery in Leh, Ladakh, J&k, India on July 27, 2015. Photo/Tenzin Choejor/OHHDL
"I'm very happy to see that over the last 10 to 20 years you taken to heart my advice about the need to study the classic texts. I recently completed a hectic tour during which I visited the UK, USA and Germany and before that there were elaborate celebrations of my 80th birthday in Dharamsala. I'm a bit tired, but I thought it would be dry and relaxing here so I have come for a few days. I'll come again for a longer stay in August next year too; I hope you won't mind if this time I'm not here for long."
He asked about the general climate here in Ladakh and whether there's been any change. He mentioned that scientists have recently found an increase in snow and ice at the North Pole that could indicate some cooling of the weather this year. Then, with a, "Thank you, see you again," he retired to his rooms to rest for the remains of the day.