Washington, DC, USA, 3 February 2015 - His Holiness the Dalai Lama landed at Washington Dulles International Airport at the end of a flight from Frankfurt, where he made an overnight stop on the journey from India. He was received by State Department Chief of Protocol Ambassador Peter A. Selfridge and his Vice Chief, Penny Price; the First Secretary at the Indian Embassy, Satish Kumar Sivan and Tibetan Representative Kaydor Aukatsang.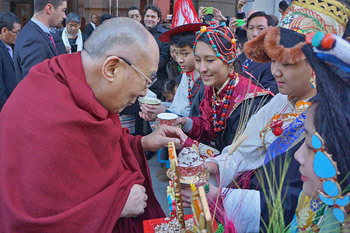 Members of the Tibetan community welcoming His Holiness the Dalai Lama on his arrival at his hotel in Washington DC, USA on February 3, 2015. Photo/Jeremy Russell/OHHDL
Entry formalities complete, he drove into Washington. Roughly 200 Tibetans were gathered outside the hotel to welcome him, among them costumed dancers performing the auspicious Tashi Sholpa dance. His Holiness was received by the President of the Capital Area Tibetan Association, Rigdhen Dolma, while Tibetan youngsters offered the traditional Chema Changpu.
His Holiness is in Washington to attend the National Prayer Breakfast on Thursday and has been invited to address an associated luncheon tomorrow.