Kolkata, W. Bengal, India, 12 January 2015 - It was a cold, overcast morning today as His Holiness the Dalai Lama drove to the airport in Delhi to fly to Kolkata. He was warmly received on arrival at Netaji Subhash Chandra Bose International Airport and driven into the city.

His Holiness's first meeting was with a group of 150 Tibetans doing business in Kolkata, including some 30 Muslims from Srinagar. He thanked them all for coming to see him and recalled an episode from his childhood in Lhasa when a pocket watch that had belonged to the 13th Dalai Lama needed to be fixed. A watchmaker from the Tibetan Muslim community came to repair it and as he handed it back to the young Dalai Lama solemnly warned: "The owner of a pocket watch should be as careful as someone with an egg in his pocket". Everyone laughed.

His Holiness was full of praise for the way the Tibetan Muslims in Kashmir have kept the Tibetan language alive in their community even after nearly 56 years in exile. He expressed his admiration for the elder generation's efforts to ensure that the young still speak Tibetan fluently. He told them that he cites them as an example when he talks to Tibetans who have settled in the West, some of whom only speak English with their children. His Holiness recalled that, perhaps as a result of famine in Ladakh, Muslims began to settle in Lhasa during the time of the 5th Dalai Lama. He allotted them land on which to construct a Mosque and they began to make their homes around it.

"These people were Muslim by faith," His Holiness said, "but were strongly influenced by the Tibetan culture of compassion."

As he posed for photographs with this group of Tibetans, His Holiness lauded the enduring strength of spirit shown by Tibetans in Tibet.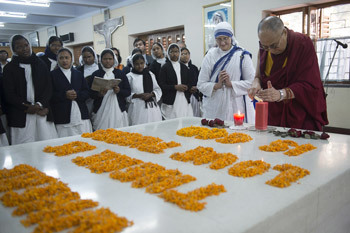 His Holiness the Dalai Lama lighting a candle at the tomb of Mother Teresa during his visit to Missionaries of Charity's Mother House in Kolkata, West Bengal, India on January 12, 2015. Photo/Tenzin Choejor/OHHDL
His Holiness next drove to the headquarters of the Missionaries of Charity where he was received at the Mother House by the Superior General of the Order, Sister Mary Prema Pierick. He greeted well-wishers as he went in. Inside the Mother House, which today is a place of pilgrimage dedicated to the memory of Mother Teresa, some hundred sisters and guests awaited him, gathered around the Mother's tomb. The sisters sang hymns of praise as His Holiness and Sister Mary Prema paid their respects before an image of Mother Teresa.
In her introductory address the Superior General recalled His Holiness's previous visit in September 2005 and remarked:
"What a joy it is to have His Holiness amongst us once more in the Mother House."
She said that what the world needs more than ever is peace and quoted Mother Teresa as saying:
"Peace begins with a smile."
In his welcoming remarks The Archbishop of Kolkata mentioned how providential was His Holiness's visit to the Missionaries of Charity, calling it a true gift for Christmas and the New Year.
"And yet peace is not something we celebrate only because of the season. His Holiness is a perpetual apostle of peace."
He went on to say that in a world torn by war owing to people's greed and mistrust, simply to see His Holiness's smiling face is to know that peace is possible. He thanked His Holiness "for bringing your peace to us."
His Holiness briefly addressed the gathering:
"Sisters and brothers, I am happy to be here once again, this time not at your invitation, but of my own accord."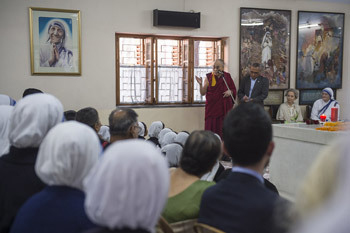 His Holiness the Dalai Lama speaking at the Missionaries of Charity's Mother House in Kolkata, West Bengal, India on January 12, 2015. Photo/Tenzin Choejor/OHHDL
Everyone present expressed pleasure at his spontaneous visit with laughter and applause. His Holiness spoke admiringly of the way the Sisters serve humanity, particularly by caring for the poorest of the poor. He also recalled the one brief occasion on which he met Mother Teresa, describing her as an exemplary person, who revealed to others the true practice of love through her charitable activities. He said that although she is no longer physically among us, her spirit lives on as does the spirit of Jesus Christ and Buddha Shakyamuni. His Holiness urged the gathering to continue serving people, especially the poor and needy in that spirit. He asked all those present to consider that they were working for the entire family of 7 billion human beings with the aim of making this 21st century an era of peace.
Reiterating his admiration of their work His Holiness said:
"It is important that you keep up your humanitarian service. I often point out to other people how Christian brothers and sisters have made the greatest contribution to humanity in terms of education and health. Mother Teresa dedicated herself sincerely to the poor. As an admirer it is my duty to pay tribute to her. She was practical in her prayers, actually putting them into action by taking care of the poor."
His Holiness went on to mention his own commitments to promoting human values and inter-religious harmony. He also reminded his listeners that, although those who like him belong to the older generation will inevitably disappear, the younger generation must keep up the good work and set an example for generations to come.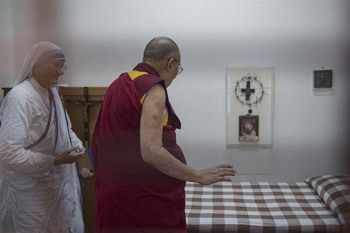 His Holiness the Dalai Lama paying his respects in Mother Teresa's room during his visit to the Missionaries of Charity's Mother House in Kolkata, West Bengal, India on January 12, 2015. Photo/Tenzin Choejor/OHHDL
"Please continue to dedicate your lives to the service of humanity, particularly the poor."
The Superior General then escorted His Holiness to Mother Teresa's sparsely furnished room, where he again paid his respects. Before departing the Mother House for his hotel, His Holiness greeted well-wishers waiting to catch a glimpse of him and answered a waiting journalist's questions.
Tomorrow, His Holiness will speak at the Presidency University in the morning and the Kolkata Chamber of Commerce in the afternoon.