New Delhi. India, 14 April 2015 - At the conclusion of a successful two week visit to Japan, during which he has met and interacted with Japanese scientists, politicians, doctors, Buddhist communities, students and members of the general public, he had final brief meetings with Tibetans and Taiwanese.
He encouraged Tibetans to work for all humanity not only to pursue their own interests.
"Being of service to others is part of our religious tradition," he said. "In today's world, Tibetan culture is attracting attention, so it would be a shame if we can't keep it up ourselves. I tell people abroad that Tibetans have a reputation for being warm-hearted, but if Tibetans fight among themselves and kill each other it's a disgrace. Get together, discuss what you're doing, offer constructive criticism and try to improve.
"With regard to the problems facing Tibet, we are trying our best to solve them, but we need international support. Things have to change. Transparency has to come, it can't be avoided. The Chinese authorities have tried to suppress Tibetans with violence, they have tried to eliminate our identity, but we're resilient, we survive. When China really addresses what Tibetans need, the problem can be solved."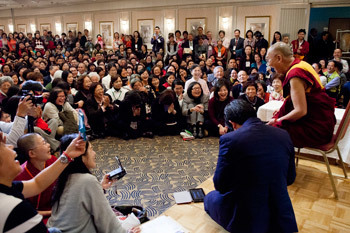 His Holiness the Dalai Lama speaking to a group of Taiwanese in Tokyo, Japan on April 14, 2015. Photo/Tenzin Jigmey
The main theme of His Holiness's talk to about 1000 Taiwanese was that they should back up their interest in Buddhism with study. He said:
"I'm 80 years old, but I'm still studying the works of the Nalanda masters. That's what I encourage you to do too. Today, in the 21st century, the important thing is not only to improve our material well-being. All over the world we see signs of moral confusion. People are under the control of negative emotions. The important thing is to try to be a good human being, to be warm-hearted and confident.
"Most of you recite the Heart of Wisdom Sutra every day, but recitation alone is not enough, you should try to understand what it means. I often tell people how important it is to be 21st century Buddhists, basing faith and practice not just on ancestral tradition but on a sound understanding. That's how we can uproot ignorance and transform our minds."
There was steady rain as His Holiness drove from Tokyo to Narita airport, but his flight back to India took off punctually. Despite a certain amount of turbulence, the flight was smooth and landed early in Delhi. Tomorrow His Holiness will return to Dharamsala.