Phagwara, Punjab, India, 14 November 2015 - His Holiness the Dalai Lama left Delhi early this morning on a flight to Amritsar. From there he drove down the Grand Trunk Road to Phagwara, not far from Jalandhar, where he was to be the Chief Guest at the 5th Convocation of Lovely Professional University. In the relatively short time since it was founded, Lovely Professional University has become India's largest private university attracting 25000 students from 28 countries, offering more than 200 courses and with links to many other universities abroad.
His Holiness was welcomed on arrival by the Chancellor and Pro-Chancellor Mr Ashok Mittal and his wife Mrs Rashmi Mittal. Significant numbers of Tibetan and Bhutanese students study at the university and they provided a traditional Tibetan welcome, including performances by masked Tashi Shoelpa and Yak dancers. He met members of staff at the Chancellor's office. He was also presented with a Guard of Honour led by a sword wielding Sikh officer before whom he took the salute. He was entertained to lunch with the Chancellor and invited guests.
In a brief meeting with the media he outlined his three commitments: the promotion of basic human values and an understanding of the oneness of humanity to further human happiness; the fostering of inter-religious harmony, the preservation of Tibetan culture and the protection of Tibet's natural environment. Amongst several questions he was asked why terrorist attacks like that in Paris yesterday take place. He replied:
"Despite its many spectacular developments, the 20th century was also a period of unprecedented violence springing from the idea that problems can best be solved by force. Much of the violence of the early 21st century can be seen as spilling over from that. However, no wants to face problems. We only want to live a peaceful life, but we need to pursue a systematic programme of education, from KG to university, to bring this about. If we can do this, the 21st century could become a period of peace and dialogue."
Speaking briefly to the Tibetan and Bhutanese students, he again stated that we are all human beings, who all want happiness and not suffering. He stressed that it is what we have in common that we should emphasize, rather than dwelling on the secondary differences between us.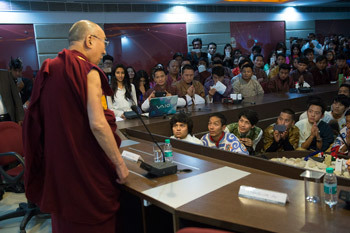 His Holiness the Dalai Lama speaking to Tibetan and Bhutanese students at Lovely Professional University in Phagwara, Punjab, India on November 14, 2015. Photo/Tenzin Choejor/OHHDL
"As small children we don't care about differences of race, faith or status, we easily get on with each other. This is why I always remind myself that I am just another human being."
He mentioned how he had taken responsibility for Tibetan affairs when he was 16 and had relinquished political responsibility when he retired in 2011. He drew the students attention to the ongoing dialogue he initiated with scientists more than 30 years ago, that has been of mutual benefit. He told them about the conference focussed on Quantum Physics and Madhyamaka Philosophy that has just taken place and his proposal for a similar conference involving modern scientists and Buddhist scholars focussing on the mind next year. He informed them of the books that have been prepared, the full two volume set and the single volume summary of Buddhist science extracted from the Kangyur and Tengyur scriptural collections.
His Holiness advised that it is not necessary to be a monk or nun to study these materials and encouraged them to take an interest in logic and epistemology. He further encouraged the students to cultivate warm-heatedness and live an ethical life.
Clad in convocation hat and gown, His Holiness joined the Governor of Punjab, Haryana & Chandigarh, Kaptan Singh Solanki to take part in the academic procession into the capacious Shanti Devi Mittal Auditorium.
Opening his address with, "Good afternoon and Tashi Delek," the Chancellor, Mr Ashok Mittal welcomed and introduced both His Holiness and the Governor to the audience. He pointed out that today was the 125th anniversary of the birth of independent India's first Prime Minister, Jawaharlal Nehru.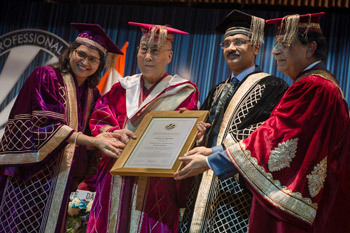 His Holiness the Dalai Lama is conferred a degree of Doctor of Divinity, Honoris Causa, from Lovely Professional University in Phagwara, Punjab, India on November 14, 2015.
Photo/Tenzin Choejor/OHHDL
On behalf of the University, the Chancellor conferred on His Holiness a degree of Doctor of Divinity, Honoris Causa, in lieu of his tireless efforts to promote human values, inter-religious harmony and protect the culture and environment of Tibet. His Holiness was then requested in turn to confer gold medals on three students who had excelled in their respective fields of study.
Invited to address the assembly, His Holiness began:
"Respected elder and younger brothers and sisters, we are all the same as human beings, mentally, emotionally and physically, which is why it is important that we acknowledge the oneness of humanity. We all experience pleasure and pain. We all want to lead a happy life and indeed we all have a right to do so. We have to consider that we all belong to one human family. On that basis there is no ground for enmity between us, no room for killing, bullying or exploitation. There is no ground for looking down on others, because we are all equal as human beings.
"If we give in to our destructive emotions we only think of ourselves. We should feel fed up with the violence and killing going on around us. If a human being is killed by an animal, it's sad, but if a human being is killed by another human being it's unthinkable. We have to make a special effort to think of each other as fellow human beings, as our brothers and sisters.
"I'd like to thank you for inviting me here and for bestowing on me this Honorary Doctorate, particularly as I haven't done the study to earn it, unlike your degrees that you've earned as a result of your own efforts. Of course, I have studied in my own way. I began to memorize texts at the age of 8, but I am something of a lazy student and I only studied because my teacher kept a whip to impress me with. I began to study out of fear, but as I studied more I eventually developed a genuine interest. We have this marvellous brain and it is immensely important that we learn to use it to the full.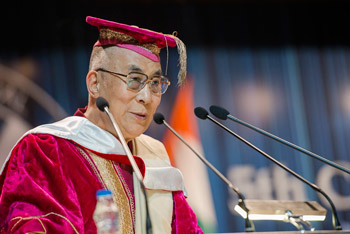 His Holiness the Dalai Lama speaking at
the 5th Convocation of Lovely Professional University in Phagwara, Punjab, India on November 14, 2015. Photo/Tenzin Choejor/OHHDL
"I congratulate you on what you have achieved so far. I'd also like to thank your teachers and all those others, the people who prepared your food, for example, who have contributed to your earning your various degrees."
His Holiness spoke of the violence that marked the 20th century with its series of different wars. Violence has also spilled over into the 21st century too. He suggested that only by adapting our approach to education will we be able to change this. Science and technology are used to kill, does that make them wrong? No, he said, the problem lies in the inadequacy of our education systems that train our brains but pay insufficient attention to fostering warm-heartedness. He remarked that all our major religious traditions convey the same message of love, compassion, tolerance, forgiveness and contentment. And yet none of these traditions by themselves has a universal appeal to all human beings. Of the 7 billion human beings alive today, 1 billion claim to have no faith in any tradition and among the 6 billion believers, many are not really serious.
"What we need," His Holiness declared, "is a sense of secular ethics. Secular in the sense that it is understood here in India of respect for all religious traditions and even for the views of those who have no faith. Friends here in India and in the USA have been drawing up a potential curriculum to inculcate secular ethics, basic human values, in future generations of students from KG to university.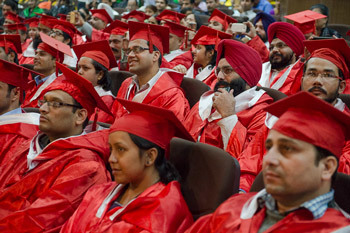 Students listening to His Holiness the Dalai Lama speaking at the 5th Convocation of Lovely Professional University in Phagwara, Punjab, India on November 14, 2015. Photo/Tenzin Choejor/OHHDL
"We need to learn how to restrain our destructive emotions and nurture those emotions that are constructive. Warm-heartedness is the ultimate source of happiness. Those of us who belong to the 20th century, our time is over and we are ready to say "Goodbye." However, if those of you who belong to the 21st century begin to make the attempt now, you could create a better, more peaceful world for the latter part of the century. India, having observed non-violence, religious harmony and secular ethics for 1000s of years, should be a model to the rest of the world.
"When faced with problems, don't lose hope. Keep up your self-confidence and don't be too impatient to achieve quick results. If you agree with anything I've said, follow it up in your day to day life. Thank you."
Chief Editor of the Ajit Group of Publications S Barjinder Singh Hamdard presented the formal vote of thanks and the 5th Convocation of Lovely Professional University was declared closed.
His Holiness will set out early tomorrow morning to return to Dharamsala.