Nashik, Maharashtra, India, 30 August 2015 - After an overnight stay in Delhi His Holiness the Dalai Lama arrived in Nashik, Maharashtra mid-morning today and was received at the airport by Swami Giananand and Swami Maisanand, who offered him rich garlands of flowers. Although the retreating monsoon did not delay the flights, there was a major downpour as His Holiness drove into Nashik that turned to light drizzle as he reached his host's residence. Swami Guru Sharanand-ji Maharaj welcomed His Holiness to the sound of horns and conches.
Sitting down with Swami Guru Sharanand-ji, His Holiness told his friend how delighted he was to have received his invitation. He also told him how impressed he was by Swami-ji's simple way of life and his deep understanding of ancient Indian thought. This brief conversation was followed by lunch for which they were joined by Swami Giananand and Prof. Samdhong Rinpoche. Their discussions of philosophical and spiritual affairs continued as they ate. After lunch, the two spiritual leaders ceremonially planted two bodhi trees beside the drive to the ashram.
During a meeting with the press, His Holiness stressed the need today for a greater sense of the oneness of humanity since the entire world has become so interdependent. Swami Sharanand-ji cited a Sanskrit verse which he translated into English:
"Those who think, 'This is mine and that is yours. This is me and that is you,' are small-minded people. The broad-minded think of all people as one."
His Holiness acknowledged the wisdom of this ancient Indian saying and the need for it to be more widely understood across the world.
His Holiness then addressed the assembled members of the media:
"I feel really honoured that Swami-ji invited me to this Mahakumbh beside the Godavari River, particularly as I was unable to attend the most recent Kumbh Mela in Allahabad, despite all the arrangements having been made, because the weather prevented me leaving Dharamsala."
His Holiness explained his commitment to promoting inter-religious harmony saying: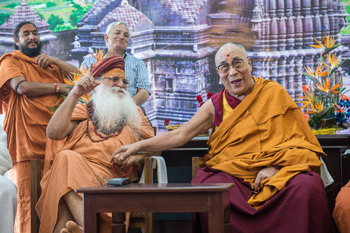 His Holiness the Dalai Lama and
Swami Guru Sharanand-ji Maharaj meeting with members of the media in Nashik, Maharashtra, India on August 30, 2015.
Photo/Tenzin Choejor/OHHDL
"I have many good friends who belong to Judaism, Christianity, Islam as well as the many different Hindu and other Indian religious traditions. As far as Hinduism and Buddhism are concerned, they share the same practices of ethics (shila), single-pointed concentration (samadhi) and wisdom (prajna)."
The Swami Ji added: "Yes, these roots are the same in both traditions."
His Holiness spoke of his meeting with a Swami living near Bangalore, who is actively engaged in social service, providing food to thousands of children in village schools in Karnataka.
"I told him we have these practices in common. Where our two traditions differ is in our acceptance or rejection of atman or anatman (theories concerning an intrinsically existent self or selflessness). But what we believe on this score is our own private business!"
The Swami-ji interjected: "Your Holiness, if you'd allow me, I could explain how these two theories are not different in reality! I can explain your shunyata (emptiness) from the viewpoint of Brahman, and vice versa!"
His Holiness then answered questions from the floor. He pointed out that the purpose of all the different religious philosophies is to strengthen our sense of karuna or compassion. He said that what is important is to understand the value of karuna.
"Whether we believe in a creator god, Ishvara or Brahma not, or like Jains and Buddhists in the law of causality, the main message is compassion. The purpose is the same; love and compassion are the universal practice of religion!"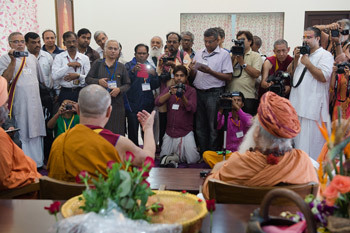 His Holiness the Dalai Lama and
Swami Guru Sharanand-ji Maharaj meeting with members of the media in Nashik, Maharashtra, India on August 30, 2015.
Photo/Tenzin Choejor/OHHDL
His Holiness also mentioned that part of India's strength is its longstanding secular approach to religion. He said that compared to its neighbours like Pakistan, Bangladesh and Burma, India is the most stable because of its secular pluralism and its tradition of ahimsa or non-violence. He stressed the need to inculcate these values in today's young people, who are otherwise caught up in materialistic goals.
Asked about the caste system His Holiness replied that one of his criticisms of India is caste discrimination. He said that if something is part of tradition, but is no longer of any use, it should be got rid of. The Swami-ji added:
"Tradition teaches us duty. But when that turns to 'Right' leading to 'Might', it leads to conflict and fighting. It's all politics!"
His Holiness suggested that gurus like Swami-ji should speak out against caste discrimination and the Swami-ji told him that it is almost gone now. He said:
"Spiritual brothers and sisters should show the general public a good example in their day to day life. But sometimes we have to be tough when it comes to choosing between upholding what is right with appeasing people with vested interests."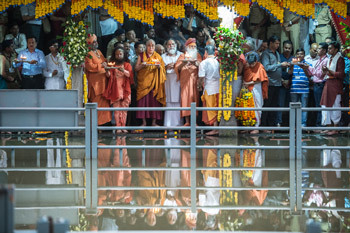 His Holiness the Dalai Lama joining in the aarthi ceremony, offering of light, at Trimbakeshwar Temple in Nashik, Maharashtra, India on August 30, 2015.
Photo/Tenzin Choejor/OHHDL
In the evening, His Holiness again met with the three Swamis to continue their philosophical exchanges. They were joined by Prof. Samdhong Rinpoche, Ganden Shartse Abbot, Jangchub Choeden, Yangteng Rinpoche and some of Swami Sharanand-ji's disciples. The discussions were lively with His Holiness and the Swami-ji agreeing that knowledge should be combined with practice. His Holiness repeated his conviction that if such beneficial exchanges between the living Tibetan Buddhist and Hindu traditions were to continue they would make a great contribution to promoting understanding and religious harmony.
In the early evening, His Holiness joined Swami Guru Sharanand-ji and multitudes of devotees for the aarthi ceremony, offering light, on the banks of the Godavari River, before retiring for the night.