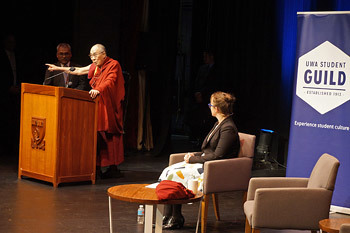 His Holiness the Dalai Lama speaking to students at the University of Western Australia in Perth, Australia on June 15, 2015. Photo/Jeremy Russell/OHHDL
"Many problems we face, including simple shyness, come about because we put too much stress on the differences between us. Actually, on a mental, physical and emotional level we are the same. The way we are born and the way we die is the same and in between we all want to live a happy life. As social animals, when we receive affection from others we feel happy."
He noted that most of the 700 strong audience were students and told them that young people like them were the hope for the future.
"I feel very happy to meet you who belong to the 21st century. Older people like me belong to the 20th century, a period that has gone. We created a lot of problems, which you'll have to deal with. You'll have to find ways to reduce the corruption and killing that is going on in some places today. This isn't something computers can do for you; you'll have to use your own minds. Remember, our deepest emotions are love and compassion, and forgiveness and tolerance naturally arise from them.
"I feel it's a great honour to speak students like you. When I encounter people my age, I just wonder, 'Who'll go first, me or you?', but when I look at young faces like yours, I feel younger too. What I want to tell you is that warm-heartedness is the basis of better mental and physical health. It's the basis for people to become more balanced, healthier individuals, families and communities. There are increasing numbers of people interested in how to foster warm-heartedness, because if we can do that, we can ensure a happier, more peaceful humanity."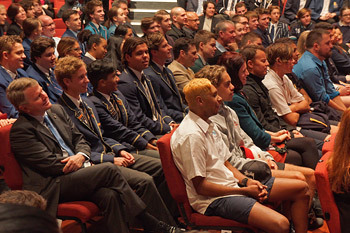 Some of the 700 students attending His Holiness the Dalai Lama's talk at the University of Western Australia in Perth, Australia on June 15, 2015. Photo/Jeremy Russell/OHHDL
An indigenous Australian student said he was getting a modern education, while trying to preserve his people's values and His Holiness told him that he had been in Uluru the day before. He repeated what he'd said there about his respect for indigenous people's culture wherever they are in the world. They differ according to the environments in which they have evolved. All the indigenous people he's met are concerned to preserve their culture and language, but some like the Samis and Maoris do so by embracing the modern world, while others seek further isolation. He said that as far as our brains are concerned we are all equal.
With regard to young people who have felt drawn to fight in Iraq and Syria, His Holiness suggested that some people are easily manipulated. They develop a strong sense of 'us' and 'them' and think that the destruction of their enemies is their victory. This way of thinking is out of date. His Holiness pointed out that Muslims in India and Malaysia, who have grown up in multi-religious, multi-ethnic backgrounds tend not to have such divisive attitudes.
His Holiness remarked that across the world education systems seem inadequate. Teachers have to show their students the value of compassion, not only by talking about it, but also by exemplifying it themselves. When they are motivated by love and compassion, teachers are much more effective.
A student leader asked advice on making decisions and His Holiness told him first of all to think in terms of moral principles, then to investigate whether whatever it is is practical and finally to seek his friends views. After he'd made them laugh several times, the students showed their appreciation of meeting His Holiness with robust applause.
Invited to a lunch event by the Australia-Israel Chamber of Commerce, His Holiness was introduced by Sue Clough who referred to him as a source of peace and happiness for the world. She prayed that he will one day be able to return to his homeland.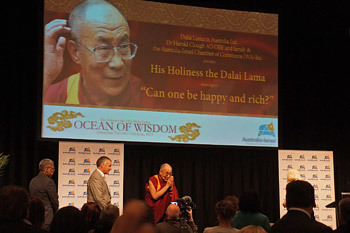 His Holiness the Dalai Lama greeting the gathering of 650 people attending the Australia-Israel Chamber of Commerce luncheon in Perth, Australia on June 15, 2015. Photo/Jeremy Russell/OHHDL
He greeted the gathering of 650 as brothers and sisters, telling them that it was almost the last engagement of his visit. He said he would like to report to them about his commitments to promoting human happiness, fostering inter-religious harmony and seeking to preserve Tibet's culture of compassion and non-violence. He said being a happy person is ultimately related to warm-heartedness. He also expressed his admiration for Israel and its hardworking people. But also mentioned meeting group of Palestinians and Israelis who were getting together to create harmony among their communities. This sort of action is the seed of the future, he said.
An additional surprise guest was Scottish-Australian philanthropist Scott Neeson. He had worked in Hollywood and risen to be President of 20th Century Fox International. Then he went to Cambodia and among the scavengers on the huge rubbish heap outside Phnom Penh decided he wanted to devote his time to helping particularly the children he encountered there. He sold his house and goods and set up the Cambodian Children's Fund. He now dedicates himself to rescuing, rehabilitating and educating Cambodian orphans.
It was put to His Holiness that he is an inspiration to millions, but the questioner wanted to know who inspired him. In his reply he mentioned the accomplished masters of Nalanda such as Nagarjuna and Shantideva. In modern times he mentioned Mahatma Gandhi and his struggle to employ non-violence. He spoke of the way Gandhi had a thorough education as a lawyer in England, but returned to his homeland to live the simple life of an ordinary Indian. He also recalled the genuine humility of the first President of India, Rajendra Prasad.
The meeting was movingly concluded with a video clip of children, and one or two older ladies, in Cambodia singing "Happy Birthday" to His Holiness.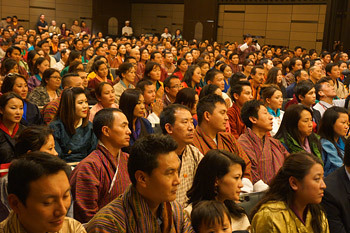 Some of the 700 members of the Bhutanese community listening to His Holiness the Dalai Lama speaking during their meeting in Perth, Australia on June 15, 2015. Photo/Jeremy Russell/OHHDL
Finally, for the first time, His Holiness met a group of about 700 Bhutanese, along with several Mongolians.
"We are all followers of the Buddhadharma," he told them, "The tradition that flourished in Nalanda. Here in the 21st century, we should be 21st century Buddhists with a firm understanding of what the Buddha taught. Read the texts. Just praying to the Buddha or Guru Rinpoche is old fashioned and no longer enough. Once you have better knowledge, your faith will be based on reason. You have study centres; open them up to lay people too."
Remarking that they had asked him to give some teaching, he explained the traditional verse that expresses taking refuge in the Three Jewels and generating the aspiration to attain enlightenment for all sentient beings. In addition, he gave transmissions of the Buddha's mantra, the mantra of Chenresig, the mantra of Manjushri, including the way to count 100 syllables 'dhi' on one breath, ending with Tara's and Guru Rinpoche's mantras. He answered several of their questions before having to leave for the airport.
Shortly before sunset, His Holiness's flight took off and more than five hours later landed in Singapore, where he was able to spend the night. Tomorrow morning he will fly on to India and return directly to Dharamsala.