Tashi Lhunpo, Bylakuppe, Karnataka, India, 25 December 2015 - Events on the Tashi Lhunpo Monastery veranda began this morning with His Holiness the Dalai Lama's launching the autobiography of Jampa Kalden, who died on this day three years ago. Born in Chamdo in 1923, Jampa Kalden joined the Chushi Gangdrug resistance in the 1950s. In exile he worked principally in the Department Security until he retired in 1987. His Holiness said Jampa Kalden's family had asked him to launch the book, which is published in Tibetan by the Library of Tibetan Works & Archives, and he was glad to do so in the presence of his wife and daughter.
"I've received explanations of 'Buddhapalita' and Chandrakirti's 'Clear Words' (Prasannapada) and other teachings from him. He's been very kind to me. In his time as Abbot of Gyumey and Loseling College of Drepung he worked hard to raise the standard of the monks' education. This will be his final year as Ganden Tripa, we should all pray for him.
"Three days ago, Taglung Tsetrul Rinpoche passed away. The Fifth Dalai Lama established close relations with Pema Trinley and Terdag Lingpa and the Northern Treasure lineage of Dorje Drak monastery. Taglung Tsetrul Rinpoche was the principal Lama of Dorje Drak and that lineage in exile. Late in life he also became Head of the Nyingma tradition. He was great master. I was asked to compose a prayer for his swift return and was glad to do so straight away. Please pray for its swift fulfilment.
'Today is also the 32nd anniversary of the passing away of my ordination preceptor and Senior Tutor, Kyabje Ling Rinpoche. His reincarnation, here, suffered a serious road accident three years ago, but has now recovered well. Please pray for his good health, we have great hopes for him.
"I also had great hopes for the reincarnation of my Junior Tutor Kyabje Trijang Rinpoche, but his circumstances are unclear.
"Those of you who have come to be with us here from the West, you are physically here, but I wonder if in your hearts you are at home today with your families for Christmas? My special greetings to you."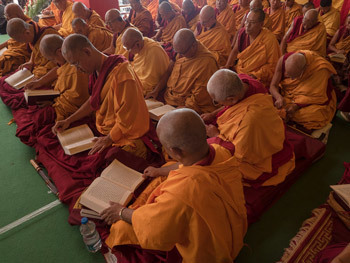 Senior monastics following the text during His Holiness the Dalai Lama's Lam Rim Teaching at Tashi Lhunpo Monastery in Bylakuppe, Karnataka, India on December 25, 2015. Photo/Tenzin Choejor/OHHDL
His Holiness then explained that it had been the final wish of Geshe Tsulga of Trehor Khangtsen, Sera Jey Monastery, a monk he had known in India and at the Kurukulla Center in Boston, USA, that he would teach Nagarjuna's 'Praise to Satisfying Sentient Beings'. He said that when he was asked, he wasn't familiar with it and replied that he would think about it. This year the present teacher at Kurukulla, Geshe Tenley, repeated the request. He said he had received an explanation of the text from Ganden Tri Rinpoche. Since Nagarjuna's 'Commentary on the Awakening Mind' is also included in the booklet that has been distributed, he said he would read that too.
"This text, 'Commentary on the Awakening Mind' is a source of philosophical understanding and mind training. It examines the self from the point of view of various non-Buddhist and Buddhist schools of thought. The gist of the work is expressed in the following verses:
The fruits which are desirable and undesirable
In the form of fortunate or unfortunate births in the world
Come about from helping sentient beings
Or harming them.

Rooted firmly because of compassion
And arising from the shoot of the awakening mind,
The [true] awakening that is the sole fruit of altruism -
This the Conqueror's children cultivate.

When through practice it becomes firm
Alarmed by others' suffering
The [bodhisattvas] renounce the bliss of concentration
And plunge even to the depths of relentless hells.


"This is a great text and since we've printed copies, you can easily read it. As for the essence of the 'Praise to Satisfying Sentient Beings', it is captured in these lines:

Therefore, if you benefit sentient beings, that is the best of offerings to me
Harm done to sentient beings is the worst of harms to me.
Since I and sentient beings experience happiness and suffering similarly,
How, causing harm to sentient beings, could you be my disciple?

For as long as my teachings - [which bring] benefit to sentient beings - blaze in this universe,
For that long, you - who wish to bring the highest benefit to others - should
remain [too]. "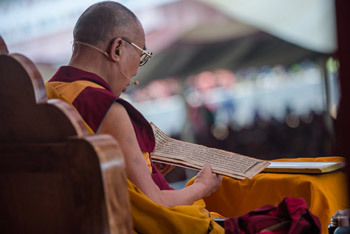 His Holiness the Dalai Lama reading from a text in printed in the traditional style during his Lam Rim Teaching at Tashi Lhunpo Monastery in Bylakuppe, Karnataka, India on December 25, 2015. Photo/Tenzin Choejor/OHHDL
His Holiness remarked that if he pushed, he might be able to finish the two texts he's been reading. He turned first to Zhamar Pandita's 'Treatise'. He remarked that Je Rinpoche had already studied extensively when Manjushri urged him to live the life of a hermit, doing practices for purification and the accumulation of merit. He did this at Lhading, which is where he wrote his 'Praise for Dependent Arising'. Je Rinpoche was also prompted to comment that it might be difficult for others who had studied extensively to accept that beings only exist on the level of designation, but stressed that they should drive their minds to do so. There is no person apart from its being designated.
Coming to the end of the Zharma text, His Holiness explained that he had received an explanation of it from a Golok monk and that it is very good. At the time the monk from Golok did not have the transmission of the special insight section, so His Holiness asked him to look for someone who might have it. He went back to Tibet and found a very elderly monk who had it, who gave it to him and promptly passed away. It was as if he had just been waiting for an opportunity to pass the teaching on.
After lunch, His Holiness read from 'Liberation in the Palm of your Hand', first of all going through the concentration section, then going on to special insight. As to how to conduct your own practice, His Holiness advised: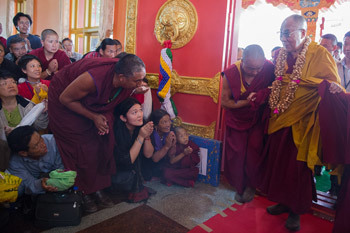 Members of the audience inside the temple convey their respect and warm wishes for His Holiness the Dalai Lama as he leaves the teaching ground at Tashi Lhunpo Monastery in Bylakuppe, Karnataka, India on December 25, 2015. Photo/Tenzin Choejor/OHHDL
"On a daily basis first review or scan the whole path, select what you're going to focus on and pay attention to that. I use Ganden Lha Gyama (the Hundred Deities of the Joyous Land) for guru yoga. I go over the 37 factors of enlightenment, the Four Noble Truths and examine the benefits of cultivating the awakening mind, using Nagarjuna's text. Then I meditate on impermanence and death, as well as the preciousness of this human life, before embarking on cultivating the awakening mind, which is main thing."
He reached the colophon of the text which states that the teaching had been requested by a lady of the Lhalu family called Yangzom Tsering, who requested it for the benefit of deceased relatives. It was given in 1921 at Chupsang Hermitage.
The day's events were concluded with a 'tsog' celebration to commemorate Kyabje Ling Rinpoche conducted according to Vajrabhairava and chanted at a vigorous pace. His Holiness announced that he expects to complete the Jangchub Lam Rim Teachings over the next three days.