Surat, Gujarat, India, 2 January 2015 - Before leaving his hotel to receive the Santokbaa Award today, His Holiness the Dalai Lama briefly met with the media. He outlined his commitments to promoting human values and inter-religious harmony, to encouraging a sense of the oneness of humanity and our need to think in terms of global responsibility. He suggested that generating awareness of India's thousands of years old values is something the media can participate in too. He also acknowledged that as a Tibetan he feels driven to preserve the culture of peace, compassion and non-violence that Tibet derived from India.
The initial question sought His Holiness's views on religious conversion and he clarified that if it is voluntary he accepts it and cited the cases of people in Tibet who converted to Islam as a result of marriage and so forth. He stressed that the idea that there is only one faith and one truth may hold good for the individual, but in terms of the community, it is out of date. The reality is that there are several faiths and several truths. What is required is mutual respect.
His Holiness was asked how he would deal with putting a stop to the trade in arms and drugs. He said:
"At the end of the recent Nobel Peace Laureates' summit in Rome one of the issues explicitly spelled out in the final declaration was the need to take steps to eliminate nuclear weapons. The use of even one or two of these immensely destructive weapons would be a disaster. While we pray for peace, the lucrative trade in arms is a wrong line of business. Similarly, because the functioning of the human brain is so marvellous, anything, like intoxicating drugs, that impair its function is harmful."
His Holiness's views were sought about the 7-15% of the Indian population, who, being downtrodden, joined Dr Ambedkar in converting to Buddhism. He responded:
"As a Buddhist, I think any discrimination on the basis of race or caste is wrong. The Buddha too opposed the caste system. We should take steps to correct such outdated traditions. Religious leaders should speak up and advise their followers to revise them. While it's appropriate for upper caste people to extend help to the poor and downtrodden by providing facilities and employment, the downtrodden themselves should work hard to raise their status and acquire education. The huge gap between rich and poor in many parts of the world needs to be tackled in a similar way. It's quite inappropriate to suggest to the poor and downtrodden that they should accept their status because it's their karma."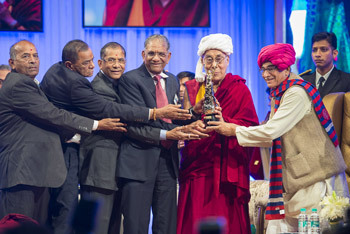 Guests including Govind Dholakia and the Governor of Gujarat, OP Kohli, presenting His Holiness the Dalai Lama with the Santokbaa Award in Surat, Gujarat, India on January 2, 2015. Photo/Tenzin Choejor/OHHDL
At the Sanjeev Kumar auditorium a full crowd enthusiastically welcomed His Holiness's arrival to receive the Santokbaa Award. The occasion was inaugurated as he joined his fellow guests, the Governor of Gujarat, OP Kohli and Chief Guest Pankaj Patel in lighting the lamp. Govind Dholakia, instigator of the SRK Foundation and initiator of this award in memory of his mother, explained that it is intended to honour individuals who have contributed significantly to the betterment of humanity. He announced that this seventh award would be given to His Holiness. He recalled that in their conversation yesterday, His Holiness, who extols the influence of the simple kindness of his own mother, asked if he had ever seen his mother's angry face. When he confirmed that he had not, they found it was an experience they both shared.
The guests were each honoured with bouquets of flowers, baskets of fruit and other mementos, while speeches were made in Hindi and Gujarati. The Chief Guest, Pankaj Patel, speaking in English, celebrated three mothers: the mother who gave birth to us; the mother Sarasvati who gave us knowledge and the mother who is the land on which we live. When His Holiness's turn came, he addressed the gathering:
"Respected Governor, my fellow guests, elder brothers and sisters and younger brothers and sisters, whenever I speak in public I consider that we are all the same as human beings. I feel it is a great honour you have bestowed on me with the gift of this award. I appreciate this turban, which links a farmer's son from north-east Tibet with a farmer's son from Gujarat. Farmers have an essential role in society because it is they who produce the food we all eat. Therefore, it's important that we bring development to our rural areas. The poor who pack the slums in our cities are there because they are unable to make progress in the villages they come from.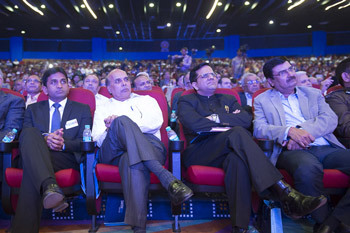 Members of the audience listening to His Holiness the Dalai Lama speaking during the Santokbaa Award ceremony at the Danjeev Kumar auditorium in Surat, Gujarat, India on January 2, 2015. Photo/Tenzin Choejor/OHHDL
"If life is improved in the rural areas, everyone will benefit. Friends tell me our present mode of development is unsustainable, so we need to find a different approach to uplifting the poor and challenging issues such as caste and gender discrimination. We should also explore ways to limit the use of pesticides and artificial fertilizers, seeking more organic farming methods in the interest of health."
He referred to his three commitments: as a human being to the promotion of human values in the interest of general happiness, as a Buddhist monk to encouraging harmony and mutual respect among religious traditions, which all convey a common message of love, compassion, tolerance, contentment and self-discipline. And finally, as a Tibetan, he said he's interested to preserve the knowledge and culture Tibetans received from the Nalanda tradition in the 7th and 8th centuries. It involves knowledge of the mind that is rich and deep and, while most accurately expressed in the Tibetan language, remains useful and relevant today.
Several young journalists asked His Holiness questions after lunch. They included again a question about religious conversion. His Holiness pointed out that it is much more difficult to convert educated people, so education has a role in this matter. He reiterated that all the major religious traditions have the potential to help humanity through their teachings. Asked for a message to his own followers, he answered:
"Be a good human being."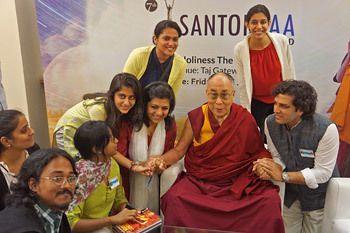 His Holiness the Dalai Lama with young journalists during their meeting in Surat, Gujarat, India on January 2, 2015. Photo/Jeremy Russell/OHHDL
In relation to social media, His Holiness said they can be helpful or harmful depending on the use to which we put them. He wondered whether they provide people with an excess of information with little depth. Asked what meditation means to him, His Holiness explained that there are two kinds: the cultivation of single-pointed concentration and the insight that comes from analysis. He said that when he gets up at three in the morning he questions the nature of self, of the world and so forth. Such analysis helps undermine destructive emotions like anger and attachment that are rooted in misconception of self. To a final question:
"What do you do in your spare time?" he answered jokingly:
"I sleep. I'm very fond of sleep," and then added, "even at the age of nearly 80, I continue to read and study."
As an opportunity for discussion with industrialists was getting under way with the presentation of flowers and so forth, His Holiness intervened to say that rather than participating in too much formality he would prefer to engage in an exchange of questions and answers. The moderator, Harish Bhimani conceded and immediately invited questions from the floor.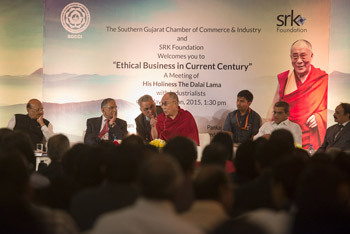 His Holiness the Dalai Lama responding to questions from the audience during his meeting with industrialists in Surat, Gujarat, India on January 2, 2015. Photo/Tenzin Choejor/OHHDL
His Holiness clarified the question of whether there would be a 15th Dalai Lama, reporting that he has already stated that the question will depend on the wishes of the Tibetan people.
Asked about ethics in business, he said that whether any human activity is ethical or not depends on the motivation. If we are driven by a sense of concern for the well-being of other people, our actions will be ethical. In addition to a positive motivation he said we need wisdom to be able to assess the situation. Contradictions like a tobacco company funding cancer research are irreconcilable, like praying for peace while continuing to support the arms trade.
Invited to comment on the difference between Mahavira, teacher of Jainism and the Buddha, His Holiness immediately conceded that Mahavira was the senior of the two. He remarked that both emphasised non-violence and that the difference between their teachings lies in their attitude to atman or anatman, with only Buddhism asserting the lack of any intrinsic self.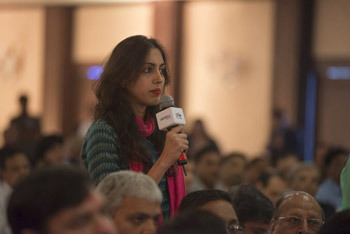 A member of the audience asking His Holiness the Dalai Lama a question during his meeting with industrialists in Surat, Gujarat, India on January 2, 2015. Photo/Tenzin Choejor/OHHDL
Questioned whether corporate social responsibility should be voluntary or mandatory, His Holiness expressed the view that good works should always be voluntary. He suggested that once you make rules about such things they become a cover for hypocrisy. He clarified that actions that ensure the happiness and well-being of others can be regarded as positive and ethical.
Coming to the end of the session, as he was mobbed by people seeking his blessings, he managed to say:
"Thank you, yesterday and today, I've enjoyed my stay here. Thank you."
Tomorrow His Holiness travels to Nasik to give a public talk organized by the Indo-Tibetan Mangal Maitri Sangh.