Copenhagen, Denmark, 11 February 2015 - The first engagement of His Holiness the Dalai Lama's day in Copenhagen was a meeting with the Press. Journalists respectfully welcomed him to the room and he began by outlining his three commitments.
"I'm very happy to be here, meeting with my Danish friends once again. We are all human beings, physically, mentally and emotionally the same. We all want to lead a happy life and essential to our physical and mental well-being is peace of mind.
"We are social animals, born from our mothers and receiving care and affection from her when we are young. Those who appreciate such affection have the potential to show affection to others. Affection, confidence and peace of mind are all interconnected.
"As a Buddhist monk, I have a responsibility to work for harmony among our various religious traditions. We share common aims and common practices. But while violence in the struggle for national interest or political power is just about understandable, killing in the name of religion is unthinkable. You media people can help educate others about the value of peace of mind and the need for inter-religious harmony.
"In relation to Tibet, I have completely retired from political responsibility since we achieved an elected leadership. I also feel a commitment to trying to preserve Tibet's fragile ecology and to protecting our culture, focused as it is on peace and compassion.
"Finally, you media people should have long noses like elephants able to sniff out what is going on and then informing the public. However, it is also essential that you are truthful and honest about it."
The first question His Holiness was asked was whether he feels doors to influence are closing as political leaders decline to meet him. He replied that he thought not, because he is primarily concerned to interact with the public. He was asked whether politicians taking steps to maintain relations with China is in everyone's best interests. He answered that China is the world's most populous state, an ancient and important nation. China wants to join the international mainstream and it is up to the free world to lead her towards democracy.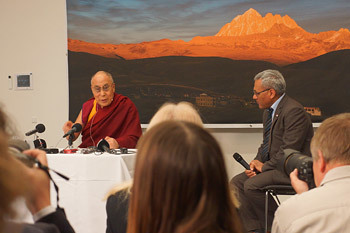 His Holiness the Dalai Lama meeting with members of the press in Copenhagen, Denmark on February 11, 2015.
Photo/Jeremy Russell/OHHDL
At the moment, China remains a closed and controlled society, but 1.3 billion people have a right to know reality. They have the capacity to judge right from wrong. As it is, censorship, the effort to deceive the people, is wrong. The important thing, His Holiness said, about relations with China is to overcome suspicion and establish friendship. Asked whether he felt there had been any missed opportunities for Tibet in its relations with China, His Holiness surveyed what had happened from his escape to Yatung in 1950 after PLA troops crossed the Tibetan border, the signing of the 17 Point Agreement in May 1951, to his own visit to Peking 1954-55. During that time he met all the Chinese leaders, including about 30 meetings with Chairman Mao, with whom he had cordial relations. However, in 1959 he faced no alternative but to escape.
In 1974 Tibetans in exile decided not to raise the issue of Tibet at the UN any more, but to prepare to talk to China, which meant not seeking independence. In 1978, Deng Xiaoping indicated a willingness to talk and in 1979 an envoy was sent to do so. During the 1980s, at the time of Hu Yaobang, hopes of a negotiated were raised. But as the pro-democracy movement emerged among students, Hu Yaobang was dismissed and replaced by hardliner, Li Peng. The Tiananmen massacre followed.
Meetings resumed in 1992 under Jiang Zemin, but hardliners continued to pursue suppressive policies and found it convenient to blame His Holiness for whatever trouble arose in Tibet. Since then, there have been many indications that Chinese intellectuals who become aware of the proposed Middle Way Approach to a mutually agreeable solution are supportive of it and critical of their government's policies.
His Holiness answered a question about violence in the name of religion with the suggestion that it is often a case ignorant religious extremists manipulating others. He recalled sending condolences to President Bush after the September 11th tragedy and expressing the hope that the consequences would be dealt with in a non-violent way.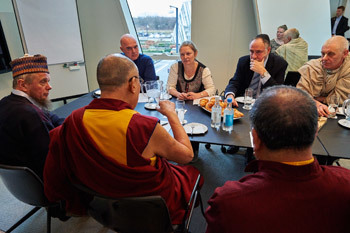 His Holiness the Dalai Lama meeting with Danish religious leaders in Copenhagen, Denmark on February 11, 2015. Photo/Olivier Adam
His Holiness had a cordial inter-religious meeting with Danish representatives of Christianity, Judaism, Islam and Hinduism. He told them that on a human level we are all the same. Moreover, he said, all our major religious traditions focus on the practice of love and compassion, supported by forgiveness, tolerance and simplicity. He expressed his great admiration for the Hindu practitioners and Christian monks and nuns he has met who live really simple lives governed by self-discipline. The group explained their plans for an inter-religious conference in 2017/18 and sought His Holiness's support.
In an interview with Mette Holm for the TV2 television channel, she asked about his expected meeting with Danish politicians. His Holiness told her he would like to see a delegation of experts go to Tibet to investigate the ecological situation. He hoped they could assess what damage has already been done and what steps can be taken to avert further damage. She asked how Chinese Buddhists react when they come to meet him and he told her they are often in tears. As to whether there is freedom to practise Buddhism in Tibet he pointed out that when he took his final exams in 1959 there between 7000 and 8000 monks studying in Drepung Monastery. Today, there are reports of fewer than 100 with no proper teachers and no serious study.
In a second interview after lunch with Mette Hybel for DR1 television, she asked if he felt his influence was diminishing when politicians declined to meet him. He replied that he is primarily interested in interacting with members of the public. She also asked how things are in Tibet and he told her that in some places they are better and in other places worse, depending on the whims of the local Chinese officials. But he said he remained optimistic that things will change for the better.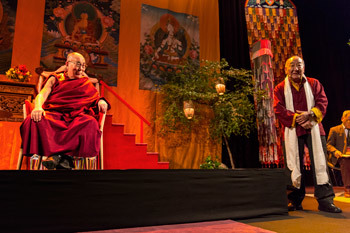 Lakha Lama Rinpoche introducing His Holiness the Dalai Lama at the start of his talk in Copenhagen, Denmark on February 11, 2015. Photo/Elona Sjøgren
Before a capacity crowd in the Bella Conference Centre, His Holiness was introduced by Lakha Lama Rinpoche, chairman of the association of seven organizations who invited him and have arranged the visit. Speaking in English that was then translated into Danish, His Holiness greeted the audience.
"Dear brothers and sisters, as human beings we are all the same, physically, mentally and emotionally. We all want to live a happy life and have a right to do so. There is nothing special about me, but maybe you can learn something from my experiences and I can learn something from yours. The purpose of our lives is to be happy. We live in hope, which means looking forward to something good. And there are increasing scientific findings that both our physical and mental well-being depend on our peace of mind. Clearly stress is bad for our health.
"Scientists are also finding evidence that small children respond more positively to helping than hindering, which reveals that basic human nature is to be affectionate and helpful. Love brings us together, anger pushes us apart."
His Holiness explained that many of the problems we face in the world today are due to a lack of values, of moral principles. He spoke of the need to introduce such values into the education system taking a secular approach that, following the Indian example, is respectful of all religious traditions without being biased to one or the other. He said that taking care of others as well as yourself is the wise way to fulfil your own interests. He pointed out that in the past Danish people may have been self-sufficient, but today the whole world is interdependent. We cannot think only of ourselves, but have to consider the welfare of all 7 billion human beings.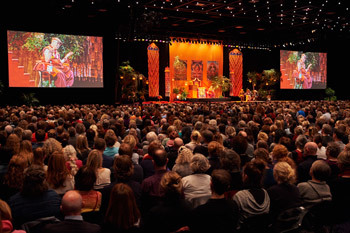 A view of the stage at the Bella Conference Center during His Holiness the Dalai Lama's talk in Copenhagen, Denmark on February 11, 2015. Photo/Olivier Adam
"If we look back on the 20th century there were many marvellous developments, but it was also a period of unprecedented bloodshed. It's estimated 200 million died in violence. To change the world for the better, complaining is not enough, prayer is not enough; we need a long-term vision implemented in a systematic way. This will depend on those who are not yet 30 years old now, the generation of the 21st century. It will take time, but if we start to make an attempt now, it may be possible to create a better world by the end of this century. I believe it is possible to do this by changing the way people think based on common sense, common experience and scientific understanding."
His Holiness ended his talk with the hope that his listeners would think about it and if it made sense try to act on it. If on the other hand they felt it was unrealistic, they could just forget it. While answering questions from the audience he signed a steady stream of brochures and books that were handed up at the front of the stage. Before leaving to appreciative applause, His Holiness said he looked forward to meeting again tomorrow when he will explain the 'Eight Verses for Training the Mind'.