Leh, Ladakh, J&K, India, 24 August 2016 - On the final day of His Holiness the Dalai Lama's visit to Ladakh this year, the Ladakh Buddhist Association (LBA) offered a lunch in his honour in an ornate tent erected on the Shiwatsel ground where he had recently given teachings. Senior members of all Ladakh's Buddhist traditions, Ganden Tri Rinpoche Rizong Rinpoche and Thiksey Rinpoche among them, Council Members of LADHC, including Dr Sonam Dawa (CEC, LADHC), Jora Rigzin (MLA, J & K State) and other dignitaries attended.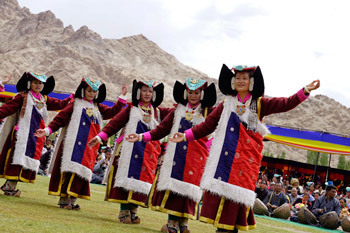 Ladakhi women performing traditional dance at the luncheon in honor of His Holiness the Dalai Lama in Leh, Ladakh, J&K, India on August 24, 2016. Photo by Tenzin Choejor/OHHDL
Mr. Thinley Dorjee, the President of LBA paid tribute to His Holiness, "Once again, we have the auspicious opportunity of His Holiness the Dalai Lama's presence with us at this lunch. Nevertheless, our thirst to see His Holiness is never quenched. Therefore, I pray that His Holiness will visit us again and again in the future."
After traditional Ladakhi musical performances that everyone enjoyed, His Holiness responded:
"The song and dance performances we have just been entertained by were offerings to listen to. The traditional costumes worn by the artists were offerings to be seen. But this lunch provided by the Ladakh Buddhist Association is an offering of something to smell and taste and that's what I'm looking forward to!" and everybody laughed.
"This is not a political gathering, it's of a spiritual nature involving the teacher-disciple relationship between you and me. Although I have the title "Dalai Lama", it's just a convention we have created. I don't consider myself as anything special. The fact is that I am a Buddhist monk, who has studied the Three Collections of the Buddha's teachings, and who has for a long time put the Three Higher Trainings into practice. So what I always remember is that I am a Buddhist monk and a follower of the Nalanda masters.
"You have arranged this farewell lunch in my honour, but the principal offering to your spiritual teacher should be your practice of the Dharma. I have shared what I know and have experienced with you. You should implement what you have understood as your offering of practice to me."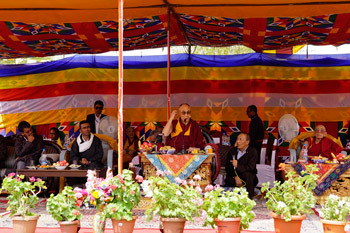 His Holiness the Dalai Lama speaking during the luncheon at the Shiwatsel ground in Leh, Ladakh, J&K, India on August 24, 2016. Photo by Tenzin Choejor/OHHDL
His Holiness declared that since he first visited Ladakh in the mid-1960s he has found the people to be devout and attentive to his advice. Therefore, he has been pleased to return year after year to serve the people and the teachings of the Buddha. Consequently, responding to requests he has already received he plans to visit Nubra and Thorthuk next year.
His Holiness mentioned that he has been working to promote religious harmony for the last several decades. He said,
"In Ladakh I'm pleased to see that religious harmony flourishes. Still, it is my responsibility to encourage you to put even greater effort into it. I'm really pleased to see that not only is the relationship between the Shia and Sunni Muslim communities in Ladakh close, but relationships between Muslims and Buddhists is cordial too. I admire this and have been doing what I can to extend it."
Recalling the Ladakh Buddhist Association's report of the efforts they have made in cooperation with Muslim scholars and clerics in Kargil to improve understanding and friendship between their communities, His Holiness told them they had done well, but should keep up the good work.
His Holiness enquired about the discrimination the Bedas, the traditional drummers and musicians who play at Ladakhi festivals, have faced. He quoted what the Buddha had said:
"In my teaching ancestry and family lineage are not important. The practice of the Dharma is more important than that."
His Holiness the Dalai Lama serving himself during the luncheon held at the Shiwatsel ground in Leh, Ladakh, J&K, India on August 24, 2016. Photo by Tenzin Choejor/OHHDL
"It is wrong to discriminate against people on the basis of their caste," His Holiness stressed. "Even if it involves longstanding local customs and traditions, these are attitudes we must change through education. In today's world these distinctions are no longer acceptable. I oppose discrimination on the basis of caste. I criticise it and appeal to Hindu religious leaders here in India not to be complacent but to take steps to bring about change. Overcoming caste based discrimination doesn't just concern politicians, religious leaders need to give a lead too."
Reminded that the food was ready, His Holiness remarked, "Of course, the main reason we have gathered here is to eat lunch. Let's enjoy it."
Following a short question and answer session after lunch, His Holiness returned to his residence, waving from his car to the many who thronged the road to catch a glimpse of him. Tomorrow His Holiness will return to Dharamsala.