New Delhi, India - His Holiness the Dalai Lama flew from Dharamsala to Delhi yesterday afternoon. This morning his public engagements began with an interview for CBS and a conversation on Facebook live with Kailash Satyarthi, founder of the Kailash Satyarthi Children's Foundation and co-winner of the 2104 Nobel Peace Prize.
Asked about Satyarthi's work to protect children's rights, His Holiness declared it wonderful, adding that children are the basis of our hope for a better future.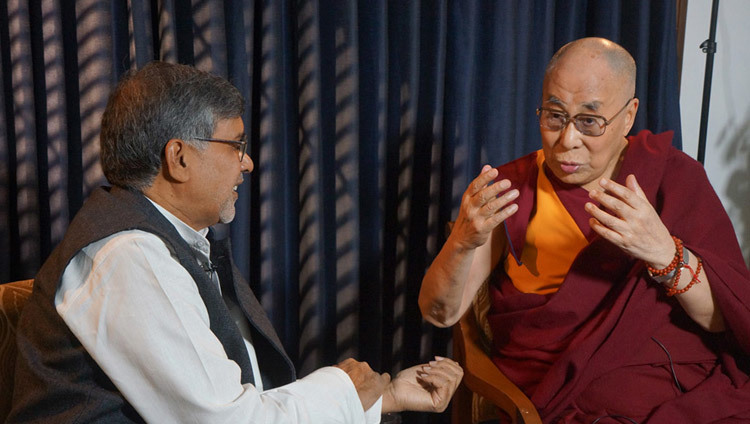 "In today's world, we see violence, corruption, poverty and innocent children dying of starvation. In the 20th century we paid too little attention to our inner values, choosing to try to solve problems by use of force. If the 21st century is to be different, those who are children today must make the effort to create a more peaceful, compassionate world." Speaking to Satyarthi, he said, "I really appreciate your efforts."
His Holiness went on say that a major source of problems is that since contemporary education has materialistic goals, there is a need to restore a sense of inner values. He mentioned that he considers scientific evidence that basic human nature is compassionate to be a real source of hope. That would be absent if it were anger. He looked askance when Satyarthi suggested a positive role for anger, but agreed when he clarified that he meant anger as a 'passion for justice', which His Holiness conceded was motivated by compassion. He further agreed with Satyarthi's assertion:
"We must oppose the slavery of children. Every child should be free to be a child; free to grow."
Beginning their Facebook live conversation, Kailash Satyarthi recalled the sense of inspiration he had when he first met His Holiness in Berlin in 1990. When he asked if His Holiness recalled any similar source inspiration, his reply was that the Buddha said: "You are your own master; train your own mind; tackle your own emotions; don't rely on the blessings of others."
Satyarthi reported that as a small child going to school, he noticed another boy his own age outside with his father who was a cobbler. He asked why that boy couldn't go to school too and the father replied, "We were born to work." In return, His Holiness told him of meeting a black African family in Soweto and congratulating them on the new opportunities they had won with the end of apartheid. He was shocked when one member of the family told him, "We can't compete with whites because our brains are inferior." His Holiness remonstrated that this was simply not true, that no expert would support such a view, but that confidently making an effort was what really counted.
His Holiness's final remarks concerned the role of NGOs in bringing about change and the need for individuals to act on their well-meaning wishes as Kailash Satyarthi has done.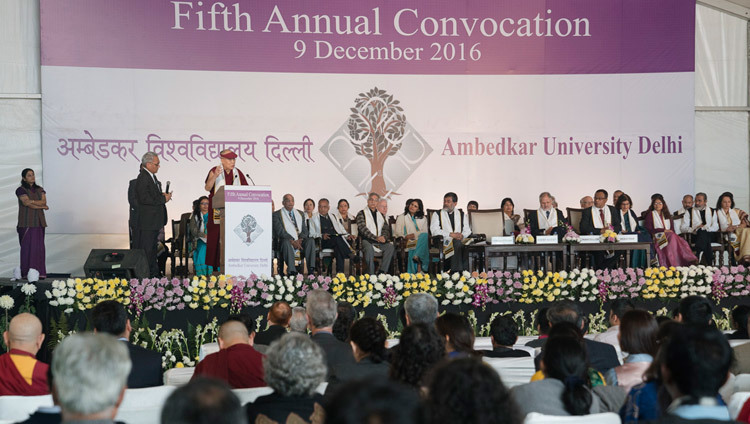 His Holiness was Chief Guest at the 5th Annual Convocation of Ambedkar University. He was welcomed by the Vice-chancellor Shyam Menon to the campus in Old Delhi, where he joined the convocation procession.
In his introduction to the event the Vice-chancellor mentioned that the University had been functioning for 8 years and that at this 5th convocation 549 students would graduate, including the first PhD. He also noted that 66% of this year's graduates were women. Diplomas and degrees were awarded to their respective recipients.
Chancellor Najeeb Jung, who is also Lieutenant-Governor of Delhi, praised the steady progress the University has made. Welcoming His Holiness as Chief Guest, he recalled what he had said in his Nobel Peace Prize acceptance speech when he acknowledged Mahatma Gandhi, leader of the movement for non-violent change, as a mentor. His Holiness had also noted that ignorance is the source of suffering, while happiness is to be found in appreciating our brother-hood and sister-hood with each other. Jung noted that this sense of universal responsibility had been a strong influence at Ambedkar University.
In his address, His Holiness congratulated all the graduates, teasing them that if they were anything like him, they would have had to work really hard at the end of their studies to get through their exams. He referred to the special amenability of the human brain to education. However, noting that simple warm-heartedness is a clear source of happiness, he recommended more attention being given to understanding the workings of the mind and emotions.
"Ancient Indian knowledge has much to say about this. Modern Indians tend to neglect this aspect of their heritage, but we Tibetans have kept it alive for more than 1000 years. If it doesn't interest you, forget it, but if it does, think about how you can put it into effect.
"If you are honest, truthful and transparent, you'll be a good human being able to contribute positively to society. These are good grounds to be optimistic---thank you."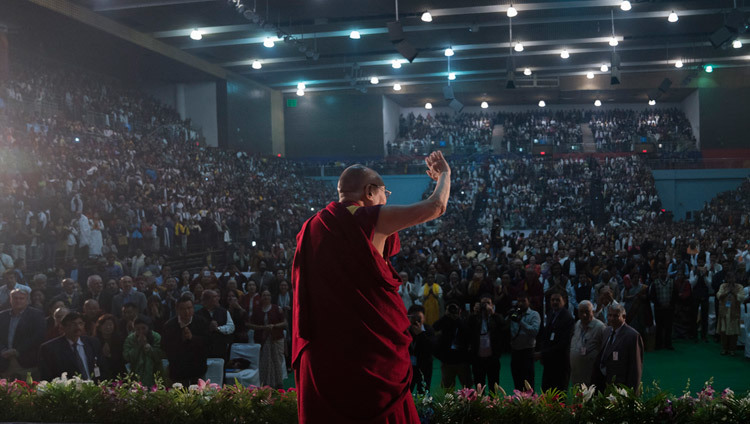 After lunch, as the sun shimmered through the murky air, His Holiness was invited to the Thyagaraj Stadium to celebrate the 50th anniversary of Tibet House, New Delhi and the 100th year of the founding of the Men-tsee-khang. Monks from Gyumey Tantric College chanted auspicious verses to open proceedings. Gifts of images of the Buddha were presented to His Holiness and his fellow guests, Lt. Governor of Delhi, Najeeb Jung, Minister of State for Home, Kiren Rijuju, Kalon for Religion and Culture, Karma Gelek Yuthok and former director of the Indira Gandhi National Centre for the Arts, Kapila Vatsyayan.
After members of the Assamese Barua community had sung about taking refuge in the Buddha, Dharma and Sangha, members of the Men-tsee-khang performed dances derived from the three major regions of Tibet.
In his introductory remarks, Tibet House Director, Geshe Dorji Damdul paid tribute to the erstwhile Nalanda tradition that informs Tibetan Buddhism. He expressed the wish that His Holiness live long and that his vision shall be brought to reality. Director of the Men-tsee-khang, Tashi Tsering Phuri spoke of the institution's slogan 'healthy body, healthy mind'. Dr Lalit Kumar commended Tibet House's launch of a Master's course in Nalanda Buddhist Philosophy, an opportunity to study the Nalanda tradition in English at your own pace. Geshe Dorji Damdul presented His Holiness with a summary of the course material.
Dr Najeeb Jung spoke of India as a moral force in the world and recommended all present to listen to His Holiness's message of love, compassion and inclusiveness. Kiren Rijuju too anticipated that His Holiness's advice would be appropriate guidance for future generations. Antonella Mathur then invited His Holiness to speak.
"Respected brothers and sisters and younger brothers and sisters," His Holiness began, "I appreciate your enthusiasm and energy, which is what we need if we are to change the world. I want to thank Tibet House and the Men-tsee-khang for organizing this occasion."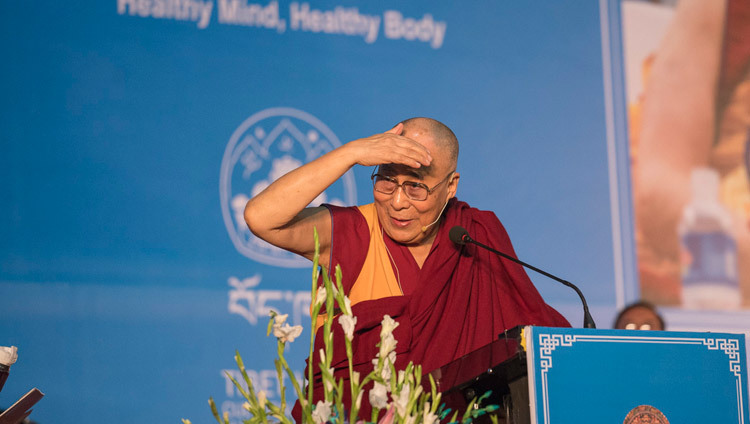 He alluded to the prominent role education had had in Tibetans' lives since they came into exile. He told his listeners that he regarded the Buddha as an ancient Indian scientist and that he regards himself as half Buddhist monk, half scientist.
"Sensory gratification alone does not put the mind at ease. To do that it is necessary to engage directly with the mind. This is why it is so important to understand the workings of the mind and emotions, as described in ancient Indian thought. Just as we need physical hygiene, we also need emotional hygiene if we are really to be well."
His Holiness spoke of a reassessment of the contents of the 300 volumes of the Kangyur and Tengyur in terms of science, philosophy and religion. He stated that it was not necessary to be either Buddhist or religious minded to study the science and philosophy from an academic point of view. He cited nuclear physicist Raja Ramana's lauding Nagarjuna's thought as having pre-empted views now expressed in quantum physics. Likewise, he said, cognitive therapist Aaron Beck's assessment that feelings of anger and attachment are 90% mental projection correspond to what Nagarjuna advised. He insisted that much of what the 'Nalanda professors' had to say continues to be of relevance to us today.
In answering questions from the audience His Holiness clarified the demarcation between violent and non-violent action as being in the motivation. He also touched on the important role of giving and taking, exchanging self and others in training the mind and achieving lasting happiness.
Following a vote of thanks, presentation of 'katags' to his fellow guests and posing for a photograph with members of Tibet House's new Master's Course, His Holiness returned to his hotel.