Kyoto, Japan, 9 November 2106 – His Holiness the Dalai Lama arrived in Japan yesterday on his 23rd extended visit to the country. He was received at Narita Airport by Representative Lungtok, Mr. Hiraoka Kouichi, Principal of Seifu High School and the main organizer of the visit, a few old Japanese friends, and a representative from the Indian Embassy. Approximately 100 Tibetans waited outside the airport to give His Holiness a traditional welcome.
Speaking briefly with Japanese media at the airport, His Holiness said he was most interested in meeting young people during his visit, since it is they who will shoulder the responsibility for creating a happier, more peaceful world. He stressed the importance of developing inner values, pointing out that material development alone does not bring inner happiness.
After spending a restful night in Narita, His Holiness travelled by Shinkansen to Kyoto. A short drive from the station brought him to the Higashi Honganji Temple where he was received by Chief Priest Otani Choujyun.

His Holiness told an audience of more than 500 how honored he felt to visit such an historic temple. He explained that when visiting Western countries, he is hesitant to talk about Buddhism to people with a Judeo-Christian background. However, since Japan is traditionally a Buddhist country he is comfortable advising his listeners to be 21st century Buddhists. This entails study and coming to a proper understanding of what the Buddha taught and what the Three Jewels are—mere faith without reason is not sufficient.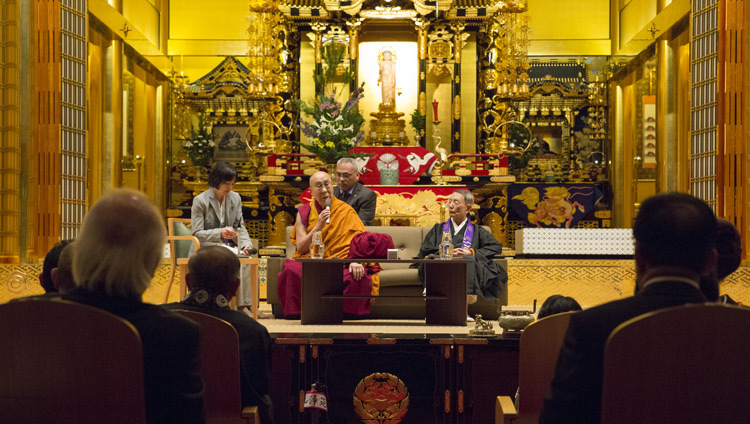 Following a recitation of the 'Heart Sutra', His Holiness explained how the dharani - Gate, gate, paragate, parasamgate, bodhi svaha indicates coming to understand emptiness and making progress through the Five Paths. He mentioned that the explicit content of the Perfection of Wisdom Sutras is how to understand emptiness, and that in the Tibetan tradition this is studied for 20 to 30 years.

His Holiness then took a few questions from the audience.

A peacemaker asked how she could apply an understanding of emptiness to her profession. His Holiness answered that it was important for her to find at least 30 minutes in her daily routine to think about emptiness. He expressed appreciation of the work she is doing but stressed that genuine peace is founded on inner peace.

"Peace is not a mere absence of war or violence—it's deeper than that. What leads to inner peace is cultivating a compassionate heart. It is developing inner peace that creates peaceful individuals, communities, and a peaceful humanity. We talk about a demilitarized world, but first need to achieve inner disarmament. Although I may not see it in my lifetime, I am convinced that if we make a serious effort now, the world could become a more peaceful place in the latter part of the 21st century."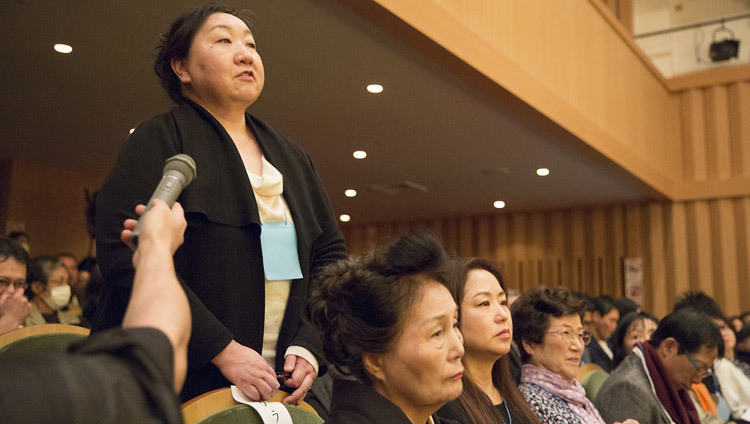 Asked how to bring compassion into business, His Holiness said that the quality of all actions depends on the motivation for them. At present, because the existing education system is oriented towards material goals, we take a materialistic view of life. However, by itself this does not lead to happiness. Today, despite progress in science and technology, we face many problems, essentially because we lack moral principles. We need to cultivate compassion and greater respect for other's well-being. When action is motivated by anger or hatred it brings about harmful results. Action motivated by compassion brings about beneficial results.

In concluding their meeting, His Holiness and Chief Priest Otani Choujyun released a joint statement:

"The purpose of our lives is to be happy. Buddha taught us how to eliminate suffering and how to obtain happiness.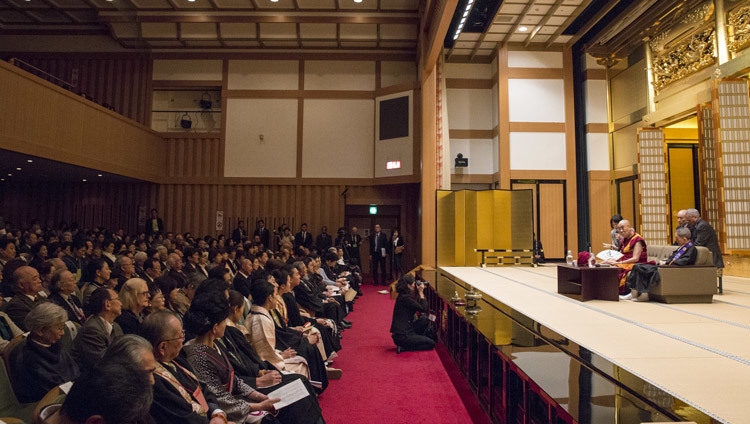 To be happy we must recognise the kindness of others—the kindness of our parents, siblings, spouses, friends, teachers, all sentient beings and even the natural environment. Recognising the kindness of others will lead us to feel compassion for others.

Based on the Buddha's teachings all of us gathered here today declare our commitment to do our best to create a better society in order to help everyone in the world achieve happiness."

From Kyoto, His Holiness drove to Osaka where he was received by a small group of friends and supporters, including Hiraoka Hidenobu, Director of the Seifu High School and an old friend of the Tibetan people.

Tomorrow, His Holiness will begin to teach Shantideva's 'A Guide to the Bodhisattva's Way of Life'.