Paris, France, 14 September 2016 - Mare's Tail clouds laced the sky while the low early morning light caught the golden filigree decorating many of Paris's grand buildings as His Holiness the Dalai Lama drove to the French Senate this morning. He was attending an informal breakfast meeting with thirty Senators and Deputies, who lined up to greet him at the top of the stairs. Senator Michel Raison welcomed His Holiness and invited him to speak to them.
"Brothers and sisters, it is indeed a great honour for me to be here able to meet you," he told them. "I appreciate your concern for Tibet, which is a just cause. Right from the beginning we have taken a non-violent approach to it. In fact the recent sad incidents of self-immolation show Tibetans' continuing determination not to harm others in their struggle.
"All our friends know that, despite our past history, we are not seeking independence or separation from China. In recent years we have noticed almost a thousand articles in Chinese expressing support for our Middle Way Approach (MWA) and criticism of Chinese government policy. Recently I met Chinese scholars familiar with our situation who told me that Xinjiang would do well also to take such an approach."
His Holiness mentioned how impressed he is by the spirit of the European Union, which shows it is possible to put the past behind us and adapt to a new reality. He recalled his one-time physics tutor Carl Friedrich von Weizsäcker telling him that during his childhood to every French eye a German was an enemy and that Germans felt the same way about the French. This is no more; everything has changed. He expressed hope that the spirit of Europe will eventually be extended to Russia, Africa and Asia. He said this is the future of the world, because we have to live as one family and the spirit of the European Union exemplifies how this can be done.
"It's very helpful that you are able to express concern for Tibet. When you have the opportunity, please let your Chinese counterparts know of your support. The People's Republic of China is still run by the same party according to the same system, and yet things are changing there. Even the hard-liners find themselves in a dilemma, they talk about harmony in unity and yet their policies have achieved neither. I sometimes wonder if these hard-liners are missing the part of the brain that governs common sense.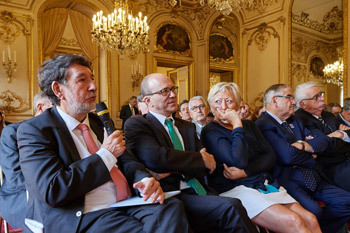 A member of the audience asking His Holiness the Dalai Lama a question during their informal meeting with Senators and Deputies at the French Senate in Paris, France on September 14, 2016. Photo/Olivier Adam
"As more Chinese students and tourists come and gain experience of the free world they can learn that we are equally human beings with the freedom to think and speak as we will. It's in China's interest to open up to the world and when they do their contribution will be valuable."
His Holiness invited the Senators and Deputies to ask him questions and the first touched on Tibet's natural environment. He told them of the Chinese ecologist who established that the climate impact of the Tibetan plateau is as great as the North and South Poles, so he referred to Tibet as the Third Pole. His Holiness mentioned the deforestation that has taken place and the way local Tibetans' objections to mining have been overruled. Adding that he often recommends that parliamentary groups go to Tibet to see for themselves what's happening to the environment.
Regarding the next Dalai Lama he declared that as early as 1969 he had stated that whether there is to be another Dalai Lama or not would be for the Tibetan people to decide. Since the Chinese authorities seem to be more concerned about his successor than he is himself, he joked that they ought to recognise the reincarnations of Mao Zedong and Deng Xiaoping first.
From the Senate His Holiness drove to the Collège des Bernadins where he was received and welcomed by Cardinal André Vingt-Trois - Head of Catholic Church in France. Inside the beautiful old building he entered into dialogue with the Cardinal, Mr Haim Korsia - Grand Rabbi of France, Mr François Clavairoly - President of the Federation Protestant in France, Mr Anouar Kbibech - Head of the French Council of the Muslim Faith, Métropolitan Emmanuel - Head of the Orthodox Church in France and Zen Master Olivier Wang-Genh, President of the Union of Buddhists in France.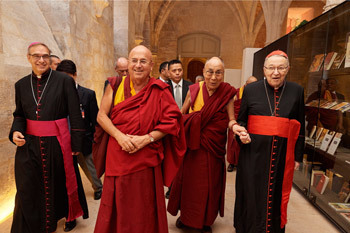 Cardinal André Vingt-Trois, Head of Catholic Church in France, leads Holiness the Dalai Lama to the Collège des Bernadins' auditorium to join in an interfaith dialogue in Paris, France on September 14, 2016. Photo/Olivier Adam
His Holiness, speaking in English, began by pointing out that today we are facing all sorts of problems, many of which are our own creation. This is because we tend to be subject to negative emotions. Therefore, we have to find ways to promote our basic human nature, which scientists are demonstrating is compassionate.
"Right now," he said, "we are enjoying peace and friendly company, while elsewhere people are being killed, whether it's in Iraq, Syria or Yemen, Afghanistan, Pakistan or Bangladesh, over differences of faith. We can't ignore it, because to do so would be immoral and fellow human beings are involved. Killing is bad enough, but killing in the name of religion is terrible.
"In order to encourage inter-religious harmony I have been following three practices since the late 1970s: meeting with religious scholars and holding discussions with them about what we have in common, where we differ and what is the purpose of that difference. I've also met with spiritual practitioners to learn from their experience. For example, in Montserrat I met a Catholic monk who had been in retreat in the mountains for five years with little more than tea and bread to eat. I asked about his practice and he told me he'd been meditating on love and as he did so I saw the sparkle of true happiness in his eyes. I've had similar meetings with wonderful Muslim practitioners too.
"My third practice is to make pilgrimage to other people's places of worship. I started this in Sarnath, Varanasi, India, where I visited a mosque, a church, temples and a gurudwara to offer prayers, one after the other."
His Holiness the Dalai Lama, wearing a towel to protect against the hot lights, speaking at an interfaith dialogue at the Collège des Bernadins in Paris, France on September 14, 2016. Photo/Olivier Adam
His Holiness asserted that reports that refer to Muslim terrorists or Buddhist terrorists are wrong because violent terrorists are no longer Muslim or Buddhist. They are no longer followers of religion. It is also wrong to blame the entire Muslim or Buddhist communities because of these few people's mischief.
"I have lived in India for the last 57 years," His Holiness explained. "And the Muslim population in India, which is larger even than that in Pakistan, has long lived in harmony with other religious communities. Members of all the world's major religions Zoroastrianism, Judaism, Christianity and Islam flourish side by side with Hindus, Buddhists, Jains and Sikhs. If they can do it in the world's second most populous nation why can't the rest of the world live that way too?"
He noted that whereas in the past it might have been appropriate to think generally in terms of there being only one truth and one religion, that remains true of personal spiritual practice. However, in terms of the wider community and the globalised world we live in, it is more important to acknowledge the existence of several truths and a multiplicity of religions.
The Collège des Bernadins invited all the members of the panel to lunch, after which they dispersed. His Holiness the Dalai Lama drove to INALCO, the National Institute of Oriental Languages and Civilisations. He was met on arrival by the President, Manuelle Franck and member of the Tibetan Faculty, Françoise Robin. Young Tibetans offered a traditional welcome and escorted him to the auditorium where students of Tibetan language recited auspicious verses in Tibetan.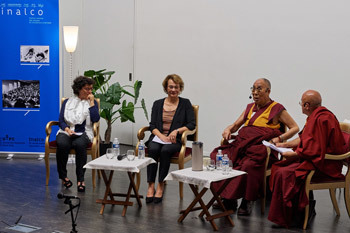 His Holiness the Dalai Lama speaking at the National Institute of Oriental Languages and Civilisations (INALCO) in Paris, France on September 14, 2016. Photo/Olivier Adam
In her words of welcome, Manuelle Franck mentioned that INALCO, which is part of the University of Sorbonne, started teaching languages in 18th century and promotes humanism and respect. Françoise Robin clarified that INALCO has been teaching Tibetan since 1842 and well understands the language's value and status. She said that at a time when Tibetan language and civilisation has been made a minority in their own land it was a great honour to receive a visit from His Holiness.
"The Tibetan language and the way it is written is one of the oldest languages in the world." His Holiness, speaking in Tibetan, told an audience of 200. "In today's reality it's important to know that most of the Buddhist literature that was available in Sanskrit was still available in Tibetan. Following Shantarakshita's lead Tibetans have long studied philosophy through reason and logic. Nowadays we are reassessing the Kangyur and Tengyur collections in terms of science, philosophy and religion. The Nalanda tradition was the repository of much of the ancient Indian knowledge of the workings of the mind and emotions.
"Shantarakshita, a philosopher and logician himself, not only introduced philosophy to Tibetans, but also epistemology. Tibetans have maintained the tradition of rigorous study he introduced. If we are able to keep this up today Tibetan language, religion and culture can survive long into the future. Unfortunately, however, hard-line elements in China regard efforts to preserve what is distinctly Tibetan as moves to assert separation from China. Consequently we need to be scrupulous in preserving not only colloquial, but also literary Tibetan and study of the thirteen classic texts of Nalanda. I believe the methods of reason and logic we use to study Buddhist philosophy can be usefully applied to other disciplines too."
His Holiness the Dalai Lama greeting students after his talk at the National Institute of Oriental Languages and Civilisations (INALCO) in Paris, France on September 14, 2016.
Photo/Olivier Adam
Asked by a student where was the best place in the world to study the Tripitaka in Tibetan, His Holiness replied that there were still great monasteries in Tibet, but they have few teachers. He was clear that there had been many erudite scholars in 1959, but after what happened they disappeared—some imprisoned, some killed. He said that today in the re-established monasteries in South India there are scholars who have followed the traditional rigorous mode of study among the 10,000 monks and hundreds of nuns. As evidence of the way nuns have been studying, several who are qualified will be awarded Geshe-ma degrees later this year.
Finally, His Holiness explained how 40 years ago he was curious to know more about the natural sciences and sought advice from friends. One, an American who studied Buddhism, warned him to be careful because "science is the killer of religion." He thought about this in the context of the Buddha's advice to be sceptical, not to accept what he had said at face value, but to examine and investigate it the way a gold smith verifies gold. He entered into dialogue with scientists and more than 30 years later the mutual benefit is clear.
From INALCO His Holiness drove to the airport and boarded a flight to Strasbourg where he is to give teachings and a public talk.