Leh, Ladakh, J&K, India, 7 August 2016 - This morning His Holiness the Dalai Lama visited Zangdok Palri, not far from his residence. Representing the celestial palace of Guru Padmasambhava, the temple is situated on top of a hill with a panoramic view of the Leh valley. His Holiness was welcomed by representatives of the Himalayan Buddhist Association, organizers of a conference celebrating Thonmi Sambhota, who created literary Tibetan 1372 years ago.
In their introductory remarks Tashi Rabgye and Tsering Dorjee noted the importance of Thonmi Sambhota's achievement to the translation of Buddhist literature into Tibetan. The Kangyur and Tengyur collections created as a result have for centuries been crucial to the culture of Tibet and the trans-Himalayan region. The speakers also expressed gratitude to His Holiness for encouraging the development of Ladakh and its culture since he came into exile.
In his address, His Holiness referred to the historic cultural and spiritual ties between Ladakh and Tibet and expressed his appreciation of the convening of the conference.
"Although Thonmi Sambhota is known to have composed eight texts on Tibetan language and grammar", he remarked, "Only two, dealing with grammar, the Sumchupa and Takyi Jugpa, survive. Whether you call it Bhoti or Tibetan, this written language is important because it preserves the profound Buddhist culture we share. In today's rational world the epistemological texts of Dignaga and Dharmakirti, only available in Tibetan, provide us with tools for analyzing the nature reality.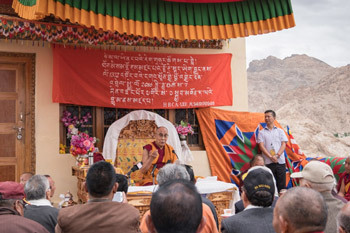 His Holiness the Dalai Lama speaking during the Conference on Thonmi Sambhota at Zandok Palri Monastery in Ladakh, J&K, India on August 7, 2016. Photo/Tenzin Choejor/OHHDL
"We should not regard Buddhism only as a religion, but also as a source of knowledge and education. As a science of mind it can teach us how to deal with disturbing emotions such as anger, jealousy and greed. This can bring peace of mind that is of benefit to the individual, his or her family and community, and the world at large. If the idea of pratitya-samutpada, interdependence, were more widely understood, there would be no room for violence among our human brothers and sisters. "
His Holiness explained that the content of the Kangyur and Tengyur can be classified as dealing with science, philosophy and religion. He referred to the ongoing project to make the scientific and philosophical material more widely available. A Compendium of Science has already been compiled in Tibetan and is being translated into English, Chinese, Japanese, Hindi, German, Mongolian, Russian, and Vietnamese.
"This Conference should not be merely a celebration of Thonmi Sambhota," His Holiness concluded, "but an opportunity to teach school children and their parents the significance of the language in which for Kangyur and Tengyur are written."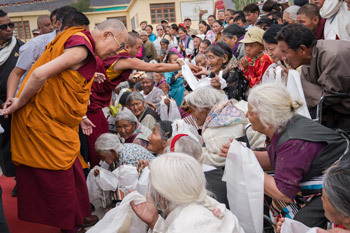 His Holiness the Dalai Lama greeting elderly members of the Tibetan community on his arrival at SOS TCV Choglamsar in Ladakh, J&K, India on August 7, 2016.
Photo/Tenzin Choejor/OHHDL
At the SOS TCV Choglamsar football ground, His Holiness was received by the local elected Chief Representative of Ladakh along with local Tibetan officials and the Director of SOS TCV Choglamsar. He was given a traditional Tibetan welcome. On the stage, he was greeted by Ganden Tripa Rizong Rinpoche. Addressing close to 5000 Tibetans His Holiness spoke about the common identity of people from the Land of Snow and their efforts to preserve their unique culture, language and religion. He said that just as the Chinese people have their own ancient cultural heritage of which they are proud, Tibetans too are proud to be Tibetans and make efforts to protect their rich heritage and identity.
"Unfortunately, some hard-line Chinese officials see our Tibetan identity as a threat to separate Tibet from China. Therefore, they have tried to eliminate our Tibetan culture and language. Tibetans are compelled to learn Chinese in schools. Without knowledge of Chinese Tibetans in Tibet are unable to find good jobs."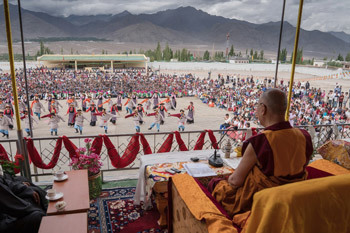 His Holiness the Dalai Lama watching students performing traditional Tibetan song and dance during his talk at the SOS TCV Choglamsar school football ground in Ladakh, J&K, India on August 7, 2016. Photo/Tenzin Choejor/OHHDL
In the 7th century, he said, the Tibetan Emperor Songtsen Gampo commissioned Thonmi Sambhota to create a written form of Tibetan. Later, Emperor Trisong Detsen turned to India rather than China and invited the Nalanda master Shantarakshita to establish Buddhism in Tibet. Consequently, Tibetan Buddhism, which incorporates the Nalanda tradition, takes a rational scientific approach to investigation. Today, many people, including scientists and educated young Indians, are showing an interest in Buddhism and Tibetan is the language in which it is most accurately conveyed.
Turning to the Ladakhis in the audience, His Holiness said:
"Since the time of Nehru, the Indian Government has been extremely kind and helpful to the Tibetan people. Here in Ladakh Bakula Rinpoche and Sonam Norbu fostered a special friendship between Tibetans and Ladakhis. We are very grateful to have been able to establish our schools and settlements here and I would like to thank you.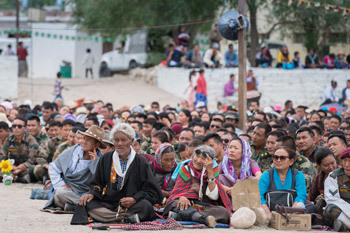 Members of the local community listening to His Holiness the Dalai Lama speaking at the SOS TCV Choglamsar school football ground in Ladakh, J&K, India on August 7, 2016. Photo/Tenzin Choejor/OHHDL
"Tibetans have no freedom inside Tibet, where Tibetan culture and religion are endangered. However, here in India, Tibetans as well as the people of the Himalayan regions, from Ladakh up to Mön, have the freedom and opportunity to preserve our Buddhist traditions and their related culture."
His Holiness concluded:
"It is very important for Tibetans to be united as one community. We must all make efforts in this regard. History will remember our efforts, so we must constantly rededicate ourselves with courage and see the present circumstances as an opportunity to fulfil our potential. Our Tibetan culture is a culture of peace, of non-violence and of compassion. This is the kind of culture the world's entire 7 billion people need. Therefore, I believe we Tibetans have a significant contribution to make to the world on the basis of our own traditions."
Tomorrow, His Holiness will make visits to Saboo and Stok.