Mundgod, Karnataka, India, 6 July 2016 - On the occasion of his 81st birthday His Holiness the Dalai Lama joined a large assembly of monks from Tibetan monasteries of all traditions across India, who had gathered to make a Long Life Offering to him. The event was organized by representatives of the Gelug Order of Tibetan Buddhism and the Doeguling Tibetan Settlement where His Holiness has been a guest for nearly a week.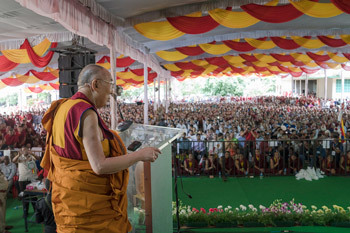 His Holiness the Dalai Lama speaking to the crowd of more that 14,000 during celebrations to mark his 81st birthday in Mundgod, Karnataka, India on July 6, 2016. Photo/Tenzin Choejor/OHHDL
The Long Life Offering was followed by a public celebration in front of Drepung Monastery's main assembly hall. The entire local Tibetan community of 14,000 congregated under an enormous awning. They were joined by local dignitaries, as well as local Christian, Hindu and Muslim leaders who paid their respects to His Holiness, presenting him traditional gifts of shawls and garlands and wishing him a happy birthday. In his words of thanks His Holiness praised India's longstanding tradition of religious tolerance and harmony. He remarked,
"Inter-religious harmony is something I have been working hard to support; I urge you too to join me in this effort."
When His Holiness was presented with a birthday cake, a group of young school children broke into peals of "Happy birthday to you."
In addition to marking His Holiness's birthday the day also saw celebrations of the 50th anniversary of Doeguling Tibetan Settlement. In a brief address His Holiness recalled the hardships faced by monks who had escaped Tibet in 1959. They had initially been housed in a former Prisoner-of-War Camp at Buxa Daur, West Bengal, where unhealthy conditions led to many deaths. He was full of praise for the hard work of the initial settlers due to whose efforts a thriving settlement eventually emerged.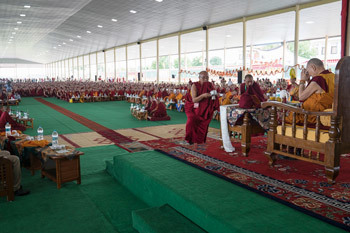 His Holiness the Dalai Lama during the inauguration of Drepung Loseling Monastery's new Debate Court in Mundgod, Karnataka, India on July 6, 2016. Photo/Tenzin Choejor/OHHDL
During a formal inauguration of Drepung Loseling Monastery's new Debate Court His Holiness noted the unique approach to study that Tibetans have pursued:
"We don't merely read the commentaries, each word of the text in hand is considered and analyzed, and what is understood is further explored and reinforced in formal debate. This approach, employing logic and reason, is unique to the Tibetan tradition of Buddhist practice."
Finally, His Holiness met with senior members of the Tibetan community at the Old People's Home. He praised the devotion and hard work they shown in their lives and encouraged them to keep up their religious observances.
Tomorrow, His Holiness will drive to Goa, from where he will fly to Delhi and on to Dharamsala.