Rochester, Minnesota, USA, 24 February 2016 (By Brett Boese, Post-Bulletin) - The Dalai Lama spoke to a crowd of 3,000 in Minneapolis during the weekend and has a similar event planned for March 9 in Madison, Wisconsin.
While those are the only two public events on his official schedule, the famous Tibetan Buddhist is also scheduled to address to Mayo Clinic staff Monday at the chapel of Saint Marys Hospital in downtown Rochester.
Mayo Clinic has confirmed the private address, noting that Mayo Clinic President and CEO John Noseworthy will introduce the Dalai Lama prior to a select number of employees being treated to a discussion about "Compassion in health care." The event will be moderated by TV and radio host Cathy Wurzer.
While the 1 p.m. event is not open to the public, it will be available to watch via webcast at www.dalailama.com.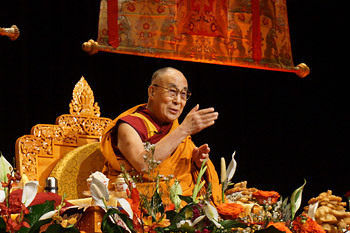 His Holiness the Dalai Lama speaking at the Convention Center in Minneapolis, Minnesota on February 21, 2016.
Photo/Jeremy Russell/OHHDL
The Dalai Lama's health has been a hot topic since he canceled a U.S. tour last fall amidst his ongoing battle with prostate problems. The 80-year-old spiritual leader quietly returned to Rochester in January for treatment at the Mayo Clinic, but he appeared energized during Sunday's address in the Twin Cities that celebrated the Tibetan New Year.
He surprised many by speaking for three hours, which was twice what was planned. The crowd gobbled up his message, delivered in English and Tibetan, of valuing education and compassion.
Still, the main focus for many was simply his health, which he assured people was good.
"It's an extremely joyous occasion," said Tsewang Chokden, media coordinator for the Tibetan-American Foundation of Minnesota "After having been through this treatment, everyone was interested in his health and well-being. After seeing him here looking vibrant and healthy, we are all very excited today."
Despite those concerns, the Dalai Lama has actually popped up across various mediums over the past few weeks since arriving in Minnesota.
U.S. Congressman Tim Walz appeared in multiple photos on social media last week with the Dalai Lama. The two met for an hour in Rochester to discuss Walz's recent visit to Tibet, which was part of the first official delegation to visit that country in quite some time, according to a spokeswoman for Walz's office.
"Meeting with His Holiness is always such an honor and an inspiring reminder to treat those around us with decency and kindness," Walz said.
Minnesota State Patrol's Dan Lewis, a Red Wing resident, appeared in another social media photo with the Dalai Lama. The photo drew many online comments due to the Dalai Lama's traditional robes being accented by Lewis's wide-brimmed hat. Lewis is one of the many local law enforcement officers who have served as official security escorts for the Dalai Lama the past two months.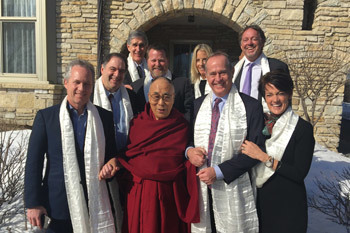 His Holiness the Dalai Lama with Mayors and other individuals concerned with building compassionate cities after their meeting in Rochester, Minnesota on February 11, 2016.
Photo/Tenzin Taklha/OHHDL
Rochester Mayor Ardell Brede also hosted the Dalai Lama for a Feb. 11 discussion on building compassionate cities. Mayors from Anaheim, Calif., and Louisville, Ky., were among the others who attended, according to the post on the religious leader's
official website
.
"We are witnessing lots of suffering in today's world, including the recent refugee problem," the Dalai Lama said. "We must question what is wrong in today's world. I feel we are lacking a sense of respect for other's life, a sense of concern for other's well being, which is kindness. We only think of me, me, me! That is the seed of today's problem."
The North Star state has about 3,000 Tibetan residents, second most in the United State. Thousands of Tibetans fled their homeland after the Chinese government occupied their homeland in the 1950s.
The Dalai Lama sought refuge in India nearly six decades ago and may be the last to serve as the patron saint of Tibet. Tenzin Gyatso, the 14th Dalai Lama's given name, was recognized as the reincarnation of the 13th Dalai Lama at age 2.
— The Associated Press contributed to this story.