Milan, Italy - Day was just breaking as His Holiness the Dalai Lama walked down the steps of his hotel in Prague this morning. Friends, organizers of his visit and other well-wishers gathered to see him off to the airport. Arriving in Milan, he was welcomed by the Mayor Guiseppe Sala and Tromdho Rinpoche.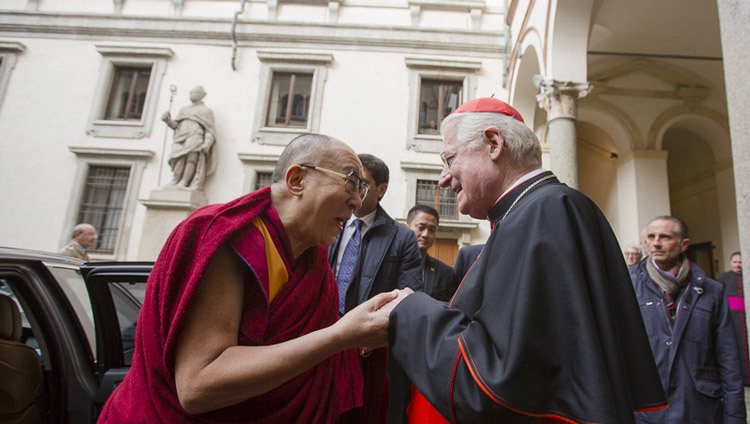 Driving into the still mist covered city from the airport His Holiness's first stop was the residence of the Cardinal of Milan, Angelo Scola, who was in the yard to receive him as stepped out of his car. The Cardinal introduced him to other members of the clergy and escorted him into the house. Reading an eloquent speech in English, the Cardinal expressed his admiration for His Holiness and his pleasure at receiving him in Milan. His Holiness replied:
"Respected spiritual leaders, my spiritual brothers, I'm extremely happy to be here with you. On my first visit to Europe in 1973, during the time of His Holiness Pope Paul VI, who I think of as the Italian Pope, my first stop was in Italy. Now on this visit to Italy, my first engagement is to meet here with you.
"All our religious traditions convey a message of love and compassion. For more than 2000 years they have served humanity and now more than ever we need to heed their message. Sadly, we are still seeing conflict in the name of religion, so we must keep up a constant effort to promote religious harmony, reminding ourselves again and again that despite differences of philosophical approach we are all focussed on the same goal—the importance of love and compassion for our fellow human beings.
"I was a guest of Pope John Paul II for the first World Day of Prayer for Peace in Assisi in 1986, which was a significant step towards promoting inter-religious harmony. In expressing my admiration and appreciation to him I also urged that it should not be a one-off event, but the first of an ongoing series of meetings."
His Holiness answered several questions from priests in the room telling them that he always seeks to promote a sense of the oneness of humanity.
"We are all born from our mothers, grow up in the shelter of her affection and so have within us the seed of compassion."
The Cardinal invited members of the media into the room, who had questions about the prospect of His Holiness meeting Pope Francis and whether or not there will be fifteenth Dalai Lama. He explained that he understands the Vatican has concerns about Christians in China and that he has no wish for his presence to cause any inconvenience. He remarked that of all the Buddhist countries in the world, he is presently only able to visit Japan. As for the recognition of a 15th Dalai Lama, His Holiness repeated what he often says that when the time comes the matter will be for the Tibetan people to decide.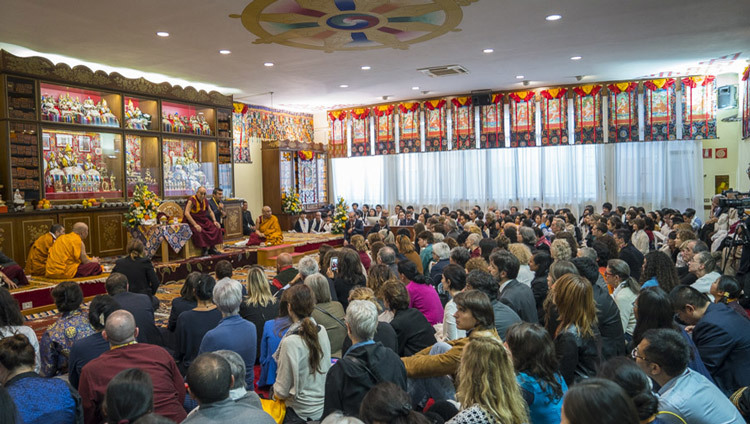 His Holiness's next stop was Ghe Pel Ling Institute for Tibetan Buddhist Studies, which is organizing his teachings in Milan. Tibetans and Italians thronged the street outside to meet him and His Holiness acknowledged their greetings as he made his way into the institute's meditation hall, where the congregation also included Vietnamese followers. A formal threefold mandala offering was made to him and the President of Ghe Pel Ling made a brief report, welcomed His Holiness and thanked him for his contribution to preserving the teachings of the Buddha.
In his reply His Holiness declared that he is an upholder of the knowledge and traditions of Nalanda, and paid tribute to the masters illustrated in paintings on the wall. He said that one of the unique features of the Nalanda tradition is that it uses human intelligence to the full, that reason, logic and study are emphasised. He spoke of encouraging temples and monasteries in India to focus more on being places of learning and expressed appreciation that at Ghe Pel Ling they are already heeding this advice. He was offered lunch at the Institute.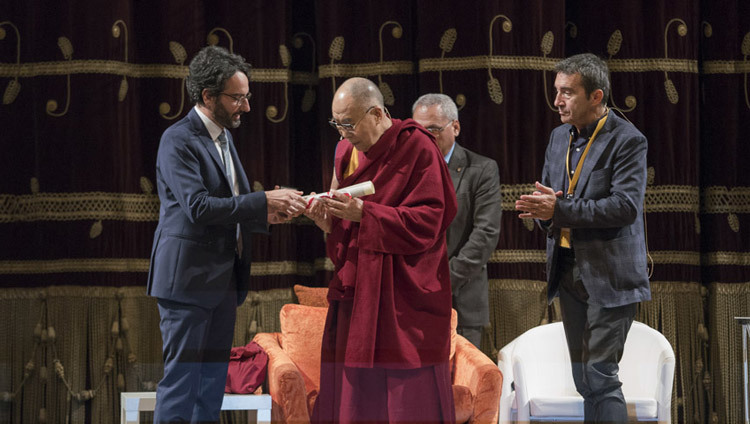 In the afternoon, His Holiness was welcomed onto the stage of the University of Milan-Bicocca by members of the faculty who introduced him to the audience of 2400 staff and students. Chairman of the Council of Milan, Lamberto Bertolè presented the Honorary Citizenship of the City of Milan to His Holiness, who accepted and teasingly enquired what his rights and duties would be.
Beginning his public talk he said:
"I'm very happy to meet particularly with young people like you. I belong to the generation of the 20th century—our time is over. But you, who belong to the generation of the 21st century, have both the opportunity and responsibility to create a better world for the future."
He outlined his three commitments telling the audience that he considers himself to be just one of the 7 billion human beings alive today. He said that in coping with the global challenges that face us, such as climate change and upheavals in the global economy, it is essential to overcome divisions into 'us' and 'them' and to focus instead on the oneness of humanity.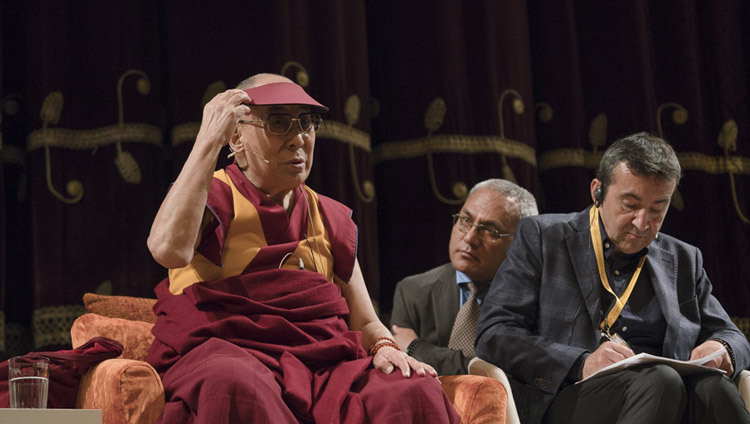 He mentioned his commitment to encouraging inter-religious harmony, reiterating that despite differences of philosophical approach, all religious traditions stress a common message of love and compassion. His Holiness drew attention to the mutually beneficial discussions he has pursued for more than 30 years with scientists.
Recommending that by developing warm-heartedness we can all ensure we become happier individuals, living in happier families and happier communities, His Holiness concluded his talk and invited questions from the floor. He answered a series of prepared, written questions before inviting members of the audience to come forward with anything they wanted to ask.
Tomorrow, His Holiness will explain Je Tsongkhapa's 'Three Principal Aspects of the Path' and 'In Praise of Dependent Arising' at the Rho Fiera Milano hall.