Indianapolis, IN, USA, 25 June 2016 - A number of experts were invited to join members of the Emory-Tibet Partnership to discuss draft guidelines for Secular Ethics in Education (SEE) this morning. Among them Daniel Goleman, Linda Lantieri, Mark Greenberg and Kimberly Schonert-Reichl have done pioneering work in Social and Emotional Learning.

In his opening remarks, His Holiness the Dalai Lama said: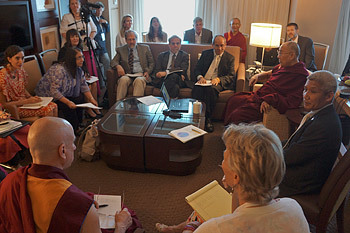 His Holiness the Dalai Lama discussing Secular Ethics in Education in Indianapolis, Indiana, USA on June 25, 2016. Photo/Jeremy Russell/OHHDL
"We need to implement a program that encourages warm-heartedness—an appreciation that if you are warm-hearted your health will be better and both you and your relations will be happier. If on the other hand you are full of fear and anxiety none of these benefits will arise. This is about here and now, not the next life. If your mind is at ease, education will be more effective."
Geshe Lobsang Tenzin explained that in trying to reflect His Holiness's vision, the proposed Secular Ethics in Education framework, whose guiding principle is compassion, covers three sets of skills: self-cultivation, which includes: calming the body and mind; learning to attend; emotional literacy and self-care. The second set involves relating to others, and includes appreciating others; empathy; recognizing our common humanity and social skills. The third set, responsible decision-making, involves: appreciating interdependence and applying critical thinking.
Daniel Goleman observed that the SEE framework addresses problems of lack of attention, scant focus on compassion and little understanding of interdependence not tackled in existing programs. He challenged the use of the word secular, which can have problematic connotations, and asked His Holiness if he had any attachment to the term. He said he hadn't but that he always clarifies his use of secular as it has been understood in India—meaning unbiased respect for all religious traditions and even the views of those with no faith. Mark Greenberg suggested that referring to ethics alone sounds too much like abstract philosophy.
Linda Lantieri agreed with much that had been said and expressed an appreciation of the focus in the SEE framework on compassion and interdependence.
Asked, as the conversations came to an end, if there was anything he'd like to add, His Holiness said it would be useful to include a simple explanation of the workings of the mind and emotions. Envisaging the benefits the program could eventually bring to China, he contrasted the destructiveness of Mao's Cultural Revolution with the potential creativity of the Cultural Revolution in education yet to come.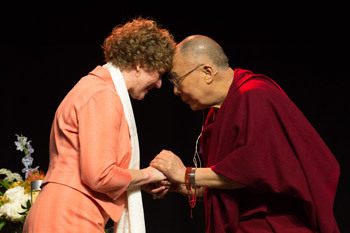 His Holiness the Dalai Lama thanking Congresswoman Susan Brooks for her introduction at the start of his talk in Indianapolis on June 25, 2016. Photo/Denis Kelly
After lunch, at the Indiana Farmer's Coliseum, Congresswoman Susan Brooks introduced His Holiness to an audience of 6,500 as a man of peace and integrity who has shared his message of compassion for decades.
Saying: "Brothers and sisters, I'm very happy to be here. It's a great honour for me to address such a large group of people, which I'm glad to see includes people of different faiths," His Holiness began his talk. He continued:
"For the last 57 years India has been my second home and I've been impressed to see there how religious traditions from abroad—Zoroastrianism, Judaism, Christianity and Islam—flourish alongside indigenous traditions like the Samkhya, Jain and Buddhist traditions. India shows that inter-religious harmony is feasible. All these traditions convey the same message of love, forgiveness, tolerance, contentment and simplicity. Self-discipline is another part of that message. Although the philosophical views they propound may differ, they share a common goal of strengthening practices such as compassion.
"In today's world we need a sense of brotherhood and sisterhood, because we are all the same as human beings. If we were more aware of the oneness of all human beings, there'd be no basis for killing each other, for the gap between rich and poor, or for discrimination on the basis of colour, class or caste. Killing in the name of religion is unthinkable. Whether you accept religion is up to you, but if you do, you should do so sincerely.
"This is why I think it's wrong to use terms like 'Muslim terrorist' or 'Buddhist terrorist'. Someone who commits a terrorist act is no longer a genuine Muslim or Buddhist. As far as the monks in Burma who are reported to be harassing Muslims, I've appealed to them to remember the face of the Buddha, for the Buddha would have offered them protection.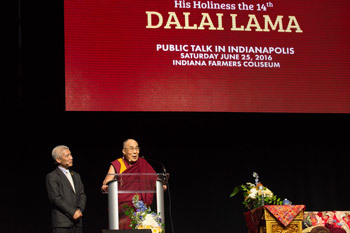 His Holiness the Dalai Lama speaking on "Compassion as a Pillar to World Peace" at the Indiana Farmers Coliseum in Indianapolis on June 25, 2016. Photo/Denis Kelly
"When I was on my way to the USA, at Heathrow airport, someone told me that although I'm now 81, my face looks only that of a 60 year old and asked what's the secret? I first teasingly said, 'It's my secret and I don't want to tell you', but then explained that it's to do with having peace of mind."
His Holiness observed that today, when factors like climate change and the global economy are not confined within national boundaries, reality tells us we are interdependent. He said we need to find ways to introduce warm-heartedness into the education system without necessarily relying on religion. This involves a universal appeal to common human values, as he was discussing with experts and concerned people in the morning. He asked,
"How shall we start? By looking to the UN or the White House? No—the important thing is to develop inner peace within ourselves. If we can be warm-hearted and share it with 10 people and they each share it with 10 more and so on, we'll make a difference. If, in the early years of the 21st century we just follow the pattern of the past and seek to solve our problems by use of force, this century will be as miserable as the last.
"Once I attended a meeting of Nobel Peace Laureates in Hiroshima and someone suggested that with God's blessing peace would prevail. When it came to my turn to speak, I said it would take more than blessings to bring about peace; we have to take action. Since it's human beings who engage in violence and war, it's human beings who must take action to create peace."
Among many questions from the audience that followed, several were simple requests to be able to shake His Holiness's hand. In answering others he touched on Aaron Beck's judgement that when we are angry and feel the object of our anger is entirely negative, 90% of that feeling is mental projection. About non-violence he said that the real demarcation between violence and non-violence lies in the motivation and that compassion never gives rise to violence.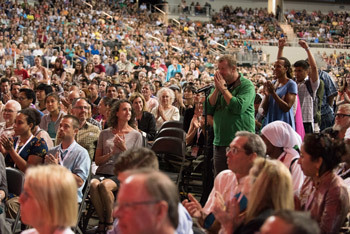 Members of the audience lined up to ask His Holiness the Dalai Lama questions during his talk at the Indiana Farmers Coliseum in Indianapolis on June 25, 2016. Photo/Denis Kelly
When a questioner told His Holiness he was the one person in the world that many people would like to meet and asked who he'd like to meet, he mentioned admiring Stephen Hawking's sharp brain and steadfastness in face of adversity. Although he has met his widow, he would have liked to have met Martin Luther King Jr. Two people he is pleased to have met are his friend Bishop Desmond Tutu and German Chancellor Angela Merkel, who he notes has several times used the word compassion in relation to the refugee crisis in Europe.
Asked about his own life, His Holiness said:
"I'm nothing special. As human beings we're all the same mentally, physically and emotionally. We all want to live a happy life and we all have a right to do so."
And when a mother asked how to protect the naturally good qualities children have when they're young, His Holiness advised spending time with them and enveloping them with love and affection. "My own first teacher of loving-kindness," he said, "was my mother."
When time ran out he apologised to everyone still waiting to ask questions for being unable to answer them. As at other public events in which he has taken part, a representative of the organizers made a brief financial statement explaining that remaining funds would be given to local charitable causes. After appealing to his listeners to think about what he had said and if it made sense to act on it, His Holiness came down from the stage and slowly made his way along the front row of the audience, shaking hands, exchanging words, signing books and stopping while thrilled individuals took selfies with him.
Tomorrow His Holiness will begin his journey back to India