Leh, Ladakh, J&K, India, 9 August 2016 - His Holiness the Dalai Lama drove this morning from his residence in Choglamsar to Thiksey. On the way, he made a brief stop in Shey Village to bless a new memorial stupa. His Holiness was received at the Thiksey Monastery teaching ground by Thiksey Rinpoche, the head lama of the monastery and 9th reincarnation of Jangshem Sherab Zangpo, a disciple of Je Tsongkhapa. Thiksey Rinpoche studied at Drepung Monastery in Tibet from 1953 until 1959.
His Holiness had been invited to Thiksey Monastery to inaugurate the 4th Great Summer Religious Council (Yarchö Chenmo) that is being held 9th- 22nd August. The first such council was held in 2012 and His Holiness advised that it should become an annual event. Buddhist monks and nuns from all traditions, school children from twenty participating schools in Leh, as well as members of the public are attending the Council this year.
Before entering the newly constructed teaching hall, accompanied by Ganden Tripa, Rizong Rinpoche and Thiksey Rinpoche, His Holiness cut the ribbon at the door to signify its inauguration while auspicious prayers were recited. Taking his seat inside, His Holiness was presented with a medal by Thiksey Rinpoche in celebration of his 81st birthday. Thiksey Rinpoche, Dr. Sonam Dawa, Chief Executive Councillor of the Ladakh Autonomous Hill Development Council, Sheikh Javed of the Shia Muslim Community, the Molvi of the Sunni Muslim Community, Tsering Dorjee, Jammu & Kashmir State Minister, and Ganden Tri Rinpoche addressed the gathering. Between their speeches, groups of students as well as monks and nuns engaged in debate. His Holiness was requested to present a certificate and medal to Thiksey Rinpoche to mark the people of Thiksey's gratitude.
His Holiness opened his remarks by observing that as human beings we are all fundamentally the same. Unfortunately, he said, we create many problems for ourselves by focusing instead on secondary differences between us such as race, colour, religion or whether we are rich or poor. Much more important are the ways in which we are the same.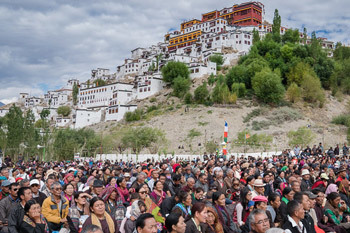 A view of the teaching ground with Thiksey Monastery in the background as His Holiness the Dalai Lama delivers the inaugural address of the 4th Great Summer Religious Council in Ladakh, J&K, India on August 9, 2016.
Photo/Tenzin Choejor/OHHDL
"As I travel the world and meet people, I always consider myself just one of the seven billion human beings alive today. I don't think of myself as a Tibetan or a Buddhist or even as the Dalai Lama. I have lots of friends because I treat everyone equally as another human being. If I were to think of myself as something special or as the Dalai Lama, I would have no friends.
"These days the world is witnessing more frequent natural disasters. We are adding to these problems by adopting a negative attitude. This might be understandable if we were animals, but we are intelligent human beings with the ability to discriminate what is helpful from what is not. Only by extending help to each other will we be able to make the 21st century an era of happiness."
Observing how sad it is that religion has become a cause of conflict in the world, His Holiness said:
"All religions teach love, compassion, forgiveness and tolerance, so there is no basis for conflict between them. As a Buddhist monk I have for many years tried to promote religious harmony and understanding. Since in practice we have so much in common, we should treat each other with respect.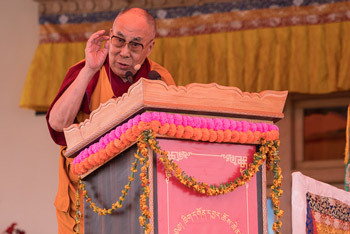 His Holiness the Dalai Lama speaking at the inauguration of the 4th Great Summer Religious Council at Thiksey Monastery in Ladakh, J&K, India on August 9, 2016.
Photo/Tenzin Choejor/OHHDL
"Here in Ladakh, I am happy to see that Buddhists and Muslims have good relations and live together in peace and that Shia and Sunni Muslims also live together in harmony. This is something very precious about Ladakh that you must preserve. It's a treasure that others in India and the world at large may admire. You show by example that a multi-religious community can live together is peace and harmony."
Addressing Buddhists in particular, His Holiness said:
"It is your choice whether to be a Buddhist or not, but if that is what you choose, you should be a 21stcentury Buddhist. You should study and learn what it means to be a Buddhist. Blind faith alone is not sufficient."
He urged the monks to study hard, advising them to use logic and debate as a tool to extend their understanding, remarking that this is not some new advice, but something he has been saying for the last nearly 60 years. We exhorted them not be narrow-minded, but to broaden their outlook.
After lunch His Holiness returned to the Thiksey teaching hall to answer questions from among 350 school children from Leh. A student from Jamyang School asked how we could achieve real peace when there is so much violence in the world. His Holiness replied that we have to remember that, despite differences of race or religion, for example, we are all the same as human beings. Focussing on secondary differences creates barriers between us. We must remember instead what we have in common. We all want to be happy and just as we don't want to come to harm, we shouldn't do harm to others. Whether we have a religious faith or not, we are all human beings.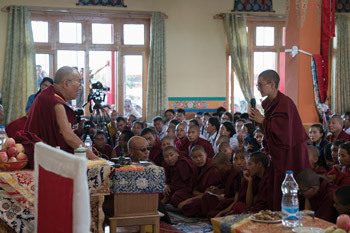 A member of the audience asking His Holiness the Dalai Lama a question during his interactive session with 350 students at Thiksey Monastery in Ladakh, J&K, India on August 9, 2016. Photo/Tenzin Choejor/OHHDL
"Scientists have demonstrated that constant fear and anger undermines our immune system. They have also found evidence that basic human nature is compassionate. When I learned this it gave me real hope and confidence. If it was our basic human nature to be angry there would be no hope. Unfortunately, education today tends to focus on external goals. But if its purpose is to create happier, healthier human beings, it should also focus on warm-heartedness. This is common sense."
Asked what students can do when facing obstacles in their studies, His Holiness said this is not unusual. He reported that at the age of 6-7 years old, he had no interest in studying. His lack of enthusiasm because he did not know the value of education was an obstacle.
"My elder brother and I studied together," he recalled. "My tutor kept two whips—an ordinary one for my brother and a yellow one, a 'holy whip', for me. However, I knew that the 'holy pain' would be just as bad as ordinary pain, so to start with I paid attention to my studies out of fear. Eventually, however, I came to understand how important education is."
His Holiness advised the students that when they feel stressed they should relax. He said it's important not to study for too long at one go, but to take rest in between. He told them that Shantideva says that when you're studying seriously and become exhausted, it's important to take some rest.
Tomorrow, His Holiness will teach Atisha's 'Lamp for the Path to Enlightenment' and Nagarjuna's 'Commentary on Bodhichitta'.