Mundgod, Karnataka, India - The 25th of the tenth Tibetan month, which falls today, customarily commemorates the passing away of Je Tsongkhapa, founder of the Gelukpa School of Tibetan Buddhism.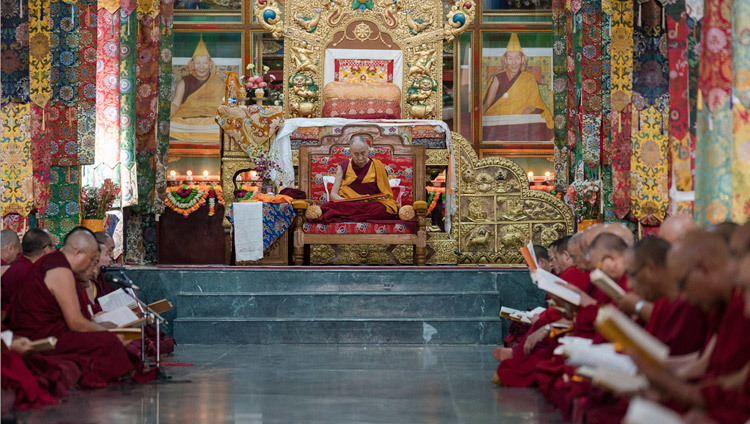 "We'll begin by reciting the 'Praise to the Buddha for Teaching Dependent Arising'," His Holiness announced after taking his seat amidst the elders of the Geluk tradition in the Ganden Lachi Monastery hall this morning. "After that, let's recite 'Essence of Eloquence', (Tsongkhapa's 'Essence of Eloquence: A Treatise Distinguishing between the Provisional and the Definitive Meanings', drang nges legs bshad snying po), together."
His Holiness remarked that he carries a copy of this book with him wherever he goes and he reads it whenever he gets time. The chant-master led the assembly of nearly 1000 monks in the hall, with as many again outside. A few, like His Holiness, read from traditional loose leaf Tibetan folios, but most used modern printed books. One or two appeared to be reciting from memory. Chanting at a brisk pace they had completed about one third of the book when they stopped for lunch at 11.30 am.
After lunch, His Holiness briefly addressed a group of pilgrims from Tibet:
"You Tibetans living in Tibet are the real owners of the Land of Snow. Your spirit and undaunted courage in the face of hardship are an inspiration to those of us in exile. You remind us that truth is on our side. We have no reason to lie and in the long run truth is on our side. Despite the oppression and inflexibility of the totalitarian system it will not succeed. Things will change. The time will come when we are all reunited, although the hardliners' stance means it may not happen soon.
"Be happy and stay healthy. I am quite well and it seems I may live to beyond 100. What you can do is to set up schools where children can get a modern education as well as learn about our Buddhist traditions. Buddhist science and philosophy are attracting the interest of Western scientists these days. We can say that our Tibetan Buddhist traditions belong to the world heritage, but we all need to study and practise to keep them alive.
"If you're able to come to the Kalachakra in Bodhgaya, there'll be more time to talk about what the Buddha taught then. But if you can't come, remember the 13th, 14th and 15th of the eleventh Tibetan month—wherever you are on those days, think about Kalachakra and I'll keep all of you in mind. You can definitely feel you are receiving the Kalachakra Empowerment even at a distance."
Chanting the 'Essence of Eloquence' resumed and picked up pace. By 4pm, when His Holiness retired for the day, the recitation was more than two thirds complete. Tomorrow, he will fly to Delhi, where he will be teaching Russian Buddhists for three days.